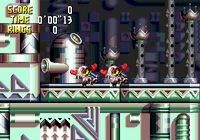 ********** (dubbed as Wechnia by fans) is a glitch character featured in Knuckles' Chaotix. He is a recolored version of Knuckles, with silver-white fur, red strands in his dreadlocks and red eyes. The character is referenced in the hidden stage select menu as "**********". The term "Wechnia" (a portmanteau of "white" and "echidna") was coined by Sonic Cult webmaster PACHUKA.[1]
Wechnia is the leftover data that would have belonged to Tails, who was originally meant to be playable in the game since he is listed in the second slot of the level select after Mighty.[2] This was later confirmed with the release of the 1207 Beta prototype, which contains a Tails life icon in the ROM.
Unlocking Wechnia
To play as or have Wechnia as a partner, go to the Options menu and select "Color Test". Three pairs of 00 should be surrounded by <>. Hold and press until the first pair is 06. Release, hold, and press until the second pair is 0B. Release, hold, and press until the third pair is 11. Now, release and press. Three pairs of 04 should now be highlighted. Hold and press until the second 04 is now 00. Release, press, then proceed to the main menu. The option "Stage Select" should now be below Options. Select it, then choose your character or combi as **********. You will have Wechnia, but once he touches the ground, the game will crash unless one of a few certain levels are selected. Even then, the game can crash if certain triggers occur, such as being damaged.
Wechnia may have the appearance of Knuckles, but he utilizes Mighty's moveset. In the 1207 Beta prototype, Wechnia had the ability to fly rather than Mighty's wall kick. He would tire after a while exactly like Tails, and contained a similar palette consisting of colors suitable for him, such as shades of orange and red.
References
---
Main article | Gallery | Staff
Characters
Playable
Knuckles | Vector | Mighty | Charmy | Espio | Heavy the Robot | Bomb | **********
Non-Playable
Dr. Robotnik | Metal Sonic | Sonic | Tails | Amy
Enemies
Amazing Arena Badnik 1, 2 | Bombbearer | Botanic Base Badnik 1, 2, 3 | Bushbubble | Dribbler | Gotcha | Hoverby Mk II | Isolated Island Badnik | Motorspike | Needlenose | Piranha | Poptank | Ringleader | Spiketower | Techno Tower Badnik 3 | Ticktock
Stages
Isolated Island | Botanic Base | Speed Slider | Amazing Arena | Techno Tower | Marina Madness | World Entrance | Special Stage | Bonus Stage
Bosses
Amazing Arena boss | Amazing Arena sub-boss | Botanic Base boss | Marina Madness boss | Speed Slider boss | Techno Tower boss | World Entrance Level 1 | World Entrance Level 2
Moves/techniques
Climb | Dash | Glide | Plasma Pulse Attack | Double Jump | Spin Dash | Spin Jump | Super Spin | V. Maximum Overdrive Attack | Wall Jump
Other
Exit | Balloon | 1207 Beta version | Archie Knuckles' Chaotix | Chaos Ring | Chopper Block | Combi Catcher | Debug Mode | Dark Ring | High-speed warp tube | Monitors (Super Ring, Combine Ring, Power Sneakers, Shield, Invincible, Swap, Grow, Shrink, Change) | Newtrogic High Zone | Ring Power | Ring | Signpost | Spring | Sonic Crackers | Sphere | Switch | "X" Bumper
Ad blocker interference detected!
Wikia is a free-to-use site that makes money from advertising. We have a modified experience for viewers using ad blockers

Wikia is not accessible if you've made further modifications. Remove the custom ad blocker rule(s) and the page will load as expected.