Adabat
Talk

0
6,675pages on
this wiki

This village is an architectural marvel, built atop the water in a jungle strewn with ancient ruins.

— Description in World Map

Adabat (Jungle Joyride) (ジャングル・ジョイライド, Janguru Joiraido?) is a fictional location and one of the levels in Sonic Unleashed. It is the sixth continent that Sonic and Chip go to during the events in Sonic Unleashed.
Description
Edit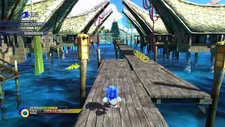 Adabat is based on Southeast Asian locations, such as Indonesia, Thailand, and Cambodia, with features including Buddhist statues and Toraja stilt houses (wooden huts perched upon stilts over shallow water). The level contains many flowing rivers, waterfalls, high cliffs, and ruins. Sonic and Chip come here to find the sixth Gaia Temple, where they learn Chip's true identity as Light Gaia. This is also where the Egg Lancer is fought.
Notable Locations
Edit
In the point-and-click HUB world of the Wii/PS2 version, many of the featured parts of Adabat are shown. These spots include:
Shallow Waters
Central Pier
Boat House
Village Entrance
Sacred Shrine (Sonic the Werehog)
Town Products
Edit
In each town across the world, Sonic is able to buy souvenirs, food items and extras (music and videos) using his rings. The Adabat shop, run by Kaeo, is called the Flying Fish Beach Shop.
Souvenirs
Edit
Photo Frame: "This is a picture frame from Adabat. Blue skies and white sands... Mm, just looking at it makes me eager for my next vacation."
Miniature Flag: "This is Adabat's flag. Four stars representing the cardinal directions surround a dolphin here. It's very beachy, that's for certain."
Hammock: "Tie both ends of this to some trees and climb on top for a pleasant nap by the shore. Yaaaawn... Oh, dear. I've gotten sleepy."

This souvenir is bought from Wentos.

Chehaya Charm: "According to legend, the last time the planet was shattered, an emissary arrived with the daylight and put the world back as it was. That must be the fellow you see here on this charm. It's funny, though. I could swear I've seen him somewhere before."
Anji Sculpture: "This sculpture depicts Adabat's guardian beast. You'll notice scads of similar statues in the ruins there."
Banana (40 rings): "A sweet yellow fruit. You can grill the green ones, too."
Tropic Juice (30 rings): "A soothing beverage that's as blue as this country's waters."
Live Honker (60 rings): "A whopper of a fish with vivid green scales but a mild taste."
Molsk (30 rings): "A shellfish from the local waters. Served with garnish."
Chili Dog (50 rings): "Sonic's favorite, a jumbo frank slathered with spicy chili."
Grapes (40 rings): "A cluster of sweet, plump grapes. Don't eat the seeds!"
Peach (30 rings): "A sweet and juicy fruit that's to die for. Don't bruise it!"
Sparkle Gelatin (30 rings): "Jiggly, sparkly jelly that melts your jaded heart."
Seafood Dog: Complete the Adabat Hot Dog Vendor's missions.
The background music for Adabat's daytime stages is derived from Sonic R's "Back in Time," the music for the course Regal Ruin.
The two photographer ghosts from the 3D animated movie, Sonic: Night of the Werehog, make cameo appearances in one of the Adabat missions, "Fright Fight." They also appear in one of the Spagonia missions, "Tower Terror."
In the Wii/PS2 version, the floor of the Adabat Gaia Gate is covered by a two-foot layer of water. In the Spagonia Gaia Gate, there are two fountains of water on either side of the steps (like the water fountains in Italy), making them the only two Gaia Gates with water in them.
In the Wii/PS2 version, should the player pause the game near a body of water, all movement in the game will be paused except that of the water.
In the Wii/PS2 version, the rocky paths found in the Special Mission that is unlocked when all the other collectibles (bar the secret movie found in this stage) are found, look remarkably similar to the the platforms found in Seaside Hill in Sonic Heroes.
In an un-lockable cutscene, Sonic and Chip are under a tree drinking something from coconuts. Chip finishes all of his and Sonic gives him his. Chip drinks deeply from it and gets his head stuck. He falls over a small cliff and the coconut hits Sonic; the thud from Chip's fall causes more coconuts to fall onto Sonic's head, giving Chip the idea to drink from all of them at the same time with a lot of straws as Sonic watches in amusement.
Screenshots
Edit
(Xbox360/PS3)