Not to be confused with cartoon of the same name. For other titles with "Adventures", see Adventures
The Adventures of Sonic the Hedgehog (ソニックの冒険ヘッジホッグ, Sonic no Daibouken?)[1] is series of illustrated text stories featuring Sonic the Hedgehog. The illustrated stories were published in fourth grade Shogaku Yonensei magazines by Shogakukan as part of the serialized manga series.
Overview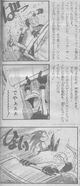 The Adventures of Sonic the Hedgehog is a separated series from serialized manga due to having illustrated stories with text narration. Regardless, many elements and characters from the manga created by Kenji Terada are still featured in stories. As a result of being featured in the fourth grade Shogaku Yonensei magazine (as well as being a part of the study book series of Shogakukan's Shogakukan no Gakushuuzasshi), the tone of many of the stories is much more sharp and action-oriented compared to the more humorous and childish tone from the original manga, along with different plotlines.
Like the serialized manga, not much is known about the illustrated stories and when they were exactly published, and thus remain obscure to this day. Many of the illustrated stories are written by Hirokazu Hikawa, Yoshihiko Ochi and Mitsuo Kimura. Sango Morimoto from the serialized manga, has also been involved as one of writers for the illustrated stories.[1]
Gallery
References
Sonic the Hedgehog
Shogaku Ichinensei

 ·

Shogaku Ninensei (1, 5, 6)

 ·

Shogaku Sannensei

 ·

Shogaku Yonensei (Sonic no Daibouken)

 ·

Shogaku Gonensei (Sonic Hurry to the Rescue???, Eggman Uses Sport's Day to Set Up a Trap...Don't Lose, Sonic!!,)

 ·

Shogaku Rokunensei

 ·

Corocoro (Big Dreams Make Sonic Propel Forward!!, Big Dreams Are My Energy!, Come On, Guys! Let's Daaance!!, A New Buddy, Tails, Enters the Stage!!)
Dengeki Nintendo DS
Sonic World Adventure

 ·

Sonic and the Black Knight

 ·

Sonic Chronicles

 ·

Sonic Colors

 ·

Sonic Generations
Other
Sonic the Hedgehog Story Comic (1, 2, 3)

 ·

Sonic the Hedgehog Book

 ·

Sonic the Hedgehog 2: Mega Drive Official Guide Book

 ·

Dash & Spin Super Fast Sonic (Vol. 1, Vol. 2)
Printed media
Manga
Sonic the Hedgehog Story Comic (1991)

 ·

Sonic the Hedgehog (1992—1994) (Sonic no Daibouken)

 ·

Dash & Spin Super Fast Sonic (2003—2005)

 ·

Dengeki Nintendo DS (Sonic World Adventure (2008), Sonic and the Black Knight (2009), Sonic Chronicles (2009), Sonic Colors (2010), Sonic Generations (2011))
Comic books
Sonic the Hedgehog (promotional comic) (1991)

 ·

Sonic the Comic (1993—2002)

 ·

Sonic Sunday Strips (1993—1995)

 ·

Sonic the Hedgehog (Archie Comics) (1993—2017) (miniseries (1993), Princess Sally (1995), Tails (1995), Knuckles (1996), Sonic Quest (1996), Knuckles the Echidna (1997—1999), Sonic X (2005—2008), Sonic Universe (2008—2017), Sonic Boom (2014—2015))

 ·

Sonic Adventures (1994)

 ·

Sonic Comic (2016)

 ·

Sonic the Hedgehog (IDW Publishing) (2018-)
Novels and picture books
Stay Sonic (1993)

 ·

Virgin Books (Sonic the Hedgehog in Robotnik's Laboratory (1993), Sonic the Hedgehog in the Fourth Dimension (1993), Sonic the Hedgehog and the Silicon Warriors (1993), Sonic the Hedgehog in Castle Robotnik (1994))

 ·

Pense Bem: Uma Aventura Científica com Sonic the Hedgehog (1993)

 ·

Troll Associates (Sonic the Hedgehog (1994), Sonic the Hedgehog: Robotnik's Revenge (1994), Sonic the Hedgehog: Fortress of Fear (1995), Sonic the Hedgehog: Friend or Foe? (1995), Sonic & Knuckles (1995), Sonic X-Treme (1997))

 ·

Ladybird (Sonic the Story (1994), Sonic the Hedgehog: Robotnik's Oil (1994), Sonic the Hedgehog: The Invisible Robotnik (1994))

 ·

Watermill Press (Sonic the Hedgehog (1995))

 ·

Golden Books (Sonic the Hedgehog: Sonic's Shoes Blues (1993), Sonic the Hedgehog 2: The Secret Admirer (1994), Sonic the Hedgehog 3: Up Against the Wall (1995), Sonic the Hedgehog: Double Trouble (1996))

 ·

Sonic X books (2005—2007) (Meteor Shower Messenger (2005), Spaceship Blue Typhoon (2005), Battle at Ice Palace (2006), Aqua Planet (2006), Dr. Eggman Goes to War (2006), Desperately Seeking Sonic (2007))

 ·

Where's Sonic? A Search-and-Find Adventure (2012)

 ·

Sonic Boom books (2015—2016) (Le partenaire ideal (2015), La machine à gaffes (2015), Pas de chance, Knuckles ! (2015), L'épouvantable Todd (2016), Sonic Superstar (2016), Une étrange météorite (2016))

 ·

Sonic and the Tales of Deception (2018)

 ·

Sonic and the Tales of Terror (2018)
Other
Sonic Adventure Gamebooks (1993—1996)

 ·

Ladybird (Sonic the Hedgehog Adventure Gamebook (1994—1995), Joke Book (1994), Where's Sonic? (1994), Where's Sonic Now? (1996), Puzzle Book 1 (1994), Puzzle Book 2 (1994))

 ·

The Official Sonic the Hedgehog Yearbook (1993, 1994)

 ·

Sonic the Hedgehog Book (1992)

 ·

Sonic the Hedgehog Paint 'n' Marker Book (1993)

 ·

Look and Find Sonic the Hedgehog (1994)

 ·

Sonic the Hedgehog (Play-a-Sound) (1995)

 ·

How to Draw Sonic the Hedgehog & the Gang (1998)

 ·

The History of Sonic the Hedgehog (2012)

 ·

Sonic the Hedgehog Super Interactive Annual 2014 (2013)

 ·

Run, Sonic, Run! (2013)

 ·

Sonic the Hedgehog 25th Anniversary Art Book (2017)

 ·

Welcome to the World of Sonic (2018)

 ·

Sonic the Hedgehog Mad Libs (2018)
Television and film
Animated shows
Adventures of Sonic the Hedgehog (1993)

 ·

Sonic the Hedgehog (1993—1994)

 ·

Sonic Underground (1999)

 ·

Sonic X (2003—2005)

 ·

Sonic Boom (2014—)
Other
Sonic - Super Hedgehog (1994)

 ·

Sonic Christmas Blast (1996)

 ·

Sonic the Hedgehog: The Movie (1996)

 ·

Man of the Year (1997)

 ·

Sonic: Night of the Werehog (2008)

 ·

Sonic Mania Adventures (2018)

 ·

Theatrical film series (Sonic (2019))
Miscellaneous
Alton Towers (Sonic Pinball)

 ·

conventions (Sonic Boom, Summer of Sonic)

 ·

franchise's timeline

 ·

Guinness World Records

 ·

Hedgehog Engine

 ·

Honey Nut Cheerios

 ·

iTunes

 ·

Ken Penders' legal cases

 ·

cameo appearances and references

 ·

SEGA Republic (Sonic Hopper, Spin Gear)

 ·

Sonic Bible

 ·

Sonic Bowl

 ·

Sonic Generations of Skate

 ·

Sonic Live in Sydney

 ·

Sonic Parade Balloon

 ·

Toyland Tours

 ·

Sonic the Hedgehog toys