This article is about a subject in the real world.
Information in this article is about real-life people, companies, and objects, and does not relate to the in-universe Sonic series.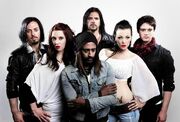 All Ends is an alt-metal Swedish band formed in 2003. Tinna Karlsdotter and former member Emma Gelotte performed "With Me."
Members
Current members
Tinna Karlsdotter – vocals
Jonna Sailon – vocals
Fredrik Johansson – guitars
Peter Mårdklint – guitars
Joseph Skansås – drums
Anders Janfalk – bass
Björn Gelotte – Song writing (formerly guitars)
Jesper Strömblad – Song writing (formerly guitars
Former members
Emma Gelotte – vocals
Michael Håkansson – Bass
Ad blocker interference detected!
Wikia is a free-to-use site that makes money from advertising. We have a modified experience for viewers using ad blockers

Wikia is not accessible if you've made further modifications. Remove the custom ad blocker rule(s) and the page will load as expected.