This object exists primarily or exclusively within the Pre-Super Genesis Wave continuity.
Information in this article may not be canonical to the storyline of the games or any other Sonic continuity.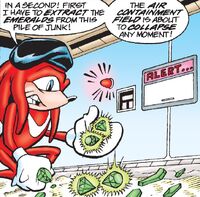 Anarchy Beryl are the Anti-Mobius equivalent of the Chaos Emeralds in Mobius Prime. An Anarchy Beryl was embedded in Scourge's throne, which he used to transform into Super Scourge in order to combat the combined threat of Sonic the Hedgehog, Amy Rose, Shadow the Hedgehog, Silver the Hedgehog, Rob O' the Hedge, Metal Sonic and Rosy the Rascal.
History
Like their Mobius Prime counterparts, Anarchy Beryl provides a transformation into complete invulnerability, but it seems to be longer lasting. However, the downside is that it drains the power of the individual once their Super transformation runs out, leaving them completely defenceless. This was the case with Super Scourge, who was drained of his power once he voluntarily de-transformed and Sonic proceeded to capture him with ease. Furthermore this drain seemed to last for some time, although it's possible Scourge was exaggerating.
Also as an opposite to the Chaos Emeralds, of which there are only seven in supply, Moebius is said to be loaded with tons of Anarchy Beryl, potentially giving Scourge access to greater power than Sonic could have. However, this is due to the fact that the gems of Moebius were never combined into seven, as Feist did with the Emeralds of Mobius Prime.
The 'downer' after effect of Anarchy Beryl after its 'boost' is not unlike the effects of powerful real-life illegal stimulants; a massive burn-out that leaves the user helpless. This is one likely reason Moebians do not use it often, despite how plentiful it is. It has been said that if use of a Chaos Emerald is comparable to a good Caffine buzz, then Anarchy Beryl could be compared to some kind of 'Super-Cocaine', since it gives a brief high and then a massive drain.
Trivia
Emeralds are technically green beryl, which explains why the gems in Anti-Mobius were named Anarchy Beryl.
The name Anarchy Beryl is a misnomer. The term anarchy doesn't refer to a lack of rules or order (i.e. chaos) but a lack of rulers.
Video games

Color Blocks | Chaos Emeralds (Extreme Gear) | Crystals | Emeralds | Emerald Shards | Forcejewels | Gems (Blue, Green, Purple, Rainbow, Red, Sky, Yellow) | Great Emeralds | Master Emerald | Precioustone | Sol Emeralds | Super Emeralds | Time Stones
Sonic the Comic
Black Emerald | Grey Emerald | Chaos Emeralds | Master Emerald | Soul Crystal | Ultragem
Sonic the Hedgehog
Deep Power Stone | Energy Crystal | Power Rock | Time Stones
Adventures of Sonic the Hedgehog
Chaos Emeralds (Immortality, Invincibility, Invisibility, Life, Ring)

Archie Comics

Pre-SGW
Anarchy Beryls | Ancient Onyx | Chaos Emeralds (Dark Mobius, In Another Time, In Another Place) | Freedom Emeralds | Guiding Star Gem | Master Emerald (Dark Mobius) | Master Precioustone | Sol Emeralds | Super Emerald | Time Stone
Post-SGW
Chaos Emeralds | Emerald Shards | Master Emerald | Sol Emeralds | Time Stones
Sonic Underground
Chaos Emerald | Power Stone
Sonic X
Chaos Emeralds | Master Emerald
Sonic Boom
Chaos Crystals | Crystal Shards | Lost Crystal of Power | Meroke Crystal | Fregosi Sapphire
Ad blocker interference detected!
Wikia is a free-to-use site that makes money from advertising. We have a modified experience for viewers using ad blockers

Wikia is not accessible if you've made further modifications. Remove the custom ad blocker rule(s) and the page will load as expected.