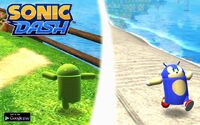 Andronic is a playable character in Sonic Dash. He is a hybrid between Sonic and the Android Robot which is also the logo of Android OS. He is available in the Google Play version of Sonic Dash on Android, but not in the iOS version or Amazon App Store versions. 
Trivia
Andronic is somewhat similar to the Miis when playing as them in the Wii version of Sonic Colors.
Gallery
Ad blocker interference detected!
Wikia is a free-to-use site that makes money from advertising. We have a modified experience for viewers using ad blockers

Wikia is not accessible if you've made further modifications. Remove the custom ad blocker rule(s) and the page will load as expected.