For other uses of the term, see Angel Island (disambiguation). For the Zone in Sonic Advance, see Angel Island Zone (Sonic Advance).

Welcome to the Floating Island. Things will really heat up once Dr. Robotnik sets fire to this area of the island. Beware of the Flying Battery blimp.


— Instruction manual
Angel Island Zone is the first Zone of Sonic the Hedgehog 3 (or Sonic the Hedgehog 3 & Knuckles). The Zone is set in a tropical jungle with waterfalls on the Floating Island.
Story
When playing as Sonic, Angel Island Zone begins with a short introduction sequence. Sonic and Tails discover the Floating Island in their biplane, Tornado. With the Chaos Emeralds from Sonic the Hedgehog 2 still in his possession, Sonic leaps off the plane and becomes Super Sonic, skimming across the sea and onto the island, where he bumps into Knuckles the Echidna and drops the Emeralds. Knuckles steals Sonic's Emeralds, laughs and runs off. When playing as Tails or Knuckles, this intro does not play.
Halfway through Act 1, a horde of Flame Crafts appear and set the Zone on fire. This completely changes the background of the level, from its lush peaceful surroundings to an inferno. One of the Flame Crafts returns as a mini-boss at the end of Act 1. In Act 2, a huge warship known as the Flying Battery flies overhead and attempts to kill the player by dropping large bombs. The player must avoid these bombs and outrun the ship until it flies away. When playing as Knuckles, the Flying Battery is not encountered.
After facing Dr. Robotnik in his Flame Craft and opening the Zone's Capsule, Sonic and Tails again encounter Knuckles, who presses a switch that breaks the bridge they were standing on, in order to send them into the next level of the game: Hydrocity Zone.
Giant Ring locations
Act 1
Instead of going to the right at the first set of vines, go down and to the left. Do a Spin Dash into the wall here to find the Giant Ring.
After the Flame Crafts bombard the island, go down into the gap by the springs and then spin dash the left wall. Take the spring, break the top and fall back down and a Giant Ring will pop up.
Act 2
At the start of the Sonic/Tails path, slide into the Ring's room.
After the switch that lowers the water in the Sonic/Tails path, go down both flipping platform sets. Just keep going until the characters hit the two disappearing platforms. Go into the water and Spin Dash up the right wall while holding right to find the Ring.
Bosses
Act 1
A Flame Craft is the sub-boss of Angel Island Zone. It is a robot that uses flame jets to hover around. It is equipped with a flamethrower and rocket launchers. It takes six hits to destroy it.
Act 2
The boss for this level is Dr. Robotnik, flying in a modified Egg Mobile also called the Flame Craft. The Flame Craft has two aiming weapons on either side that shoot fireballs across the arena. It takes eight hits to destroy the Flame Craft.
Trivia
There is a glitch in this level that causes the Act 1 music to change to Act 2 music after the completion of a Special Stage or Bonus Stage in Act 1. This was fixed in Sonic the Hedgehog 3 & Knuckles.
A remixed version of the music from both Acts of this level was composed by Jun Senoue for the True Blue: The Best of Sonic the Hedgehog album, Super Smash Bros. Brawl. The remix in Super Smash Bros. Brawl is the only remixed Sonic song.
When moving on to Act 2, the player still has access to a large portion of Act 1.
After defeating the Act 2 boss, when Knuckles destroys the bridge, Sonic or Tails can jump off just as it falls apart and roam around on the ledge where the boss battle was fought. Also, Tails can fly on the platform where Knuckles is at. In co-op mode, it is possible for him to carry Sonic up to this area as well. Knuckles' theme music repeatedly plays, and Knuckles just stands there laughing. The Zone does not end until Sonic or Tails falls down either of the two gaps where the bridges were.
An alternate version of the Sonic the Hedgehog 3 intro featured Sonic surfing onto the island, which was replaced in favor of Knuckles knocking the Chaos Emeralds from Super Sonic. The Sonic surfing sprites can be viewed in Debug Mode.
When playing as Knuckles, one can see the sky in some parts of the background in Act 1, as to which when playing as Sonic and/or Tails the player could see the ocean which shows that Knuckles' story takes place after Sonic and/or Tails.
Act 1 of Angel Island Zone's music was remixed as the music for Act 2 of Neo South Island Zone in Sonic the Hedgehog Pocket Adventure.
Gallery
Music
Video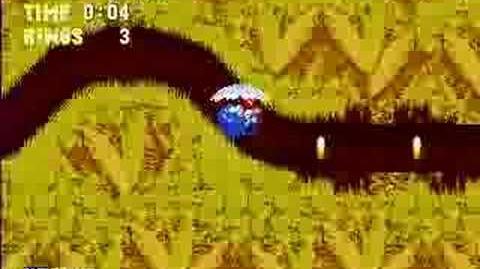 ---
Main articles (Sonic 3, Sonic & Knuckles, Sonic 3 & Knuckles) | Gallery (Sonic 3, Sonic & Knuckles) | Beta elements | Staff (Sonic 3, Sonic & Knuckles)
Characters
Sonic (Super Sonic, Hyper Sonic) | Tails (Super Tails) | Knuckles (Super Knuckles, Hyper Knuckles) | Dr. Robotnik | Mecha Sonic (Mecha Sonic's Super State) | Animals (Flicky (Flicky's Super State), Pocky, Pecky, Cucky, Ricky, Rocky)
Badniks
Batbot | Blaster | Blastoid (Carnival Night Zone) | Blastoid (Hydrocity Zone) | Bloominator | Bubbles | Bugernaut | Butterdroid | Catakiller, Jr. | Chainspike | Clamer | Cluckoid | Corkey | Dragonfly | EggRobo | Fireworm | Flybot767 | Hyudoro | Iwamodoki | Jawz | Madmole | Mantis | Mega Chopper | Monkey Dude | Mushmeanie | Orbinaut | Penguinator | Pointdexter | RhinoBot | Ribot | Rock'n | Sandworm | Skorp | Snale Blaster | Spikebonker | Spiker | Star Pointer | TechnoSqueek | Toxomister | Turbo Spiker
Zones
Sonic 3
Angel Island Zone | Hydrocity Zone | Marble Garden Zone | Carnival Night Zone | IceCap Zone | Launch Base Zone | Special Stages | Bonus Stages
Sonic & Knuckles
Mushroom Hill Zone | Flying Battery Zone | Sandopolis Zone | Lava Reef Zone | Hidden Palace Zone | Sky Sanctuary Zone | Death Egg Zone | The Doomsday Zone | Special Stages | Bonus Stages
Competition
Azure Lake Zone | Balloon Park Zone | Chrome Gadget Zone | Desert Palace Zone | Endless Mine Zone
Sub-bosses
Doctor Robotnik's Flame Craft (Angel Island Zone Act 1) | Doctor Robotnik's Whirlpool Machine | Tunnelbot | Self D-Struct Machine | Iceball | Swing'm Spikez | Hei Hou | Gapsule | Barrier Eggman | Guardian | Heat Arms | Egg Mobile-H | Flying Eggman | Red Eye | Death Ball
Bosses
Doctor Robotnik's Flame Craft (Angel Island Zone Act 2) | Doctor Robotnik's Waterspout and Depth Charge Machine | Doctor Robotnik's Jet Drill Pod | Doctor Robotnik's Energy Ship | Doctor Robotnik's Freeze-O-Matic | Ball Shooter | Beam Rocket | Big Arm | Jet Mobile | Hang Mobile | Egg Golem | Hot Mobile | Knuckles | Mecha Sonic | Mecha Sonic's Super State | Kyodai Eggman Robo | The Doomsday Zone
Moves/techniques
Bound Jump | Double Jump | Fireball Spin Dash | Glide | Gliding Knuckles Attack | Hyper Flash | Insta-Shield | Propeller Flying | Spin Jump | Spin Dash | Spin Attack | Wall Climb
Items
Air Bubbles | Balloon | Banana | Bomb | Booster | Bumper | Bumper wall | Cannon | Capsule | Change | Chaos Emerald | Cloud | Continue | Fan | Jump Stand | Monitor (Water Shield, Flame Shield, Invincibility, Lightning Shield, Super Ring, Power Sneakers, Extra Life, S, Eggman) | Movable box | Mushroom | Pulley | Ring | Signpost | Self-Propelled Bomb | Slow-Down Shoes | Snowboard | Sphere | Spikes | Spring | Spinning Top | Star Post (Star Circle) | Super Emerald | Switch | Transport | Zip Line
Other
Angel Island | Barrel | Blue Knuckles | Conveyor Belt | Corkscrew loop | Crusher | Debug Mode | Fireball Cannon | Flipper | Flywheel | Freeze | Giant spear | Goal | Gravity Control Switch | Gumball | High-speed elevator | High-speed warp tube | Icicle | Jewel Radar | Perfect Bonus | Platform-raising Wheel | Pole Elevator | Relief | Reverse | Ring Shooter | Seesaw | Shuttle loop | Slot Machine | Snowblower | Sonic & Knuckles • Sonic the Hedgehog 3 | Spiked ball | Strange Relief | Tunnelbot | Warp Point | Winding Tunnel | Wonderman
Ad blocker interference detected!
Wikia is a free-to-use site that makes money from advertising. We have a modified experience for viewers using ad blockers

Wikia is not accessible if you've made further modifications. Remove the custom ad blocker rule(s) and the page will load as expected.