Adventures of Sonic the Hedgehog
Talk

21
7,861pages on
this wiki
Redirected from AoSTH
| | | | | |
| --- | --- | --- | --- | --- |
| | | Adventures of Sonic the Hedgehog | — | |
Adventures of Sonic the Hedgehog

Adventures of Sonic the Hedgehog
Original Run:
6 September 1993 – 3 December 1993
Episodes:
65
For other titles with "Adventures", see Adventures
Adventures of Sonic the Hedgehog (often abbreviated as AoStH) is an American animated television series that was first broadcast on ABC in September 1993, and has been running in cartoon syndication ever since. It follows the escapades of the popular animated character, Sonic the Hedgehog, and his comrade Miles "Tails" Prower, as they attempt to stop the evil Dr. Ivo Robotnik and his array of vicious robots from taking over the planet Mobius. It marks as the first animated series.
Premise
Adventures of Sonic the Hedgehog
is a fast-paced cartoon with much slapstick humor, akin to such shows as
Animaniacs
or
Tiny Toons Adventures
. The show features very few recurring characters, usually just Sonic, Tails, Robotnik and his two hench-bots
Scratch
and
Grounder
(with a third robot,
Coconuts
, appearing often) - however, there are many occasional minor characters and robots too. The plots often loosely follow the storyline of
the video games series
, although the franchise was relatively new during that time and lacks much plot or character development, which was filled in by the show's writers.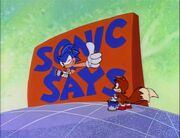 Adventures of Sonic the Hedgehog was created by DiC Entertainment, which produced a total of 13 episodes for its first season, and was syndicated by Bohbot Entertainment, now BKN International. The first episode was "Best Hedgehog" (which was the 13th episode in production order, shown 6 September) and the last was "Hero of the Year" (which was the 60th in production order, shown 3 December). DiC ceased production on this comical interpretation to spend more time on its darker interpretation, entitled Sonic the Hedgehog (commonly known as SatAM by fans), a series launched on ABC's Saturday morning line-up.
After the original airing, DiC created one more episode in the winter of 1996, "Sonic Christmas Blast", which has features from Sonic the Hedgehog (SatAM) such as Sally in a non-speaking cameo, and has Sonic and Tails visiting Robotropolis, which has a human population and a name pronounced with two "T"s. The letters page of issue #41 of the Sonic the Hedgehog comic book promotes the special as "An X-Tremely Sonic Christmas", suggesting that it was originally intended to promote Sonic X-treme, a Sega Saturn game which was eventually canceled due to numerous problems in development; the special's name was changed to match the game that did come out, Sonic 3D Blast.
Opening
The Adventures of Sonic the Hedgehog opening theme tune is an instrumental piece of music written by Clark Gassman. The tune borrows from the main theme of Sonic the Hedgehog 2. Some refrains are based on certain pieces of classical music, including "Flight of the Bumblebee" and Grieg's "In the Hall of the Mountain King".
International versions
There was a different version that appeared in the French version. It was sung by Alexis Tomassian.
Cast (English version)
Trivia
The majority of voice actors from the show also did voice work for the 1994 Mega Man cartoon. Some of which included:
John Stocker (who provided additional voice work), also voiced the Mario character Toad in both The Super Mario Bros: Super Show and The Adventures of Super Mario Bros 3.
In this series, there are references to 4 Sonic games (Sonic the Hedgehog, Sonic the Hedgehog 2, Sonic 2 (8-bit) and Sonic the Hedgehog Spinball) such as the zones of the games, Badniks, Chaos Emeralds, Rings and the Special Stage. The main characters also appear in Sonic 2 (except Scratch, who was inspired by a variety of Badnik from this game named Clucker).
Most of the villains in the first episode of the show later appeared in the game Dr. Robotnik's Mean Bean Machine.
In the last Chaos Emerald episode, we learn that Tails goes to school (or did) due to his statement that he learned something at school (big bang theory) after Sonic recommended it during "Over the Hill Hero ".
Scratch's third sentence was "Are you my mother?", a reference to P. D. Eastman's famous book Are You My Mother?
This was the only version of the American cartoons where Robotnik was referred to as "Eggman" in an episode, keeping with the egg-themed insults used by both Sonic and Tails. Many of his inventions were egg themed, and eggs are repeatedly mentioned to be his favorite food.
The episode Tails' Tale is the only time where Tails reveals his full name to be "Miles Prower". In Tails' New Home, however, he does state that his given name is Miles and goes on to say that he dislikes it.
This was the only animated incarnation until Sonic X to use music from the Sonic video games in any form. The only piece that was constantly reused was the classic title theme from Sonic the Hedgehog.
During the show, references were made to the Austrian-American actor (later Governor of California) Arnold Schwarzenegger and his most well known role as the Terminator, in the episodes like Too Tall Tails and Coachnik. In Robolympics, there's a robot version called "Arnold Robonegger."
In the episode The Magic Hassle, sound effects from the game Super Mario Bros. can be heard as Robotnik uses a computer. The sound effects are heard again in Attack in Pinball Fortress
In Sonic & Sega All-Stars Racing, the tips that Sonic is shown giving during the loading screens are entitled Sonic Says, presumably a call back to the Adventures of Sonic the Hedgehog.
Due to poor translation issues, the Spanish (Latin America)-dubbed version of Sonically Ever After accidentally made Tails into a female character, confusing many children in Latin America. Also, the Latin American translation include character renames: Tails for "Colitas" (Spanish for "Little Tails") and Robotnik for "Mostachón" (Spanish for "Big Moustache"), mistakes carried onto SatAM's dub. None of the these changes are present in the Spanish (Spain) version.
This is the only continuity in which Sonic does not show any fear of water.
Sonic has had two birthdays in this show in Tails Prevails and Robotnikland.
The Sonic Says (Sonic Sez) segments were never shown on original UK airings.
Internet reviewer Nostalgia Critic reviewed AoStH, mostly criticizing the show as "making absolutely no sense" and being "utterly bizarre". In the commentary for the episode, he explained that he didn't mean to imply that he "didn't like the show", but rather that he found it random and confusing. In the review, he also made a few nitpicks about the animation. In one instance, Sonic is trapped in a cage with bars that he could clearly walk out of easily. In another, what Sonic calls "civilization" is criticized as "not looking like much". Also criticized is a running gag in which Sonic's favorite food is chili dogs. The "Sonic Says" segment is also noted for having an episode in which the "moral" is to "not climb into clothes dryers", which Nostalgia Critic claims is random. Also criticized is Sonic's poor disguises, and showing the audience it's him in disguise when it's painfully obvious already.
Episodes
Broadcast History
Adventures of Sonic the Hedgehog was most recently shown weekdays at 8:00 a.m. Central Time on Toon Disney in the USA. Robotnik was also the featured villain occasionally on the "Chillin' with the Villains" marathon block (he was even featured in their commercials). In the UK, AoStH was originally shown on Channel 4 until the show's end; recently it was also shown on the satellite channel POP, until 17 April 2006 when it was replaced with Sonic Underground. It was shown on that channel as part of a "Sonic Week".
United States

Syndication (1993-2000)
USA Network (1993-1995)
Toon Disney (1998-2003)
This TV (2010-2011)
United Kingdom

Channel 4 (7 November 1993-1997)
The Children's Channel (1995-1998)
POP (February 2004 - TBC)
ITV2 (2005) (as part of "GMTV2 kids" )
CITV (1993-2012)
CBBC (1994-2002)

Argentina
Sweden
Malaysia

TV3 (1995-1997)
Disney Channel Asia (2002)
Australia

Network Ten (1995-1996)
ABC1 (1996-??)
Disney Channel Australia (1996-2000)
Greece

STAR kidz (1995-2013)
Alter (1998-2014)
Germany

Super RTL (1994-2003)
Junior (1993-2012)
RTL Kids (1997-2011)
France

France 3 (1999-2004)
France 5 (1995-2003)
Italy

Italia 1 (1993)
Frisbee (2010)
K2 (2010)
Czech Republic

Premiera TV / Prima (approx. 1996-2000)
Russia

Klaskolishka Television (1994-2013)
Poliska TV (1993-2012)
VHS/DVD Releases
There were 6 VHS tapes released in the US with 2 episodes each per tape. In the UK, there were about 10 tapes released; Volumes 1 to 6 (except Volume 5 which is Quest for the Chaos Emeralds, a 4 parter edited without the title cards) had 3 episodes per tape, "High Stakes Sonic"/"Sonic Breakout" and "Momma Robotnik's Birthday" tapes had 2 episodes each. Also there was a bumper tape released that was roughly 3 hours long. None of the UK videos had the Sonic Says segments included except the episode High Stakes Sonic.
One of these UK videos had four different versions. All of these four had the episode "Sonic Breakout" in it. However, in one the other episode was "High Stakes Sonic". In another it was "Slowwww Going" and the final version had all three of these episodes. Also there was a tape with just the "Sonic Breakout" episode.
Shout! Factory has already released two DVD sets of the series in the US, each with 22 episodes in chronological order. The remaining episodes, as well as "Sonic Christmas Blast", were released in a third and final volume that is only available for purchase on Shout! Factory's website.
A "Sonic Christmas Blast" DVD was released, featuring the title episode. The remaining episodes, however, were that of the Sonic Underground cartoon.
In the UK, the show was released in its entirety by Delta Home Video, who also released SatAM and Underground in the UK, as one boxset with eight discs on 11 Jun 2007.
Ncircle Entertainment also released several themed DVD's and two-disc boxed sets (called season set collector's editions).[1] The boxed sets were "Let's Race" and "The Fastest Thing in Time".
References
See also
External links
Sonic Cartoons Transcripts