This article is about a subject in the real world.
Information in this article is about real-life people, companies, and objects, and does not relate to the in-universe Sonic series.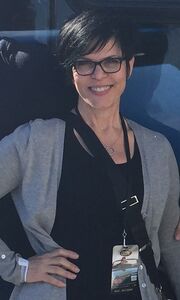 April Terri Winchell (born 4 January 1960) is an American voice actress, actress, writer, talk radio host, and commentator. She was born in New York City, the daughter of ventriloquist, voice actor and comedian Paul Winchell. She voiced Rosie in Sonic the Hedgehog.
Other Roles
As a voice actress, she has been heard in hundreds of animated television programs, such as King of The Hill, Phineas & Ferb, Pucca, Kim Possible, Recess (as Miss Muriel Finster), Goof Troop (as Peg Pete), Disney's House of Mouse, Mickey Mouse Clubhouse, and Mickey and the Roadster Racers (as Clarabelle Cow), Pepper Ann (as Lydia Pearson), The Legend of Tarzan (taking over for Rosie O'Donnell as Terk) and 101 Dalmatians: The Series (as Cruella De Vil), SWAT Kats: The Radical Squadron (as Molly Mange). She has also voiced roles in numerous films, including Antz, Who Framed Roger Rabbit, and Rob Zombie's The Haunted World of El Superbeasto. She was also considered for the part of Regan MacNeil in The Exorcist until she fell ill and was taken out of consideration.
External links
Former English Voice Actors