Aquatic Ruin Zone
Talk

3
8,871pages on
this wiki

Roaming Romans infest a beautiful forest and sunken lake. Explore an intricate maze. If you're underwater, breathe the air bubbles to keep from drowning. A countdown begins when your oxygen's running out.

— Sonic the Hedgehog 2 manual description[1]
Aquatic Ruin Zone
Appearances and Overview
First appearance
Description

Ancient ruins briefly submerged underwater

Location
Stage theme(s)
Previous stage
Next stage
Playable characters
(story mode)
Level number

3

Number of acts

2

Enemies
Boss fight
Aquatic Ruin Zone is the third Zone in Sonic the Hedgehog 2. As with most other stages in this game, Aquatic Ruin Zone consists of two standard Acts with a boss fight at the end of Act 2.
Description
A crumbling, semi-submerged stonework ruin, this Zone sports a couple of main terrain features that make it unique compared to the others. Water, for one; the movement speed underwater is much slower, so be prepared. Like with the rising chemicals from Chemical Plant Zone, if the player stays underwater for too long,  the player will eventually drown. To avoid drowning, stand near a small pile of air bubbles on the ground and wait for a big bubble to rise. There are also alternate paths to avoid the water altogether.
The ancient pillars that lie dotted around Aquatic Ruin are riddled with traps. Some will rise up when you approach and you must jump on them to destroy them. These can be dangerous in conjunction with the arrows fired out by other pillars, but otherwise they are not a threat.
Boss
The boss here has totem poles that rise up from the ground. Dr. Robotnik will then float above the poles and hit them in an alternating pattern with his hammer, causing the totems to fire an arrow. Once this arrow hits the other pole, you must jump on the arrow and hit the Egg Mobile.
Trivia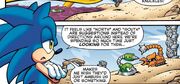 Several totem poles from the Aquatic Ruins (specifically during the boss battle) makes a cameo in Sonic Universe #53 during the Sonic the Hedgehog and Mega Man comic crossover event, Worlds Collide. It appears in the Skull Egg Zone while Sonic the Hedgehog, Mega Man, Miles "Tails" Prower, and Rush explore the zone to find the two remaining Roboticized Masters, which are Knuckles Man and Rose Woman.
In various preview magazines back in 1992, Aquatic Ruin Zone was named Neo Green Hill Zone (a name later used for the first level in Sonic Advance). This may have some connection to the concept that Sonic the Hedgehog 2 was, in its early planning stages, intended to have time travel like Sonic CD.
In the children's books published by Ladybird, such as Robotnik's Oil and Sonic the Hedgehog Adventure Gamebook 1, this zone was called Aquatic Ruins Zone instead of Aquatic Ruin Zone.
The boss for this stage can be very hard and frustrating when playing as Knuckles, as he cannot jump as high as Sonic or Tails.
The boss for this zone is often used in hacks for the unfinished Wood Zone.
In the Simon Wai prototype, the level music plays differently compared to the final.
Gallery
Music
Video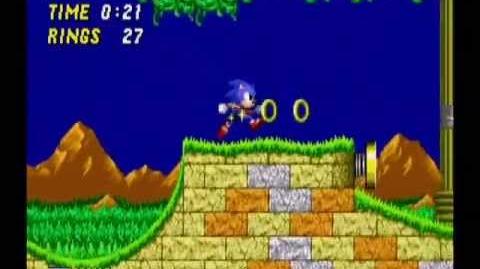 Referneces
External Links
---
Characters

Sonic | Tails | Knuckles | Super Sonic | Super Tails** | Super Knuckles | Dr. Robotnik | Mecha Sonic | Becky | Flicky | Pocky | Pecky | Cucky | Ricky | Picky | Rocky | Locky | Wocky | Rat | Tocky | Tux | Chirps

Badniks

Alligator* | Aquis | Asteron | Balkiry | Banper* | BBat** | BFish* | Bubbler* | Bubbler's Mother* | Buzzer | Cactus* | Chop Chop | Clucker | Coconuts | Crawl | Crawlton | Flasher | Frog* | Gohla | Grabber | Grounder | Jellies** | Lobster* | Masher | Nebula | Octus | Rexon | Shellcracker | Slicer | Snail* | Spiker | Spiny | Stegway** | Turtloids | Redz** | Whisp

Zones

Emerald Hill Zone | Chemical Plant Zone | Aquatic Ruin Zone | Casino Night Zone | Hill Top Zone | Mystic Cave Zone | Oil Ocean Zone | Metropolis Zone | Sky Chase Zone | Wing Fortress Zone | Death Egg Zone | Hidden Palace Zone** | Genocide City Zone* | Dust Hill Zone* | Rock Zone* | Winter Zone* | Egg Gauntlet Zone** | Boss Attack Zone** | Proto Palace Zone** | Special Stage

Bosses

Drill Eggman | Water Eggman | Tonkachi Eggman | Catcher Eggman | Submarine Eggman | Drill Eggman II | Brass Eggman** | Submarine Eggman II | Flying Eggman | Barrier Eggman | Mecha Sonic | Death Egg Robot

Moves/Techniques

Climb | Glide | Spin Jump | Super Dash Attack | Super Spin Attack | Insta-Shield**

Items

Ring | Monitor (Super Ring, Shield, Power Sneakers, Invincibility, Extra Life, Teleporter, Eggman, Lightning Shield**, Flame Shield**, Water Shield**, S** | Continue | Spring | Star Post | Bumper | Switch | Air Bubbles | Signpost | Capsule

Other

Original Soundtrack | West Side Island | Chaos Emerald | Debug Mode | Spikes | Gondola | Corkscrew Loop | Totem Pole | Shuttle Loop | Booster | Winding Tunnel | Crusher | Seesaw | Bomb | Cannon | High-Speed Elevator | Conveyor Belt | Tornado | Dr. Eggman's Rocket Ship | Mega Mack | Pinball Shooter | Slot machine | Spear | Spiked Ball | Stone Pillar | Flipper | Gallery

*Exclusive to the Prototype/beta version of Sonic the Hedgehog 2.
** Exclusive to 2013 re-release version.