Aquatic Ruin Zone
Talk

2
7,442pages on
this wiki
Aquatic Ruin Zone is the third zone of Sonic the Hedgehog 2 for the Sega Mega Drive, coming after Chemical Plant and before Casino Night Zone. As with most other stages in this game, Aquatic Ruin Zone consists of two standard Acts with a boss fight at the end of Act 2.
Description
A crumbling, semi-submerged stonework ruin, the Zone sports a couple of main terrain features that make it unique compared to the others. Water, for one; The movement speed underwater is much slower, so be prepared. Like with the rising chemicals from Chemical Plant Zone, if Sonic stays below the surface for too long, you will hear a new music and a flashing number, and finally Sonic drowns. To avoid drowning, stand near a small pile of bubbles on the ground and wait for a big bubble to rise.
The ancient pillars that lie dotted around Aquatic Ruin are riddled with traps. Some will rise up when you approach, and you must jump on them to destroy them. These can be dangerous in conjunction with the arrows fired out by other pillars, but otherwise they are not a threat.
Geographically, the Zone is located somewhere on Westside Island.
Badniks
Chop-Chop: These are in the water and follow you around. They can be positioned anywhere in the water and are serious threats due to your decreased underwater movement speed.
Grounder: These drills look very easy but are positioned in very strategic places. They are placed at the top of paths above you, to block your way. They can also be hidden in the walls, and will pop out when you pass them - that form of them is by far the most difficult (although the places where they pop out have different colored bricks in the wall, so can be spotted in advance).
Whisp: These fly around in a swarm of three or five. They will follow you in many places, except underwater. They are usually positioned near jumps where you have little protection from them. Also, one insect can kill so even if you destroy two in a swarm, the rest can still kill you.
Boss
The boss here has totem poles that rise up from the ground. Dr. Robotnik will then float above the poles and hit them in an alternating pattern with his hammer, causing the totems to fire an arrow. Once this arrow hits the other pole, you must jump on the arrow and hit the Eggmobile.
Music
Video
Trivia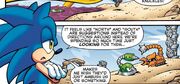 External Links