Archie Sonic Universe Issue 1
Talk

0
6,677pages on
this wiki
Sonic Universe
Publication Details
Issue
1
Date

February 24, 2009

Publisher
Production Staff
Writer
Cover Artist

Patrick Spaziante

Pencils

Tracy Yardley!; Steven Butler (Off-Panel)

Inks

Jim Amash; Steven Butler (Off-Panel)

Letters

Teresa Davidson

Colors

Jason Jensen; Paul Kaminiski (Off-Panel)

Editor

Mike Pellerito

Managing Editor

Mike Pellerito

Editor-in-Chief

Victor Gorelick

Special Thanks

Kristen Parcell and Cindy Chau at SEGA Lincensing

First Appearances
Characters
Archie Sonic Universe Issue 1 is the first issue of the spin-off Sonic Universe comic book series published by Archie Comics.
Living Weapons
Edit
This story takes place after Sonic #196 and Sonic X #40 and during the course of Sonic #197.
The new series begins with Shadow the Hedgehog and Metal Sonic, who had just teleported via Chaos Control from Moebius to Earth (Sonic X), and then from Earth to another world,[1][2] and Shadow had had enough of it.[3] Shadow, seeing the location above a sea they're at as a good place to talk, tried to persuade Metal that he is a living weapon, like Shadow himself, and that Metal should not let Doctor Eggman use him as he was used.
Metal Sonic, completely ignoring Shadow, kicked him down into the water, knowing from his data-entry that his rocket-soled shoes allow for limited hovering capability, and 0 flight capability. After Metal Sonic checked his database for swimming ability, he found nothing. Metal, considering Shadow's ability to swim as being nonexistent, flew off to find a local form of Dr. Eggman.[4]
With Shadow all alone in the water, he wondered how long it would be to shore. His luck came in when Marine the Raccoon and Blaze the Cat came to help in the Ocean Tornado.[5]
A minute later, Shadow was on board with Marine and Blaze. While Marine brought Shadow a towel, Blaze, thinking he looked familiar, asked if he and Sonic the Hedgehog were related. Shadow denied this, yet he said that they have crossed paths before.
After Shadow introduced himself while he dried off, Marine described him as "full of mystery and danger."
Shadow, who completely ignored Marine, along with throwing the towel in Marine's face, was welcomed aboard the ship by Blaze. Blaze asked Shadow how he ended up in the ocean. Shadow answered by explaining the past events,[6] which Marine responded to with "STREWTH!?"[7]
Blaze introduced herself and Marine to Shadow, with Marine shouting that she'd already told him that. Shadow asked how Blaze knew Sonic. Blaze recounts her story of her encounter with Sonic, only to be interrupted by Marine, who exaggerates her performance claiming she built the boat that led Sonic and Tails home.
Marine pulls the Ocean Tornado into Southern Island's port and discovers that Metal Sonic had been terrorizing the inhabitants. Blaze, blinded by anger, attacks Metal Sonic only to be propelled back. Shadow catches Blaze apologizing for bringing Metal Sonic to the Sol Dimension and strikes him, who defends. Marine climbs on Metal Sonic and starts hitting him, and Metal Sonic retaliates by tossing Marine aside.
Shadow attempts to reason with Metal Sonic, claiming he is only a weapon in Doctor Eggman's eyes. Metal Sonic pauses to consider this and processes the data. He states that Shadow's purpose is to protect Mobius and Metal's purpose is to serve Dr. Eggman. Thus, Shadow is not different; he just has an opposing purpose. Shadow wishes Metal Sonic did not see it that way and signals Blaze to attack Metal Sonic. Blaze combusts the robot who is launched in the air by Shadow's spin dash and destroyed by the Ocean Tornado's cannons.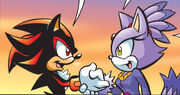 Shadow then helps Blaze and Marine extinguish the flames in the village. Marine is excited but Shadow claims that by destroying Metal Sonic, they destroyed his only means of home. Shadow asks Marine to build him a boat as she did for Tails, when Marine confesses that Tails built it and she oversaw development, leaving Shadow annoyed. Blaze then gives Shadow the green Chaos Emerald that Sonic gave her to track down the Sol Emeralds, stating that she can find the others without it. Shadow shows great gratitude saying "It's not often my life is saved twice in one day." He then thanked the princess and warped home.
Shadow returned to G.U.N. HQ where he found Hope Kintobor and Commander Abraham Tower. Shadow says that although he didn't reach the Special Zone, he found a Chaos Emerald. Tower tells Shadow to rest as his next mission begins tonight.
Other Features
Edit
Sonic Graphic Novel Library (formerly Sonic Graphics Novel Checklist)
Edit
The Sonic Graphic Novel Library is a comic subscription-type page for buying Sonic graphic novels: Sonic Select and Sonic Archives. Sonic: The Beginning has been replaced by the smaller Sonic Archives Volume 0.
Sonic Checklist
Edit
The Sonic Checklist is a comic subscription page for subscribing to Sonic the Hedgehog (comic series) and Sonic Universe (formerly Sonic X (comics)) and back issue collector sets. As of this issue, the Sonic Checklist no longer has the graphic novels on it.
Your Sonic Universe (Sonic Grams)
Edit
This is the first Sonic Grams for Sonic Universe titled: Your Sonic Universe. It has previews of Sonic Universe #2 and Sonic the Hedgehog #198 along with Off Panel.
Off Panel
Edit
This edition of "Your Sonic Universe" also features the return of Off Panel. As of this issue, Off Panel no longer shows the real-life editors and as such, only Sonic characters. For the first issue, Knuckles gets furious when he finds out that his part in Sonic Universe doesn't start until issue 9. He continues this in the Off Panel of the following issue.
Shadow: I have been dueling with a robot called Metal Sonic. It has some sort of engine that allows it to warp from zone to zone. Using my own Chaos Control abilities, I have followed it here.
Marine: STREWTH!?
(Shadow explaining how he reached Blaze's world).
Shadow: I assume "here" is not Mobius?
Blaze: I'm afraid not. My name is Blaze, and this is my world.
Marine: She's a princess!
Blaze: And this is Marine...
Marine: I ALREADY TOLD HIM THAT!!!
Blaze: ...Who helped construct this ship.
Marine: AND CAPTAIN IT!!!
(Blaze introducing herself and Marine to Shadow).
Shadow: It's not often that my life is saved twice in one day, thank you Princess.
Blaze: Please, just call me Blaze, safe travels Shadow.
(Shadow's last words with Blaze before warping back to Mobius).
Characters
Edit
This is the first time in the Archie Sonic continuity that Blaze the Cat and Marine the Raccoon have been seen together.
This marks Blaze's third appearance in the Archie Sonic continuity.[8]
This is the first time in the Archie Sonic continuity that shows Marine having an Australian accent. The reason for her not having one in her first appearance was due to her character not being completely developed at the time.[9]
This marks the very first time in the Sonic franchise where Shadow and Blaze meet.
On the Sonic Checklist, in the subscription section, it says "formerly Sonic X" beside the Sonic Universe 6-issue and 12-issue subscriptions.[10]
Originally, the cover showed Marine with a different pose.
Small, uncolored previews (without dialogue) of the first few pages of Sonic Universe #1 were given out at a Comic Con along with a poster showing the first 4 issues of Sonic Universe.
There are a few coloring errors in the comic. One of the most noticeable errors is that Marine's muzzle is tan during the story despite it being white for her first appearance and on the cover of this issue. Also, the cuffs of Blaze's gloves are purple during the entire story. Some other noticeable errors appear when Marine is wrestling Metal Sonic; her ears are orange rather than brown in some panels. The tip of Blaze's tail is white in a few scenes, and when Shadow is extinguishing the fire and Marine is cheering, Marine's pigtails are not colored.
Image Gallery
Edit
Comic References
Edit
External Links
Edit