Archie Sonic Universe Issue 22
Talk

0
7,423pages on
this wiki
Sonic Universe #22
Treasure Team Tango - Part 2 of 4
Publication Details
Issue
22
Date

November 2010

Publisher
Production Staff
Writer
Pencils
Archie Sonic Universe Issue 22 is the twenty-second issue of the spin-off Sonic Universe comic book series published by Archie Comics.
Official Solicitation
"Treasure Team Tango: Part Two": Blaze joins Team Rose as they face off against Team Dark for the Sol Emerald! But as fire and fists fly, a third team sneaks in to add to the chaos! Who is "Team Hooligan", and will they be the ones who come out on top? The laughs and mayhem continue in this latest story arc!
Summary
Off Panel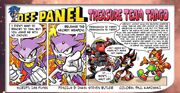 This month's Off-Panel opens with Blaze unleashing her "secret weapon"...which was Marine on Team Dark. Marine kept talking and talking, annoying Team Dark until the Off-Panel came to a close. Marine makes a reference to the famous "Over 9000" internet meme.
Quotes
Blaze: Shadow. THIS is how your repay my generosity? You know how badly my world needs the Sol Emeralds!
Shadow: ... That was then. This is now.
Omega: (to Blaze) I like you! Let us burn things together!
Blaze: ?!?
Bean: D'awww! Isn't she the cutest little floppy eared, loud mouthed, tiny wittle bitty, fluffy you've ever seen?!
Cream: Oh, um... thank you?
Bean: PLEASE, can we keep her, boss?! She can be our mascot! I'll feed her, and take her for walks, and name her Jorge!
Nack: Knock it off, Bean! I don't have time for your brand of crazy today!
Amy: You let Cream go RIGHT NOW!
Nack: Oh no, not her, not the hammer.
Bean: Hey! It's Shouty- Hammer McPain! You wanna be co-mascots with Jorge?!
Gallery