Archie Sonic Universe Issue 24
Talk

0
8,049pages on
this wiki
Sonic Universe #24
Treasure Team Tango - Part 4 of 4
Publication Details
Issue
24
Date

12 January 2011

Publisher
Production Staff
Writer
Cover Artist
Pencils
Archie Sonic Universe Issue 24 is the twenty-fourth issue of the spin-off Sonic Universe comic book series published by Archie Comics.
Official Solicitation
"Treasure Team Tango" Part Four: The wild grand finale to our craziest story yet! Four teams vie for the precious Sol Emerald! Will Team Rose help Blaze save her world? Will Team Dark beat them into submission? Will Nack's "Team Hooligan" cash it in, or will the Babylon Rogues beat them to it? You can't miss this blockbuster conclusion!
Summary
Treasure Team Tango - Part Four
Off-Panel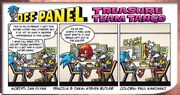 Eggman Nega is complaining to Sonic that he started the Treasure Team Tango Arc but did not even make an appearance in it. Sonic replies that the series is called "Sonic Universe" and all he made was a cameo appearance. Knuckles appears, telling Sonic that he now knows what it feels like to be a "minor character", and Sonic responds by slamming the door on Knuckles.
Quotes
Rouge: Not a bad job, ladies. Now... hand over the gemstone!
Shadow: Enough.
Rouge: What?
Shadow: G.U.N. owes Blaze a favour for the Chaos Emerald. More importantly, the safety of a world outweighs our mission.
Rouge: I don't just walk away from a gem!
Shadow: You will let this go or I will make you.
Omega: We will make you. I won't make the tiny bunny cry.

Omega: And... er... Blaze?
Blaze: Yes?
Omega: You burn things very well. I must go now. Goodbye.
Trivia
Gallery
Preview Pages