Archie Sonic Universe Issue 35
Talk

0
6,673pages on
this wiki
This page either started life as a Mobius Encyclopaedia article or contains content from it.
You can help by rewriting sections of this article to make the page unique to the Sonic News Network.
When rewriting articles, remember to adhere to our Manual of Style.
Sonic Universe
Publication Details
Issue
35
Date

December 2011

Publisher
Archie Sonic Universe Issue 35 is the thirty-fifth issue of the spin-off Sonic Universe comic book series published by Archie Comics.
Babylon Rising - Part Three
Edit
The story begins with Tails and Rotor asking NICOLE to repair the Tornado. She does, but then breaks down, saying the entire city want her offline, and that Sally is gone. Rotor then says there is something else that he needs her to do.
Later, the Armada and Babylon Rogues break through New Mobotropolis' shields with one of Dr. Fukorov's devices. Then, Sonic, Tails, Rotor and Amy take to the skies to attack the fleet.
Back on the ground, we see the citizens evacuating, including Antoine and Bunnie.
Off-Panel
Edit
An Ugly Leader Contest takes places featuring Ixis Naugus, Battleekuku XIV, Eggman, Scratch, Grounder and Mogul. It is very unpleasant and Sonic says "No matter who wins, we all lose!"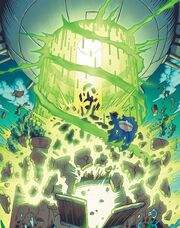 The final page, which shows Castle Acorn's destruction by the Battle Bird Armada, gives homage to the teaser poster of the 1996 film Independence Day.