Archie Sonic the Hedgehog Issue 134
Talk

0
7,896pages on
this wiki
Sonic the Hedgehog #134
Publication Details
Issue
#134
Date

March 2004

Publisher
Production Staff
Cover Artist
Editor
Assistant editor
Managing Editor
Editor-in-Chief
Special Thanks

Robert Leffler and Takuma Hatori at Sega Licensing
Sonic the Hedgehog Issue 134 is the one hundred thirty-fourth issue of Sonic the Hedgehog series published by Archie Comics.
Official Solicitation
Home: Epilogue - Say You Will
The poignant aftermath to this epic tale's climactic finale. With the present crisis abated last issue, Sonic finally has the chance to catch up to those near and dear to him, especially one Princess Sally Acorn.
Mobius 25 Years Later - In Transit
The series continues as Lord Rotor returns to the Kingdom of Knothole, while Knuckles consults with the Brotherhood of Guardians at Haven II.
Featured Stories
Home: Epilogue - Say You Will
Synopsis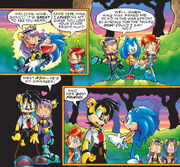 Sonic is back from his recent struggle with Dr. Robotnik after his trip into space. Sonic meets up with Tails and tells him that his family is still alive. After some family time, Sonic and his friends attend Mina's latest concert announcing that King and Queen Acorn are going away with Antoine to counter Robotnik's forces. Mina reveals her boyfriend Ash, to Sonic and King Acorn says that Sally will be in charge of the kingdom. Sally makes an announcement to Sonic to rule by her side and stop fighting against Robotnik. Sonic refuses and Sally slaps him. After some intense arguing, Sally leaves the stage crying yelling to Sonic saying that he can fight Robotnik all by himself.
Appearances
Trivia
This story contains several cameo appearances by characters who resemble characters from the UK publication Sonic the Comic. In particular, Tekno the Canary appears with Amy Rose at the concert, and says "Wow, Amy--Sally's in charge" after King Acorn's announcement. Amy specifically refers to her as Tekno. Shortfuse the Cybernik appears in a group of four Robians as Sonic explains about the Bem's mass-deroboticization. Several other characters appear at the concert, including:
As King Acorn announces that he and Alicia will leave Knothole for a while, Tails Doll can be seen next to Big the Cat. Tails Doll also appears at the top left of the crowd in the final panel of the story.
Tiara Boobowski has a cameo appearance on page 20, standing next to Amy in front of the stage as Sonic and Sally break up. Characters resembling Sonia and Manic from Sonic Underground can also be spotted in this scene, sitting next to Espio and above Rotor respectively.
In one of the panels, Sonic's ears are missing.
Mobius: 25 Years Later - In Transit
Synopsis
On an aircraft travelling back from Angel Island, Rotor records his personal log. He describes how, while meeting with Knuckles, they were interrupted by Rutan and Salma, who had been eavesdropping. Knuckles heard them and identified them with his bionic eye. Knuckles left to check Rotor's information. Rotor concludes his log by saying that he knew that Knuckles would be conferring with the Brotherhood at Haven Two.
At Haven Two, Knuckles kisses his grandfather Sabre, who is now catatonic in a wheelchair. Sojourner appears, and Knuckles asks to use the satellite monitors he cannot use his own surveillance equipment in the Chaos Chamber because he had made a promise to Julie-Su that he wouldn't ever spy on the family. Spectre assumes that Knuckles wants to spy on Lien-Da, but Knuckles says it's about Rutan. On the monitor, Lien-Da confronts Rutan and Salma about where they've been all night. Rutan says they spent the night with friends after Lara-Su's Unveiling, but Salma admits that she told her parents that she was staying with Lara-Su. Knuckles says that Lara-Su has some explaining to do for covering for them, but that he is more interested in whether Rutan learned anything he shouldn't have.
From the aircraft, Rotor watches the Brotherhood's feed on a monitor. Rotor is impressed that Cobar managed to hack the system, although Cobar modestly says it was accidental. Rotor thinks that the two children are harmless, but Cobar says that the bigger threat is Lien-Da, who could muck things up. As the aircraft approaches the Kingdom of Acorn, Rotor says that the King wouldn't be surprised due to his dislike of Echidnas... especially the Guardian.
Appearances
Continuity
Other features
Sonic Checklist
Sonic-Grams
Off Panel
Trivia
The cover of this issue is based on the famous cover of Marvel Comic's The Amazing Spider-Man #50, in which Peter Parker temporarily gives up being Spider-Man.
References
External links