Archie Sonic the Hedgehog Issue 138
Talk

0
7,864pages on
this wiki
Sonic the Hedgehog #138
Publication Details
Issue
138
Date

July 2004

Publisher
Archie Sonic the Hedgehog Issue 138 is the one hundred thirty-eighth issue of the Sonic the Hedgehog comic book series published by Archie Comics.
Official Solicitation
Return to Angel Island (Part 1 of 4): The Message
Sonic, Knuckles and the Chaotix go back to the magical island to find it a far worse place than last seen. Overrun by Robotnik, Dingos and the Dark legion, one can only wonder: have the Guardians faltered and can the island ever be the same?! Find out in this epic tale.
Mobius: 25 Years Later - My Dinner with Sonic
The popular "Mobius, 25 Years later" saga continues! When old, friendly nemeses sit down for what's supposed to be a cordial meal, it seems like there's less humble pie on the menu than steamed egos!
Summary
Return to Angel Island - Part One: The Message
King Max Acorn is lecturing Sally from going to Old Megaopolis to rescue Tommy Turtle. Sonic trys to bail Sally out by saying he kidnapped her, but King Acorn does not believe him. Sonic still cares about his relationship with Sally, but Sally wants Sonic to stop caring about her. She needs a companion to rule by her side, not going off playing hero.
At King Fredrick's airbase, King Acorn, Alicia Acorn, Uncle Chuck and Antoine set off on their extended tour of Mobius to rally supporters against Dr Robotnik. Later at Uncle Chuck's diner, Sonic decides to have a chat with Julie-Su and Knuckles about Sally. Charmy and Saffron enter the diner exhausted. Dr Robotnik sent his Egg Pawns to attack Goldenhive Colony and Charmy and Saffron are the only survivors. From the technotree, a jumbled message is heard that Locke is being held prisoner on Angel Island. Knuckles organises the Chaotix to return to Angel Island. Sonic decides to go with them to help them out. The Chaotix and Sonic find an echidna prison camp run by Dingoes once they arrive. The echidna mistake Knuckles for the Avatar. Knuckles finds Constable Remington at the camp, who believes he is the Avatar.
Dr Robotnik in contact with General Kage who has Locke hostage, wanting to know the new location of the Master Emerald. Sonic and the Chaotix looking for the translation that came to them are soon surrounded by the Dark Legion.
Mobius 25 years later: My Dinner with Sonic
Julie-Su and Sally enjoying the time that there two families are having together, while Sonic and Manic and playing volleyball against Sonia Acorn and Lara-Su. Sally admits she misses Tails and his family who have moved to Downunda. During dinner, Knuckles and Sonic are constantly arguing and devising their plan that Knuckles has been told by Rotor.
Jazwares Comic Book pack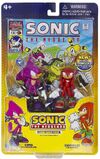 In 2010, the toy company, Jazwares released this issue in a comic book/ action figure pack. Along with this issue, the pack consisted of Espio and Vector action figures. The comic itself is a reprint on the new glossy stock. It is also much thinner than the original because all the advertisements have been removed. Some of the advertisements were replaced with up to date ads for the Sonic archie comics and the Jazwares Sonic toys.
This comic was released in another comic book pack, this time with Espio and Knuckles instead of Vector.
Trivia
Remington mentions heading to the Sky Sanctuary Zone, which is a level of Sonic & Knuckles.
Arriving on Angel Island, Knuckles is wearing black knuckles, an air necklace, and goggles. They look like the accessories that Knuckles can find in Sonic Adventure 2.
This issue is first to show the new version of Vector as his Sonic Heroes design.
On the cover, it shows Sonic in the same pose as he was on the cover of Sonic Heroes, and does the same for Knuckles, though his design on the cover is his Sonic Heroes cover artwork backwards.
Two cameos appear in the scene at Uncle Chuck's diner. Tekno the Canary and Tiara Boobowski, who previously cameoed in issue #134.