Archie Sonic the Hedgehog Issue 207
Talk

0
6,665pages on
this wiki
Sonic the Hedgehog
Publication Details
Issue
#207
Date

December 2009

Publisher
Production Staff
Writer
Pencils
Archie Sonic the Hedgehog Issue 207 is the two hundred and seventh issue of the main Sonic the Hedgehog comic book series published by Archie Comics.
The Iron King wants the force-field over Sonic's home city gone, so he heads to its power source: the radioactive remains of Robotropolis!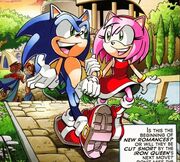 This could spell doom for our heroes - not to mention the surrounding environment! As Sonic and Monkey Khan races to the rescue, Princess Sally finally comes to a pivotal personal decision.
The Iron Queen
Edit
The second half of this intriguing new villainess' thrilling origin is revealed!
The toy company Jazwares has included this issue in two of their exclusive action figure/ comic book packs. This issue was first released in a pack with Sonic and Metal Sonic, shortly after, this pack was replaced with another pack that was identical except Metal Sonic was replaced with Amy Rose. The pack with Amy makes a bit more sense considering Sonic and Amy go on a date in this issue, and Metal Sonic does not appear in it at all. In an Interview with TomoPop, Joe (from Jazwares) said "... eventaully the comic book pack will be replaced and we will put Amy in there, thats kind of an idea from the fans cause they were saying, there was a concern of Amy being popular with kids...".