Archie Sonic the Hedgehog Issue 268 is the two hundred sixty-eighth issue in the Sonic the Hedgehog comic series published by Archie Comics.
Official solicitation
TEST YOUR MIGHT with the first chapter in an all-new 4-part SAGA! "Champions" Part One: Sonic is in for the fight of his life! Casino Park is holding an epic fighting tournament, and the grand prize is a much sought-after Chaos Emerald! How many fighters will answer the call? Which champions will make the roster? The knock-down, drag-out battle for the world starts right here! Featuring new cover art from Sonic rising star Evan Stanley, plus all-new variant art introducing Breezie the Hedgehog by Sonic artist Jonathan H. Gray!
Summary
Champions Part One: The Gang's All Here
Trivia
This issue marks the first official appearance of Honey the Cat in the comic's continuity. It should be noted that prior to this issue's release, Honey was a character requested by many readers of the comic.

Additionally, the regular cover shows all but one (that being Knuckles) of the playable characters from Sonic the Fighters, the video game Honey was originally scheduled to debut on.

The variant cover teases a reappearance of Breezie, who originally debuted in the television series, Adventures of Sonic the Hedgehog. She is given a redesign that better matches the look of characters in the games.
This issue marks the beginning of the Sonic the Fighters adaptation.
According to the main cover, "Champions" is a four-part arc, however the variant claims it is a two-parter. The variant cover was confirmed to have a misprint, thus only four issues will be used in the "Champions" story arc.
Breezie's name icon on the variant cover is a homage to Las Vegas casino signs.
When Sally shows information about Breezie, The "Timed" magazine is a reference to the magazine TIME.
The Egg Hawk can be seen in the background when Knuckles arrives at Casino Park Zone.
Amy's dress is from Honey's "Dream-Casters" line of clothes. This is a reference to Sonic Adventure and the Sega Dreamcast, Not only because of the name but Amy's outfit was introduced in Sonic Adventure, the first Sonic game on the Dreamcast.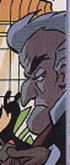 Gallery
Cover artwork
Off panel artwork
Preview pages
| | |
| --- | --- |
| Sonic the Hedgehog | 1 | 2 | 3 | 4 | 5 | 6 | 7 | 8 | 9 | 10 | 11 | 12 | 13 | 14 | 15 | 16 | 17 | 18 | 19 | 20 | 21 | 22 | 23 | 24 | 25 | 26 | 27 | 28 | 29 | 30 | 31 | 32 | 33 | 34 | 35 | 36 | 37 | 38 | 39 | 40 | 41 | 42 | 43 | 44 | 45 | 46 | 47 | 48 | 49 | 50 | 51 | 52 | 53 | 54 | 55 | 56 | 57 | 58 | 59 | 60 | 61 | 62 | 63 | 64 | 65 | 66 | 67 | 68 | 69 | 70 | 71 | 72 | 73 | 74 | 75 | 76 | 77 | 78 | 79 | 80 | 81 | 82 | 83 | 84 | 85 | 86 | 87 | 88 | 89 | 90 | 91 | 92 | 93 | 94 | 95 | 96 | 97 | 98 | 99 | 100 | 101 | 102 | 103 | 104 | 105 | 106 | 107 | 108 | 109 | 110 | 111 | 112 | 113 | 114 | 115 | 116 | 117 | 118 | 119 | 120 | 121 | 122 | 123 | 124 | 125 | 126 | 127 | 128 | 129 | 130 | 131 | 132 | 133 | 134 | 135 | 136 | 137 | 138 | 139 | 140 | 141 | 142 | 143 | 144 | 145 | 146 | 147 | 148 | 149 | 150 | 151 | 152 | 153 | 154 | 155 | 156 | 157 | 158 | 159 | 160 | 161 | 162 | 163 | 164 | 165 | 166 | 167 | 168 | 169 | 170 | 171 | 172 | 173 | 174 | 175 | 176 | 177 | 178 | 179 | 180 | 181 | 182 | 183 | 184 | 185 | 186 | 187 | 188 | 189 | 190 | 191 | 192 | 193 | 194 | 195 | 196 | 197 | 198 | 199 | 200 | 201 | 202 | 203 | 204 | 205 | 206 | 207 | 208 | 209 | 210 | 211 | 212 | 213 | 214 | 215 | 216 | 217 | 218 | 219 | 220 | 221 | 222 | 223 | 224 | 225 | 226 | 227 | 228 | 229 | 230 | 231 | 232 | 233 | 234 | 235 | 236 | 237 | 238 | 239 | 240 | 241 | 242 | 243 | 244 | 245 | 246 | 247 | 248 | 249 | 250 | 251 | 252 | 253 | 254 | 255 | 256 | 257 | 258 | 259 | 260 | 261 | 262 | 263 | 264 | 265 | 266 | 267 | 268 | 269 | 270 | 271 | 272 | 273 | 274 | 275 | 276 | 277 | 278 | 279 | 280 | 281 | 282 | 283 | 284 | 285 | 286 | 287 | 288 | 289 | 290 | 291 | 292 | 293 | 294 | 295 | 296 | 297 | 298 | 299 | 300 |
| Miniseries | Sonic the Hedgehog (0, 1, 2, 3) | Princess Sally (1, 2, 3) | Sonic the Hedgehog's Buddy: Tails (1, 2, 3) | Sonic's Friendly Nemesis: Knuckles (1, 2, 3) | Sonic Quest (1, 2, 3) |
| Knuckles the Echidna | 1 | 2 | 3 | 4 | 5 | 6 | 7 | 8 | 9 | 10 | 11 | 12 | 13 | 14 | 15 | 16 | 17 | 18 | 19 | 20 | 21 | 22 | 23 | 24 | 25 | 26 | 27 | 28 | 29 | 30 | 31 | 32 |
| Sonic Super Specials | 1: Battle Royal | 2: Brave New World | 3: Sonic Firsts | 4: Return of the King | 5: Sonic Kids | 6: Sonic #50: Director's Cut | 7: Sonic/Image Crossover | 8: Sally Moon | 9: Sonic Kids 2 | 10: Crossover Chaos | 11: Girls Rule! | 12: Turnabout Heroes | 13: Sonic Adventure | 14: Sonic Stew | 15: Naugus Games |
| 48-Page Specials | Sonic: in Your Face! | Sonic & Knuckles | Sonic Triple Trouble | Knuckles' Chaotix | Super Sonic vs. Hyper Knuckles | Mecha Madness | Sonic Live! | Sonic Blast |
| Sonic X | 1 | 2 | 3 | 4 | 5 | 6 | 7 | 8 | 9 | 10 | 11 | 12 | 13 | 14 | 15 | 16 | 17 | 18 | 19 | 20 | 21 | 22 | 23 | 24 | 25 | 26 | 27 | 28 | 29 | 30 | 31 | 32 | 33 | 34 | 35 | 36 | 37 | 38 | 39 | 40 |
| Sonic Universe | 1 | 2 | 3 | 4 | 5 | 6 | 7 | 8 | 9 | 10 | 11 | 12 | 13 | 14 | 15 | 16 | 17 | 18 | 19 | 20 | 21 | 22 | 23 | 24 | 25 | 26 | 27 | 28 | 29 | 30 | 31 | 32 | 33 | 34 | 35 | 36 | 37 | 38 | 39 | 40 | 41 | 42 | 43 | 44 | 45 | 46 | 47 | 48 | 49 | 50 | 51 | 52 | 53 | 54 | 55 | 56 | 57 | 58 | 59 | 60 | 61 | 62 | 63 | 64 | 65 | 66 | 67 | 68 | 69 | 70 | 71 | 72 | 73 | 74 | 75 | 76 | 77 | 78 | 79 | 80 | 81 | 82 | 83 | 84 | 85 | 86 | 87 | 88 | 89 | 90 | 91 | 92 | 93 | 94 | 95 | 96 | 97 | 98 | 99 | 100 |
| Sonic Boom | 1 | 2 | 3 | 4 | 5 | 6 | 7 | 8 | 9 | 10 | 11 |
| Free Comic Book Day Issues | Sonic FCBD 07 | Sonic FCBD 08 | Sonic FCBD 09 | Sonic FCBD 10 | Sonic FCBD 11 | Sonic FCBD 12 | Sonic FCBD 13 | Sonic FCBD 14 | Sonic FCBD 15 | Sonic FCBD 16 |
| Halloween Comic Fest Issues | Sonic HCF 2013 |
| Other | Sonic the Hedgehog Issue ¼ | Dark Mobius - Knuckles' Descent | Complete Sonic Comic Encyclopedia | Sonic: Mega Drive | Sonic: Mega Drive - The Next Level |