Archie Sonic the Hedgehog Issue 271 is the two hundred seventy-first issue in the Sonic the Hedgehog comic series published by Archie Comics.
Official solicitation
Grab a front row seat for the finale to the brawl-iest, punch-iest, contest-iest Sonic comic saga yet! "Champions" Part Four: It's the battle you've all been waiting for (again!): Sonic versus Knuckles—for the title and the Chaos Emerald! The old rivalry blazes to life as the True Blue and Rad Red throw down for glory—and for the fate of the entire world! But with the vengeful Hooligans waiting in the shadows, and Metal Sonic en route, will they even get to finish their fight, or will their foes beat them to the punch? Featuring new cover art from Sonic art legend Tracy Yardley and a super-special new ARCADE VARIANT by the latest Sonic art superstar RAFA KNIGHT!
Summary
Champions Finale: The Ones Left Standing
Off-Panel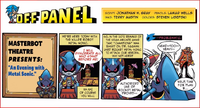 Masterbot theatres interviews Metal Sonic and asks him why Rocket Metal Sonic (from the 2012 re-make of Sonic the Fighters) was not used in the comic. Metal responds by saying it was problematic. The scene changes showing Rocket Metal Sonic falling over, due to his head being heavy. much to Eggman's annoyance.
Trivia
The arcade machine on the variant cover features several screenshots from the original video game Sonic the Fighters on the arcade machines.

This is a reference to Sonic the Fighters originally only being playable on arcade machines.

The battle pose Honey shows on the variant cover is the same as her game counterpart's in Sonic the Fighters.
Gallery
Cover art
Preview pages
| | |
| --- | --- |
| Sonic the Hedgehog | 1 | 2 | 3 | 4 | 5 | 6 | 7 | 8 | 9 | 10 | 11 | 12 | 13 | 14 | 15 | 16 | 17 | 18 | 19 | 20 | 21 | 22 | 23 | 24 | 25 | 26 | 27 | 28 | 29 | 30 | 31 | 32 | 33 | 34 | 35 | 36 | 37 | 38 | 39 | 40 | 41 | 42 | 43 | 44 | 45 | 46 | 47 | 48 | 49 | 50 | 51 | 52 | 53 | 54 | 55 | 56 | 57 | 58 | 59 | 60 | 61 | 62 | 63 | 64 | 65 | 66 | 67 | 68 | 69 | 70 | 71 | 72 | 73 | 74 | 75 | 76 | 77 | 78 | 79 | 80 | 81 | 82 | 83 | 84 | 85 | 86 | 87 | 88 | 89 | 90 | 91 | 92 | 93 | 94 | 95 | 96 | 97 | 98 | 99 | 100 | 101 | 102 | 103 | 104 | 105 | 106 | 107 | 108 | 109 | 110 | 111 | 112 | 113 | 114 | 115 | 116 | 117 | 118 | 119 | 120 | 121 | 122 | 123 | 124 | 125 | 126 | 127 | 128 | 129 | 130 | 131 | 132 | 133 | 134 | 135 | 136 | 137 | 138 | 139 | 140 | 141 | 142 | 143 | 144 | 145 | 146 | 147 | 148 | 149 | 150 | 151 | 152 | 153 | 154 | 155 | 156 | 157 | 158 | 159 | 160 | 161 | 162 | 163 | 164 | 165 | 166 | 167 | 168 | 169 | 170 | 171 | 172 | 173 | 174 | 175 | 176 | 177 | 178 | 179 | 180 | 181 | 182 | 183 | 184 | 185 | 186 | 187 | 188 | 189 | 190 | 191 | 192 | 193 | 194 | 195 | 196 | 197 | 198 | 199 | 200 | 201 | 202 | 203 | 204 | 205 | 206 | 207 | 208 | 209 | 210 | 211 | 212 | 213 | 214 | 215 | 216 | 217 | 218 | 219 | 220 | 221 | 222 | 223 | 224 | 225 | 226 | 227 | 228 | 229 | 230 | 231 | 232 | 233 | 234 | 235 | 236 | 237 | 238 | 239 | 240 | 241 | 242 | 243 | 244 | 245 | 246 | 247 | 248 | 249 | 250 | 251 | 252 | 253 | 254 | 255 | 256 | 257 | 258 | 259 | 260 | 261 | 262 | 263 | 264 | 265 | 266 | 267 | 268 | 269 | 270 | 271 | 272 | 273 | 274 | 275 | 276 | 277 | 278 | 279 | 280 | 281 | 282 | 283 | 284 | 285 | 286 | 287 | 288 | 289 | 290 | 291 | 292 | 293 | 294 | 295 | 296 | 297 | 298 | 299 | 300 |
| Miniseries | Sonic the Hedgehog (0, 1, 2, 3) | Princess Sally (1, 2, 3) | Sonic the Hedgehog's Buddy: Tails (1, 2, 3) | Sonic's Friendly Nemesis: Knuckles (1, 2, 3) | Sonic Quest (1, 2, 3) |
| Knuckles the Echidna | 1 | 2 | 3 | 4 | 5 | 6 | 7 | 8 | 9 | 10 | 11 | 12 | 13 | 14 | 15 | 16 | 17 | 18 | 19 | 20 | 21 | 22 | 23 | 24 | 25 | 26 | 27 | 28 | 29 | 30 | 31 | 32 |
| Sonic Super Specials | 1: Battle Royal | 2: Brave New World | 3: Sonic Firsts | 4: Return of the King | 5: Sonic Kids | 6: Sonic #50: Director's Cut | 7: Sonic/Image Crossover | 8: Sally Moon | 9: Sonic Kids 2 | 10: Crossover Chaos | 11: Girls Rule! | 12: Turnabout Heroes | 13: Sonic Adventure | 14: Sonic Stew | 15: Naugus Games |
| 48-Page Specials | Sonic: in Your Face! | Sonic & Knuckles | Sonic Triple Trouble | Knuckles' Chaotix | Super Sonic vs. Hyper Knuckles | Mecha Madness | Sonic Live! | Sonic Blast |
| Sonic X | 1 | 2 | 3 | 4 | 5 | 6 | 7 | 8 | 9 | 10 | 11 | 12 | 13 | 14 | 15 | 16 | 17 | 18 | 19 | 20 | 21 | 22 | 23 | 24 | 25 | 26 | 27 | 28 | 29 | 30 | 31 | 32 | 33 | 34 | 35 | 36 | 37 | 38 | 39 | 40 |
| Sonic Universe | 1 | 2 | 3 | 4 | 5 | 6 | 7 | 8 | 9 | 10 | 11 | 12 | 13 | 14 | 15 | 16 | 17 | 18 | 19 | 20 | 21 | 22 | 23 | 24 | 25 | 26 | 27 | 28 | 29 | 30 | 31 | 32 | 33 | 34 | 35 | 36 | 37 | 38 | 39 | 40 | 41 | 42 | 43 | 44 | 45 | 46 | 47 | 48 | 49 | 50 | 51 | 52 | 53 | 54 | 55 | 56 | 57 | 58 | 59 | 60 | 61 | 62 | 63 | 64 | 65 | 66 | 67 | 68 | 69 | 70 | 71 | 72 | 73 | 74 | 75 | 76 | 77 | 78 | 79 | 80 | 81 | 82 | 83 | 84 | 85 | 86 | 87 | 88 | 89 | 90 | 91 | 92 | 93 | 94 | 95 | 96 | 97 | 98 | 99 | 100 |
| Sonic Boom | 1 | 2 | 3 | 4 | 5 | 6 | 7 | 8 | 9 | 10 | 11 |
| Free Comic Book Day Issues | Sonic FCBD 07 | Sonic FCBD 08 | Sonic FCBD 09 | Sonic FCBD 10 | Sonic FCBD 11 | Sonic FCBD 12 | Sonic FCBD 13 | Sonic FCBD 14 | Sonic FCBD 15 | Sonic FCBD 16 |
| Halloween Comic Fest Issues | Sonic HCF 2013 |
| Other | Sonic the Hedgehog Issue ¼ | Dark Mobius - Knuckles' Descent | Complete Sonic Comic Encyclopedia | Sonic: Mega Drive | Sonic: Mega Drive - The Next Level | Sonic: Mega Drive - Overdrive |