Stay sharp as gravity warps this course, the true form of the divine wings, traveller of stars!


— In-game description
Astral Babylon is a course which is unlocked after defeating Master Core: ABIS in Sonic Riders: Zero Gravity and is the Heroes' section of Babylon Garden. The layout is rather simple as there are only four turns but is rather hard. One of the missions has Sonic racing against the Babylon Rogues.
Overview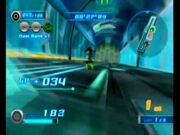 The race takes place in the inside of the spaceship form of Babylon Garden. The course has only four turns. The player can pass through panels to open new items, Trick Zones or shortcuts such as Catapult for Gears capable of Air Riding, a rail for Skates and Boards with Grind, Babylon statues to smash for Bike and Wheel users and a series of springs for characters in Attack/on-foot mode.
Just before each sharp turn the rider may attempt to jump off the edge and use Gravity Control to access the floating wall as a wall route. As the player progresses through the course, the side glass walls of the course will shatter, allowing the player to use Gravity Control to cross over the gap as a shortcut. When using the Gravity Dive, large green prism-shaped crates can rise up from the ground which the player may use as Meteor Bursts. Odd objects appear in the sky, possibly ancient Babylonian satellites or planes. Digital logos of Babylon and lights appear near the start of the course.
Missions
Mission
Objective
Character
Rank requirements
1
Uncover the course's hidden switches to reach the goal in under 52 seconds!
Knuckles

(Time in seconds)

Normal: 52-48
Super: 47-46
Extreme: <45

2
Reach the goal with at least 70 Rings!
Tails

Normal: 70-109 Rings
Super: 110-149 Rings
Extreme: 150 or more Rings

3
Find the hidden kickers and score at least 26 points!
Amy

Normal: 26-41 points
Super: 42-55 points
Extreme: 56 or more points

4
Destroy at least 16 Babylon Statues and reach the goal!
Knuckles

Normal: 16-23 statues
Super: 24-29 statues
Extreme: 30 statues

5
Hit with at least 4 meteor bursts before reaching the goal!
Amy

Normal: 4-5 points
Super: 6-8 points
Extreme: 9 points

6
Reach the goal with at least 110 gravity points left!
Sonic

Normal: 110-
Super:
Extreme: -200

7
Take on the Babylon Rogues and come in at least 3rd place!
Sonic

Normal: 3rd place
Super: 2nd place
Extreme: 1st place
Trivia
In Time Attack mode, this is the only course that has four laps as opposed to three in the other courses.
Music
The music in this track is called "The Core" which is also used for Mobius Strip.
Gallery
Artwork
Screenshots
---
Main article | Gallery | Script (Heroes, Babylon) | Staff | Glitches
Characters
Sonic (Super Sonic) | Tails | Knuckles | Amy | Jet | Wave | Storm | Dr. Eggman | Cream | Rouge | Shadow | Silver | Blaze | SCR-GP | Amigo | NiGHTS | Billy Hatcher | SCR-HD | Master Core: ABIS
Courses/Fields
Heroes
Megalo Station | Botanical Kingdom | MeteorTech Premises | Aquatic Capital | Gigan Rocks | Crimson Crater | Astral Babylon | '80s Boulevard
Babylon
Gigan Device | Nightside Rush | Snowy Kingdom | MeteorTech Sparkworks | Tempest Waterway | Security Corridor | Mobius Strip | '90s Boulevard
Survival Battle
Gravity Pit | Labyrinth | Square Quartet
Survival Ball
MeteorTech Arsenal | Botanical Cave | Megalo Junction
Advantage F | Advantage P | Advantage S | Airship | Angel • Devil | Beginner | Big Bang | Bingo Star | Black Shot | Blue Star | Chaos Emerald | Cover F | Cover P | Cover S | E-Rider | Faster | Fastest | Flame Lance | G Shot | Gambler | GC Booster | GC Master | GP Accumulator | GP Tank | Hang-On | Hyperdrive | Kunoichi | Legend | Light Board | Mag | Magic Broom | Master Off-Road | Money Crisis | Night Sky | Omnitempus | Pink Rose | Power Egg | Psychic Wave | Rail Linker | Rainbow | Red Rock | Reserve Tank | Rhythm Machine | Road Star | Shinobi | Shooting Star | Skill Booster | Smile | Super Hang-On | Temptation | The Crazy | Throttle | Turbo Star | Type-J | Type-S | Type-W | Untouchable | Wanted | Wheel Custom | Wind Catcher | Wind Star | Yellow Tail
Air Ride | Angel/Devil | Attack Time UP | Auto Wall-Run | Base Stats UP | BGM Change | Bike | Durability UP | GC Boost UP | Ghost | GP Gain UP | GP Gauge UP | GP Usage UP | Grind | Item Rank +1 | Magnetic Barrier | Max Speed UP | Parts Lock | Ring Cap UP | Starting Speed UP | Status Trap | Tank | Throttle | Trick Rank +1 | Vision Trap | Wheel | Yacht

Moves and techniques

Air Ride | Attacks | Gravity Control | Gravity Dive | Grinding | Slide Turn | Trick

English voice actors

Jason Griffith (Sonic, Jet, Shadow) | Amy Palant (Tails) | Dan Green (Knuckles, Storm) | Bella Hudson (Wave, Mother computer) | Lisa Ortiz (Amy) | Mike Pollock (Dr. Eggman) | Kathleen Delaney (Rouge) | Pete Capella (Silver) | Rebecca Honig (Cream) | Andrew Paull (SCR-HD, SCR-GP, Master Core: ABIS)

Japanese voice actors

Jun'ichi Kanemaru (Sonic) | Ryō Hirohashi (Tails) | Nobutoshi Kanna (Knuckles) | Daisuke Kishio (Jet) | Chie Nakamura (Wave, Mother computer) | Kenji Nomura (Storm, SCR-HD, SCR-GP, Master Core: ABIS) | Taeko Kawata (Amy) | Koji Yusa (Shadow) | Rumi Ochiai (Rouge) | Daisuke Ono (Silver) | Nao Takamori (Blaze)

Other

Ark of the Cosmos | Babylon Garden | Babylonians | Barricade | Bashōsen | Car | Catapult | Catch Me If You Can | Crimson Tower | Crusher | Dash Panel | Dash Ring | Gravity Point | Grind Rails | Havok | Item Box (Attack, Colorball, Explosion, GP Boost, High Speed, Magnetic Barrier, Missile, Parts Lock, Ring, Speed Down) | Monopole | Mother computer | Ring | Slipstream | Time Attack | Time item | Trick Zone | Un-Gravitify | World Grand Prix | Zero Gravity Tracks: Sonic Riders Shooting Star Story Original Soundtrack