Astral Babylon
Talk

0
6,678pages on
this wiki
Astral Babylon
Game
Next stage
Level number

Seventh
Astral Babylon is a course which is unlocked after defeating Master Core: ABIS in Sonic Riders: Zero Gravity and is the Heroes' section of Babylon Garden. The layout is rather simple as there are only four turns but is rather hard. One of the missions has Sonic racing against the Babylon Rogues.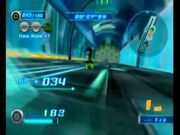 The race takes place in the inside of the spaceship form of Babylon Garden. The course has only four turns. The player can hit panels to open new items, trick ramps or shortcuts such as a ramp for Fly-Type characters, a rail for the Speed-Type characters, Babylon statues to smash for the Power-Type characters and a series of springs for characters in attack/on-foot mode. Just before each sharp turn the rider may attempt to jump off the edge and use gravity control to access the floating wall as a wall route  Although there are no other shortcuts available, the player can use Gravity Control to break through the glass wall and go through the stage faster. Odd objects appear in the sky, possibly ancient Babylonian satellites or planes. Digital logos of Babylon and lights appear near the start of the course.
Musical Themes
Edit
The music is the stage is called "The Core" same as in Mobius Strip.