Azure Lake Zone
Talk

0
7,443pages on
this wiki

Race around 360 degree loops and leap into the air as you run off of ramps in this waterfront region.

— Instruction manual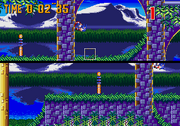 Azure Lake Zone is a two-player level in Sonic the Hedgehog 3. It is a ruins-themed level that's overgrown with plant life. It is a small level and the only real obstacles are a button that blockades the player (or slows him/her down if run into) and a segment that requires the player to backtrack a bit to proceed if an opponent hit the previously-mentioned button. There is also a mud pit which is easy to avoid.
Music