This article is about a subject in the real world.
Information in this article is about real-life people, companies, and objects, and does not relate to the in-universe Sonic series.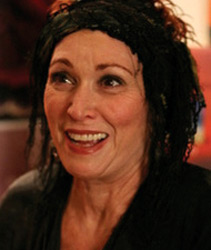 Babz Chula (22 March 1946 – 7 May 2010) was an American-born actress and a permanent resident in Canada.[2]
Sonic-Related Roles
Life and career
Chula was born as Barbara Ellen Zuckerman in Springfield, Massachusetts. She was raised in Jamaica, New York. She received the Artistic Achievement Award by the Vancouver Women in Film Society in 1995.
In 2008, a group of actors and artists in Vancouver created the Babz Chula Lifeline for Artists Society, which helped raise funds for Chula's cancer treatment.
She became a popular actress in Canada starting with her role in the Canadian film My American Cousin. She won acclaim for her community spirit, continuing to act in independent Canadian films while also acting in Hollywood films.
References
External links
Former English Voice Actors
Ad blocker interference detected!
Wikia is a free-to-use site that makes money from advertising. We have a modified experience for viewers using ad blockers

Wikia is not accessible if you've made further modifications. Remove the custom ad blocker rule(s) and the page will load as expected.