This article contains information about a

canceled object

.
As a result, the content of the article may have been canceled or replaced by another subject.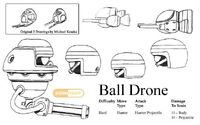 The Ball Drone is a badnik that was originally going to appear in the cancelled Sega Saturn video game, Sonic X-treme. This badnik appears in Death Egg Zone, and according to a magazine screenshot, it would shoot energy balls at Sonic.
Stats
Difficulty: Hard
Move Type: Hunter
Attack Type: Hunter Projectile
Damage: 10 (Body); 30 (Projectile)
Gallery
Ad blocker interference detected!
Wikia is a free-to-use site that makes money from advertising. We have a modified experience for viewers using ad blockers

Wikia is not accessible if you've made further modifications. Remove the custom ad blocker rule(s) and the page will load as expected.