Ad blocker interference detected!
Wikia is a free-to-use site that makes money from advertising. We have a modified experience for viewers using ad blockers

Wikia is not accessible if you've made further modifications. Remove the custom ad blocker rule(s) and the page will load as expected.
This character exists primarily or exclusively within the Sonic Boom continuity.
Information in this article may not be canonical to the storyline of the games or any other Sonic continuity.
For the Badnik in Sonic X-treme, see Beebot.
The Bee Bot[3] is a character that appears in the Sonic Boom franchise. It is a mass-produced, bee-based Badnik model created by Dr. Eggman which makes up a part of Eggman's foot soldiers. They are usually stationed at Dr. Eggman's lair where they guard Eggman's fortress[4] and have been used against Team Sonic on numerous occasions.
Appearance

The Bee Bots are diminutive robots about as tall as Tails, though they can be smaller. As indicated by their template, they resemble mechanical bees. They have a sliver thorax with a cyan-glowing engine attached on each side by a short wing, a black and yellow-striped abdomen, a red stinger with a cyan tip, and two sets of transparent pink wings on their back. Some Bee Bots have a red-striped abdomen and a yellow stringer however.[5] Finally, they have a rhombus-shaped head with a serrated mouth, two antennas and white/cyan eyes with slit-like pupils.
History
TV series
Season one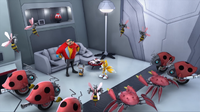 When Tails invaded Eggman's lair to free UT, some Bee Bots would corner him before he gave his services to Eggman in exchange for UT's freedom. More Bee Bots were later stomped when trying to stop Team Sonic's rescue of Tails.[4] A squadron of Bee Bots were also given to Orbot and Cubot which helped the duo rob a warehouse and keep Team Sonic busy while they escaped with their loot.[6] Another squadron was called to the Awardy Awards to make the people give the Awardy Award to Eggman, but they had to flee when Team Sonic started counterattacking.[7] The Bee Bots later called in to stop Team Sonic from breaking Amy out of Eggman's lair, only to get destroyed and mess up the lair for Modern Lair Magazine.[8]
More Bee Bots were called into battle against Sonic after Eggman turned Tails, Knuckles, Amy and Sticks evil. However, they got caught in the crossfire between Eggman's new allies as they turned on each other and were destroyed by Sonic and Eggman (the latter having been turned temporarily good).[9] Eggman soon after brought some Bee Bots to a revenge attack against Sonic and Tails at Sonic's Shack, only for them to get trashed.[10] Several Bee Bots also participated in Eggman's surprise party for Orbot and Cubot where they enjoyed the festivities until Eggman ended them.[11] Later, when Eggman needed to practice his reflexes, a lone Bee Bots helped him with the exercise which it eventually lost.[12] Sonic (while stuck in Eggman's body) later assumed command of the Bee Bots and the other Eggman robots for an attempt to recover his body from Eggman.[13] A lone Bee Bot and other Badniks were later on called in to battle Sonic after Eggman got out of a depression, only to get smashed.[14]
When he failed to sue Sonic legally, Eggman brought in some Bee Bots to fight him and Team Sonic.[15] After discovering Rocky, a swarm of Bee Bots were deployed by Eggman to capture the giant. The Bee Bots tried containing Rocky with their Honeycomb Cage, but he broke free, and Team Sonic fought the Bee Bots to defend Rocky. Amidst the battle, Sonic tricked the Bee Bots into assaulting Eggman, making him retreat.[16] A Bee Bot would join Eggman in a battle against Team Sonic in the jungle, only to get driven off by the heroes.[17] A lone Bee Bot later got a fond farewell from Orbot when he and Cubot left from feeling neglected by Eggman in favor of his new friend Nominatus. Shortly after, the Bee Bots were taken over by the rogue Nominatus for the purpose of destroying all life forms, who had a swarm of Bee Bots pursue Eggman to Team Sonic's location. There, the heroes held off the Bee Bots while Eggman's underlings beat Nominatus and stopped the Bee Bots.[18] Later on, Eggman sent some Bee Bots and other robots after Sonic when he wanted personal payback at the hedgehog. The bots got trashed when Sonic's team came to the rescue however.[19] The Bee Bots were subsequently abandoned when Eggman chose to desert technology. As the incompetent Lightning Bolt Society claimed Eggman's lair, they sent Bee Bot swarms on random rampages across the Village and the lair until Team Sonic and Eggman took back the lair.[20]
Multiple Bee Bots and other Badniks were later summoned by Eggman to kill Dave the Intern and destroy Chez Amy, but due to Team Sonic, they only accomplished the latter.[21] Eggman also brought in his Bee Bots to force Monkey-Boy into his service. Team Sonic, however, would destroy all the Bee Bots.[22] When later Eggman finished his mind-enslavement movie, a number of Bee Bots attended its premiere, but when the movie ended up a failure, they were sent away by Eggman.[23] Another time, Eggman brought some Bee Bots with him on an attack on Seaside Island, only for Team Sonic to destroy them in their track.[24] The Bee Bots later tried miserably defending Eggman's lair from a Knuckles from another dimension until Eggman caught him.[25] One other time, a Bee Bot squadron followed Eggman to the Valley of the Cubots to destroy the residential Cubot prototypes. However, many of them were destroyed by Sonic and Tails who protected the prototypes while the rest retreated.[26]
On New Year's Eve, a squadron of Bee Bots were summoned by Eggman to fight Sonic. However, because Eggman had already activated his Slow Motion Machine, the Bee Bots were so slow that Eggman had to forget them.[27] The Bee Bots later joined Eggman on a mission he sponsored to remove Knuckles as the host of the Comedy Chimp Show as a part of a sponsor deal with Comedy Chimp (during which the Bee Bots advertised Eggman Industries). However, they got beaten back by Team Sonic.[28] Another time, the Bee Bots were assigned to protect Hypno-bot which Eggman used to steal Tails' inventions. While the Bee Bots held off Team Sonic though, Tails got Hypno-bot back and had it stop the Bee Bots.[29]
When Eggman had a surplus of solar power, remotely super-charged Bee Bots were sicced on the Village, but Team Sonic destroyed them. Eggman later hid the Bee Bots in his lair from the Archipelago Homeowners Association, who were onto his illegal housing of robots, while he had them over for dinner to convince them he had no robots, or risk eviction. However, the Bee Bots went haywire from power overload during a thunderstorm and blew Eggman's cover. While Eggman avoided eviction by convincing the association that his Bee Bots were art, he spent the night getting them under control.[5] More Bee Bots later came to Eggman's aid while he was stealing a trophy and for once managed to get some hits on Team Sonic, whose image specialist held them back. However, the bots got destroyed once Team Sonic got rid of their image specialist.[30] When Team Eggman later launched an attack on Team Sonic, the Bee Bots would join the villains in their fight. Regardless, Team Eggman still got defeated.[31]
Season two
To retaliate against Tommy Thunder's "challenge" on TV, Eggman brought some Bee Bots with him to fight Tommy. However, they were destroyed when Sonic came to Tommy's aid.[32] Another time, the Bee Bots came with Eggman to ambush the Village while Sonic was stuck on another plane of existence. Though the Bee Bots and the Badniks would overwhelm Team Sonic, the were wiped out once Tails got Sonic back to fight.[33]
Archie Comics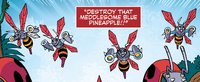 Some Bee Bots were called in by Dr. Eggman to destroy Sonic, only to get smashed by Team Sonic. At the Eggtoberfest, Bee Bots hordes attacked the villagers on Eggman's orders when he could not earn the villagers' trust. Fortunately, the bots were wiped out by Team Sonic.[34]
During the Go-kart Pan-island Grand Prix, a group of Bee Bots were deployed by Eggman to take Comedy Chimp out of the race. From above, the Bee Bots created talking holograms of Comedy Chimp's shoulder devil and shoulder angel who convinced him to crash.[35]
Game appearances
Sonic Dash 2: Sonic Boom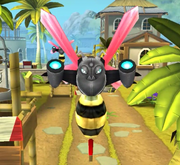 In Sonic Dash 2: Sonic Boom, the Bee Bot is one of the enemies encountered during the stages. In this game, they are referred to as Buzz Bombers. They always fly above ground, so the player has too jump to attack them. Sometimes, they also shoot a laser beam at the ground, making it impossible to pass under them unharmed. Like other enemies, they can be defeated with a single attack.
Personality
The Bee Bots are silent, single-minded and unquestioningly dedicated to the doctor's orders. However, they also appear to possess personalities of their own, being able to express festive and celebrative emotions.[11] As per their programming, they will only obey orders after being threatened.[13]
Powers and abilities
The Bee Bots are capable of high-speed flight, almost matching that of Sonic's running speed,[16] and are quite nimble and agile. Combined with their size, this make them hard to hit.[6] For armaments, they possess a stinger than can fire energy beams or deploy small units with pinpoint precision, like the Honeycomb Cage.[16]
The Bee Bots possess a couple of additional abilities. They have laser targeting system on their forehead and they are capable of projecting talking holograms.[12][35] Like other Badniks, they can also receive power remotely from Dr. Eggman's lair.[5]
Weakness
Though speedy and agile, the Bee Bots are quite fragile robots as a single hit is enough to destroy them.
Trivia
Gallery
Concept artwork
Artwork
Comics
See also
References
↑ Sanzaru Games (September 27, 2016). Sonic Boom: Fire & Ice. Nintendo 3DS. Sega. Level/Area: Sonic's Shack. "Bea the Bee: This is Bea. She's a bee. (...Well, a BeeBot, technically.) And she's about to bee adopted by Amy Rose in an episode of the show's second season. When news got around the Village, it caused quite a buzz. Sorry about all the lame puns; next time we'll try to think of jokes that have more sting to them."
↑ Bill Freiberger on Twitter. Twitter (28 March 2015). Retrieved on 28 March 2015. "BlueSpeeder98: In Sonic Boom, are those Buzz Bomber-like robots called "Buzz Bombers" or something else? / Bill Freiberger: We call them Bee Bots."
↑ 4.0 4.1 Polsky, Dave (15 November 2014). "Translate This". Sonic Boom. Season 1. Episode 3. Cartoon Network.
↑ 5.0 5.1 5.2 Freiberger, Sam; Crede, Phaea; Shatraw, Justin (3 October 2015). "No Robots Allowed". Sonic Boom. Season 1. Episode 46. Cartoon Network.
↑ 6.0 6.1 Trueheart, Eric (15 November 2014). "Buster". Sonic Boom. Season 1. Episode 4. Cartoon Network.
↑ Lieblich, Doug (22 November 2014). "My Fair Sticksy". Sonic Boom. Season 1. Episode 5. Cartoon Network.
↑ Watson, Mitch (22 November 2014). "Fortress of Squalitude". Sonic Boom. Season 1. Episode 6. Cartoon Network.
↑ Derrien, Jean-Christophe; Liemt, Romain Van (6 December 2014). "Eggheads". Sonic Boom. Season 1. Episode 8. Cartoon Network.
↑ Beechen, Adam (17 January 2015). "Guilt Tripping". Sonic Boom. Season 1. Episode 9. Cartoon Network.
↑ 11.0 11.1 Denton, Alan; Hahn, Greg (24 January 2015). "Dude, Where's My Eggman?". Sonic Boom. Season 1. Episode 10. Cartoon Network.
↑ 12.0 12.1 Polsky, Dave (14 February 2015). "Unlucky Knuckles". Sonic Boom. Season 1. Episode 13. Cartoon Network.
↑ 13.0 13.1 Van Liemt, Romain; Derrien, Christophe (21 February 2015). "The Meteor". Sonic Boom. Season 1. Episode 14. Cartoon Network.
↑ Denton, Alan; Hahn, Greg (28 February 2015). "Aim Low". Sonic Boom. Season 1. Episode 15. Cartoon Network.
↑ Harrison, Reid (14 March 2015). "Don't Judge Me". Sonic Boom. Season 1. Episode 17. Cartoon Network.
↑ 16.0 16.1 16.2 Tuber, Douglas; Maile, Tim (11 April 2015). "Sleeping Giant". Sonic Boom. Season 1. Episode 21. Cartoon Network.
↑ Lieblich, Doug (18 April 2015). "The Curse of Buddy Buddy Temple". Sonic Boom. Season 1. Episode 22. Cartoon Network.
↑ Raut-Siezac, Natalys (25 April 2015). "Let's Play Musical Friends". Sonic Boom. Season 1. Episode 23. Cartoon Network.
↑ Gutierrez, Freddie (2 May 2015). "Late Fees". Sonic Boom. Season 1. Episode 24. Cartoon Network.
↑ Harrison, Reed (16 May 2015). "Eggman Unplugged". Sonic Boom. Season 1. Episode 26. Cartoon Network.
↑ Harrison, Reid (13 July 2015). "Chez Amy". Sonic Boom. Season 1. Episode 27. Cartoon Network.
↑ Raut-Siezac, Natalys (15 July 2015). "Curse of the Cross Eyed Moose". Sonic Boom. Season 1. Episode 29. Cartoon Network.
↑ Freiberger, Sam (21 July 2015). "Eggman the Auteur". Sonic Boom. Season 1. Episode 33. Cartoon Network.
↑ Denton, Alan; Hahn, Greg (22 July 2015). "Just a Guy". Sonic Boom. Season 1. Episode 34. Cartoon Network.
↑ Moarbes, Charles-Henri (23 July 2015). "Two Good to Be True". Sonic Boom. Season 1. Episode 35. Cartoon Network.
↑ Grenier, Benoit (24 July 2015). "Beyond the Valley of the Cubots". Sonic Boom. Season 1. Episode 36. Cartoon Network.
↑ Harrison, Reid (8 August 2015). "New Year's Retribution". Sonic Boom. Season 1. Episode 38. Cartoon Network.
↑ Harrison, Reid (5 September 2015). "Late Night Wars". Sonic Boom. Season 1. Episode 42. Cartoon Network.
↑ Van Liemt, Romain; Grenier, Benoit (26 September 2015). "Robot Battle Royale". Sonic Boom. Season 1. Episode 45. Cartoon Network.
↑ Harisson, Reid (24 October 2015). "Role Models". Sonic Boom. Season 1. Episode 49. Cartoon Network.
↑ Denton, Alan; Hahn, Greg (14 November 2015). "It Takes a Village to Defeat a Hedgehog". Sonic Boom. Season 1. Episode 52. Cartoon Network.
↑ Denton, Alan; Hahn, Greg (29 October 2016). "Tommy Thunder: Method Actor". Sonic Boom. Season 2. Episode 53. Cartoon Network.
↑ Grenier, Benoit (3 December 2016). "Alone Again, Unnaturally". Sonic Boom. Season 2. Episode 56. Boomerang.
↑ Sonic Boom #5, "Eggtoberfest!"
↑ 35.0 35.1 Sonic Boom #6, "Everybody's Super Sonic Racing Part One"
↑ Bill Freiberger on Twitter. Twitter (28 November 2015). Retrieved on 30 November 2015. "Dustin Phillips: "Crab Bots?" You can get Motobugs right but not Crabmeat? #SonicBoom / Bill Freiberger: It's not a question of getting it right. We decided to call them Crab bots in #SonicBoom. / Dustin Phillips: Fair enough. I just found it weird since the Motobugs were called by name. / Bill Freiberger: That's because Motobugs describe what Motobugs are whereas crabmeat does not describe what Crab Bots are."