The Bigbom,[note 1] also called the Matryoshka-Bom,[note 2] is an recurring enemy in the Sonic the Hedgehog series. It is a mass-produced, bomb-based Badnik model created by Dr. Eggman.
Appearance
The Bigboms seem to be giant versions of the Bomb that first appeared in Sonic the Hedgehog (1991). They have large red and gray round bodies with red and blue buttons and a face plate with blue button that looks like their eye. On top of their heads are a fuse that can be ignited. These Badnik are also able to walk back and forth with a pair of mechanic legs.
Game appearances
Sonic the Hedgehog CD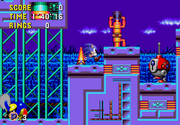 The Bigboms appear exclusively in Metallic Madness. They are placed on paths near tight corners or in wide hall sections, where the player can move behind the setting. Bigboms usually walk back and forth, but when one of them notices Sonic, it runs towards him while staring its self-destruction countdown. Like Bombs, Bigboms release six sparkling projectiles into the air when they explode. As the player has to advance through the Zone, kinky placements of Bigboms make it impossible to avoid them and dodging their projectiles can be tricky. Like Bombs, the player can also not destroy them.
Bigbom is notably the only Badnik in the game that does not have a broken form due to age. It is also one of the few Badniks that does not release Little Planet flower seeds.
Sonic Mania

In Sonic Mania, the Bigboms, now called the Matryoshka-Boms, appear as enemies. Their design this time around looks similar to their original one, except they now look a bit slimmer. In this game, they only appear in Metallic Madness Zone.
Unlike in Sonic the Hedgehog CD, this Badnik comes in three sizes. The large ones normally walk around back and forth in gameplay. Upon encountering the player however, these Badniks will act like a "matryoshka doll"; the large Matryoshka-Bom will open its mouth and release a medium-sized version of itself before lighting its fuse, who will then release an even smaller version of itself before lighting its own fuse. A few seconds afterward, these enemies will explode, each of them releasing four large projectiles that rain down around themselves.
Regular and smaller sized Matryoshka-Boms also appear around their Zone on their own. While regular-sized Matryoshka-Boms can drop smaller ones on their own, the smaller Matryoshka-Boms function as a regular Bomb from the original Sonic the Hedgehog, though with a much faster walking speed. Unlike many other Badniks in Sonic Mania, Matryoshka-Boms do not release any Animals upon their destruction.
Notes
↑ While not listed in any instruction manuals, the in-game source code in 1996 PC release of Sonic the Hedgehog CD refers to this Badnik as "bigbom".
↑ While not listed in any instruction manuals, the internal files in the PC release of Sonic Mania refers to this enemy as "MatryoshkaBom".
---
Main article | Gallery | Beta elements | Staff
Playable characters
Sonic the Hedgehog (Super Sonic) | Miles "Tails" Prower (Super Tails) | Knuckles the Echidna (Super Knuckles)
Other characters
Dr. Eggman | Hard Boiled Heavies (Heavy King, Heavy Gunner, Heavy Shinobi, Heavy Magician, Heavy Rider) | Phantom Heavies (Phantom King, Phantom Gunner, Phantom Shinobi, Phantom Magician, Phantom Rider) | Animals (Becky, Cucky, Flicky, Locky, Micky, Pecky, Picky, Pocky, Ricky, Rocky, Tocky, Wocky) | Jimmy
Zones
Green Hill Zone | Chemical Plant Zone | Studiopolis Zone | Flying Battery Zone | Press Garden Zone | Stardust Speedway Zone | Hydrocity Zone | Mirage Saloon Zone | Oil Ocean Zone | Lava Reef Zone | Metallic Madness Zone | Titanic Monarch Zone | Egg Reverie Zone | Special Stage | Bonus Stage
Enemies
Armadiloid | Aquis | Asteron | Ball Hog | Bat Brain | Blaster | Blastoid | Bugernaut | Bumpalo | Buzz Bomber | Cactula | Catakiller, Jr. | Chopper | Clucker | Crabmeat | Dango | Dragonfly | Eggrobo | Fireworm | Flasher mk.II | Gohla | Grabber | Hotaru | IceBomba | Iwamodoki | Jawz | Jellygnite | Juggle Saw | Kabasira | Kanabun | Madmole | Matryoshka-Bom | Mecha-Bu | Mega Chopper | Mic Drop | Moto Bug | Newtron | Octus | Poh-Bee | Pointdexter | RattleKiller | Rexon | Roller mk.II | Scarab | Sentry Bug | Shutterbug | Silver Sonic | Spiny | Splats | TechnoSqueek | Toxomister | Tubinaut | Turbo Spiker | Turbo Turtle | Vultron | Wall Crawl | Woodrow
Bosses
Mini-bosses
DD Wrecker | Amoeba Droid | Heavy Gunner | Big Squeeze | Shiversaw | Hotaru Hi-Watt | Dive Eggman | Uber Caterkiller | Meter Droid | Drillerdroid | Egg Pistons mk.II | Crimson Eye
Zone bosses
Death Egg Robot | Mean Bean Machine | Weather Globe | Spider Mobile | Heavy Shinobi | Metal Sonic | Laundro-Mobile | Heavy Magician | Mega Octus | Heavy Rider | Heavy King | Gachapandora | Phantom Egg | Phantom King and Klepto Mobile
Moves/techniques
Bound Jump | Climb | Double Jump | Drop Dash | Fireball Spin Dash | Glide | Insta-Shield | Propeller Flying | Ring Spark Field | Spin Dash | Spin Attack | Spin Jump | Super Peel Out | V. Maximum Overdrive Attack
Gimmicks and obstacles
Beanstalk | Bomb | Breakable Block | Bumper | Bungee Rope | Bumper wall | Capsule | Catapult | Conveyor Belt | Crusher | Dash Panel | Fan | Fireball Cannon | Flipper | Flywheel | Goal Plate | High-speed warp tube | Ice Spring | Platform-raising Wheel | Pulley | Ruby Mist | Seesaw | Size Beam | Snowblower | Spiked ball | Spikes | Spring | Star Post | Switch | Transport | Vine | Zip Line
Objects
Air Bubbles | Chaos Emerald | Giant Ring | Giant spear | Klepto Mobile | Little Planet flowers | Master Emerald | Metal Sonic Projector | Medallion | Monitor (Aqua Shield, Hyper Ring, Eggman Mark, Flame Shield, Invincibility, Player Swap, Power Sneakers, Random, S, Shield, Super Ring, Thunder Shield) | Phantom Ruby | Ring | Robot teleporter | Sphere | Star Circle | Time Warp Plate | UFO | Warp Point
Other
Angel Island | Auto Running | Continue | Debug Mode | Freeze | Level Select | Little Planet | Mega Mack | Perfect Bonus | Shuttle loop | Time Attack | Time Over | Tornado | Tunnelbot | Winding Tunnel