This article is about a subject in the real world.
Information in this article is about real-life people, companies, and objects, and does not relate to the in-universe Sonic series.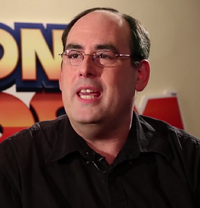 Bill Freiberger is an American writer and producer who works on the Sonic Boom television series as the series' co-executive producer and co-showrunner. He also voices a few characters on the show and has written for few comic books published by Archie Comics.
Filmography
Television
| Series | Debut | Position |
| --- | --- | --- |
| 3 South | 2002 | Writer, executive producer |
| Baby Blues | 2002 | Writer |
| Bill & Ted's Excellent Adventures | 1992 | Writer, story editor |
| Charlie Hoover | 1991 | Writer |
| Drawn Together | 2004 | Writer, executive producer, actor |
| Get a Life | 1990 | Writer |
| Greg the Bunny | 2002 | Writer, co-executive producer |
| Hardball | 1994 | Writer, producer |
| Herman's Head | 1993 | Writer, producer |
| Manhattan, AZ | 2000 | Writer, executive producer |
| Men Behaving Badly | 1996 | Writer, supervising producer |
| Off Centre | 2001 | Writer, consulting producer |
| Pee-wee's Playhouse | 1989 | Actor, director |
| Rekkit Rabbit | 2011 | Writer |
| Rock Me Baby | 2003 | Writer |
| Sonic Boom | 2015 | Co-executive producer, show runner, actor |
| Star Wars Detours | 2012 | Writer |
| Teen Angel | 1997 | Writer, supervising producer |
| The PJs | 1999 | Writer, co-executive producer |
| The Show | 1996 | Producer |
| The Simpsons | 2001 | Writer |
| The Stones | 2004 | Consulting producer |
| The Suite Life of Zack & Cody | 2005 | Writer, consulting producer |
| Thunder Alley | 1995 | Writer |
| Two Guys and a Girl | 2002 | Writer |
| Warren the Ape | 2010 | Consulting producer, actor |
Radio
Video games
Bibliography
Comics
Credits
Writing
Voice acting
Trivia
References
External links