One of the three potential last bosses of Shadow the Hedgehog's normal story, Black Doom is fought in routes where Shadow the Hedgehog has taken a more hero-friendly route through the game; as such, he appears after Final Haunt (Hero), Cosmic Fall (Hero), and GUN Fortress (Hero).
Black Doom has numerous abilities which make him a fearsome foe for those who would dare challenge him. On top of his numerous cutscene-demonstrated strategic abilities (Chaos Control, levitation, telepathy, time projection), Doom also possesses an array of brutal tactical attacks, including:
He can fire miniature meteors and blades of fire at enemies.
Swift Strike, an energy boomerang which spins around at floor level
An energy shield to protect himself from harm, but the shield is ineffective while standing still.
Creation of ghost-like copies of himself that appear like after-images, as well as remote simulacra.
Chaos Control to warp time and space, allowing himself to teleport.
Temporary invisibility.
Story
GUN Fortress
In the shielded bunker where G.U.N. is making its last stand, Shadow could atone for his wicked ways at the last minute by helping Rouge snatch the pink Chaos Emerald out of the Black Arms' grasp. Travelling with his army on the final push against the humans, Doom is quite angered by his impromptu treachery and confronts Shadow for his mutiny; the black hedgehog explains that he will be the one to possess all the Emeralds, not anyone else. Black Doom now intends to personally teach him a lesson. After taking down the Arms' prophet-leader, a weakened Black Doom promises that the Black Arms aren't finished. In the most grandiose one-up of all time, Shadow retorts by announcing that he's going to use the power of the seven Chaos Emeralds to conquer the entire universe to take his rightful place as the ruler.
Cosmic Fall
Mind still in turmoil after the Commander's accusations, Shadow disregards Doom's Eye and instead helps Vector to find the ARK's computer room. Inside the core, Black Doom appears in person, chastising Shadow for blatantly ignoring his previous orders and explains to Shadow that yes, the Commander was telling the truth: the Ultimate Lifeform was created with Doom's genetic material, and it was Project Shadow that prompted G.U.N.'s attack on the ARK five decades ago. Shadow announces that he is going to atone for his crimes and accept the human's punishment, but Doom accuses Shadow of allowing himself to be brainwashed, and attacks, determined that no creation of his shall surrender to the justice of the weak. Shadow emerges victorious and gathers all seven Chaos Emeralds. A crippled Black Doom promises that his forces will rise again, but Shadow ignores him and makes a despondent monologue concerning himself as a disastrous military experiment that never should have been initiated. As Shadow sadly trudges off, Vector makes a feeble attempt to cheer him up, raising the possibility that Shadow has misidentified his origins.
Final Haunt
Reaching the center of the Black Comet on the Pure Hero route, Sonic and Shadow bust into Doom's inner sanctum, where the alien is bunkered down with the pink and red Chaos Emeralds. Shadow announces that he will honor his promise to Maria and save the planet; Doom counters that his efforts are futile, as the Black Arms are not merely superior, but perfect life-forms. One hard-fought battle later, Doom's hyperbole is shown as just that, and the black hedgehog resolves to use the Emeralds' power to defeat all the Black Arms' forces in order to fulfill the promise of protecting the planet Maria loved so much.
Battle
Black Doom has three main attacks that you need to watch out for. He has flames, meteors and a Boomerang Attack. The Boomerang Attack must be avoided by standing on one of the platforms while the flames or the meteors can be avoided side to side. Black Doom will teleport around the room and attack you. Attack him after he is finished attacking. As he weakens. he will get more attacks by leaving an image of himself. After dealing a couple of this, he will disappear. Repeat the pattern of waiting for him to attack first. Find weapons in the corners of the room as soon as you can, because you don't have much time to defeat him.
Gallery
Artwork
Screenshots
Videos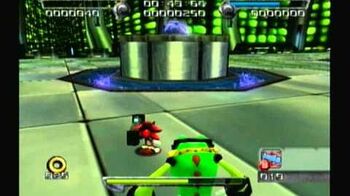 ---
Main article | Gallery | Staff | Library Sequences
Characters
Shadow (Hero Shadow, Dark Shadow, Super Shadow) | Black Doom (Devil Doom) | Eggman | Sonic | Tails | Knuckles | Amy | Rouge | Omega | Vector | Espio | Charmy | Cream | Cheese | Maria | Gerald | Commander | President | Secretary | Chao
Enemies
Ark Missile Turret | Artificial Chaos (Artificial Chaos P-100, Cell) | Black Assassin | Black Hawk | Black Oak | Black Volt | Black Warrior | Black Wing | Black Worm | Big Foot Type A | Big Foot Type B | Death Leech | Death Worm | Egg Bommer | Egg Pawn | Egg Pierrot | Giant Walker | Giga Trooper | Gold Beetle | Gun Beetle | GUN Soldier | GUN Trooper | Jack Bommer | Killer Plant | Mono Beetle | Rocket Beetle | Sand Worm | Shadow Android | Spark Beetle

Stages

Air Fleet | Black Comet | Central City | Circus Park | Cosmic Fall | Cryptic Castle | Death Ruins | Digital Circuit | Final Haunt | GUN Fortress | Glyphic Canyon | Iron Jungle | Lava Shelter | Lethal Highway | Lost Impact | Mad Matrix | Prison Island | Sky Troops | Space Gadget | The ARK | The Doom | The Last Way | Westopolis
Bosses
Black Bull | Black Doom | Blue Falcon | Devil Doom | Diablon | Egg Breaker | Egg Dealer | Heavy Dog
Moves/techniques
Chaos Arrow | Chaos Blast | Chaos Control | Chaos Spear | Crouch | Dark Spin Dash | Grind Step | Homing Attack | Jump Dash | Light Dash | Mid-Air Attack | Missile Fever | Overturn | Pawn Fever | Pick up | Punch | Ring Fever | Shadow Fever | Slide | Spin Dash | Spin Jump | Super Sonic Boost | Swift strike | Tail Swipe | Triangle Jump

Weapons

4-Shot RPG | 8-Shot RPG | Bazooka | Big Worm Shooter | Big Barrel | Black Barrel | Black Sword | Bomb Fever | Egg Bazooka | Egg Gun | Egg Spear | Egg Vacuum | Environment Objects | Flash Shot | Gatling Gun | Grenade Launcher | Heal Cannon | Heavy Machine Gun | Heavy Shot | Laser Rifle | Light Shot | Omochao Gun | Pistol | Refractor | RPG | Samurai Blade | Satellite Gun | Semi-Auto Rifle | Shadow Rifle | Splitter | Survival Knife | Tank Cannon | Vacuum Pod | Wide Worm Shooter | Worm Shooter

OST

/

Lost and Found

All Hail Shadow | Almost Dead | Chosen One | E.G.G.M.A.N. | I Am... All of Me | Never Turn Back | Tripod Baby | Vengeance is Mine | Waking Up | Who I Am
English voice actors
Jason Griffith (Sonic, Shadow) | Sean Schemmel (Black Doom) | Mike Pollock (Eggman, Gerald) | Amy Palant (Tails) | Dan Green (Knuckles) | Lisa Ortiz (Amy) | Kathleen Delaney (Rouge) | Rebecca Honig (Cream, Maria) | Carter Cathcart (Vector) | David Wills (Espio) | Amy Birnbaum (Charmy) | Jeff Kramer (Omega) | Andrew Rannells (GUN Soldier) | Marc Thompson (Commander) | Maddie Blaustein (President) | Bella Hudson (Secretary)
Japanese voice actors
Kōji Yusa (Shadow) | Jun'ichi Kanemaru (Sonic) | Ryūzaburō Ōtomo (Black Doom) | Chikao Ōtsuka (Eggman, Gerald) | Ryō Hirohashi (Tails) | Nobutoshi Canna (Knuckles) | Taeko Kawata (Amy) | Rumi Ochiai (Rouge) | Sayaka Aoki (Cream) | Yuri Shiratori (Maria) | Kenta Miyake (Vector) | Yūki Masuda (Espio) | Yōko Teppōzuka (Charmy) | Taiten Kusunoki (Omega) | Takashi Yoshida (GUN Soldier) | Banjō Ginga (Commander) | Yutaka Nakano (President) | Junko Kitanishi (Secretary) | Ryō Hirohashi (Additional Chao)
Other
Air Saucer | Barrel | Barrier | Black Comet | Black Slab | Black Tank | Bomb Unit | Case | Cell Cannon | Chaos Emerald | Central Information Agency | City annihilator bomb | Color Panel | Container (Special Weapon Container) | Convertible | Core program | Eclipse Cannon | Dark Gauge | Dark Rider | Defense Unit | Egg Balloon | Egg Monitor | Eggman Fleet | Electrified Rail | Energy Core | Expert Mode | Fan | Fire in the Sky Festival | Firewall | Flash game | Goal Ring | Gravity Control Switch | Green energy fluid | Gun Lift | GUN Motorcycle | Gun ship | GUN turret | GUN Vehicle | Heal Unit | Health Gauge | Hero Gauge | Hint Ring | HMMWV | Item Box (1-Up, Damage Recover, Heat Barrier, Invincibility, Super Ring) | Jump Panel | Jump Vehicle | Junction switch | Lantern | Laser Field Block | Laser turret | Light-speed circuit | Magnetic Barrier | Mother computer | Pole | President's escape pod | Prison Island | Prosperity ritual | Red fruit | Red Slime | Ring | Rocket | Secret Door | Secret Key | Shield switch | Shooting Gallery | Small bomb | Surveillance camera | Tails' Spaceship | Temple jewel | Toxic marsh | Vine | Warp Hole | White House | Wide Spring | Yellow water | Zip Line
Ad blocker interference detected!
Wikia is a free-to-use site that makes money from advertising. We have a modified experience for viewers using ad blockers

Wikia is not accessible if you've made further modifications. Remove the custom ad blocker rule(s) and the page will load as expected.