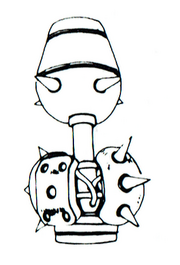 Bloominator,[1] later known in Japan as Tulippon (チューリッポン, Chūrippon?),[citation needed] is a Badnik model that appears in Angel Island Zone from Sonic the Hedgehog 3 (and Sonic the Hedgehog 3 & Knuckles). It resembles a large flower.
Description
Attack pattern
Bloominator is completely immobile. When the player is near, it throws up spike balls from its bloom, two at a time, in an attempt to damage the player. The spike balls are launched at seemingly random angles. These projectiles can be deflected by any of the three shields available in the game.
Trivia
A Badnik resembling Bloominator appears in Sonic 3D Blast. Like Bloominator, it spews spike balls from its mouth in a 360° radius around it. They are indestructible. Each one usually has a different firing pattern.
References
Sonic the Hedgehog 3 & Knuckles
---
Main articles (Sonic 3 | Sonic & Knuckles | Sonic 3 & Knuckles) | Sonic 3's Gallery | Beta elements | Sonic & Knuckles' Gallery
Characters
Sonic (Super Sonic, Hyper Sonic) | Tails (Super Tails) | Knuckles (Super Knuckles, Hyper Knuckles) | Dr. Robotnik | Mecha Sonic (Super Mecha Sonic) | Animals (Flicky (Flicky's Super State), Pocky, Pecky, Cucky, Ricky, Rocky)
Badniks
Batbot | Blaster | Blastoid (Carnival Night Zone) | Blastoid (Hydrocity Zone) | Bloominator | Bubbles | Bugernaut | Butterdroid | Catakiller, Jr. | Chainspike | Clamer | Cluckoid | Corkey | Dragonfly | EggRobo | Fireworm | Flybot767 | Hyudoro | Iwamodoki | Jawz | Madmole | Mantis | Mega Chopper | Monkey Dude | Mushmeanie | Orbinaut | Penguinator | Pointdexter | RhinoBot | Ribot | Rock'n | Sandworm | Skorp | Snale Blaster | Spikebonker | Spiker | Star Pointer | TechnoSqueek | Toxomister | Turbo Spiker
Zones
Sonic 3
Angel Island Zone | Hydrocity Zone | Marble Garden Zone | Carnival Night Zone | IceCap Zone | Launch Base Zone | Special Stages | Bonus Stages
Sonic & Knuckles
Mushroom Hill Zone | Flying Battery Zone | Sandopolis Zone | Lava Reef Zone | Hidden Palace Zone | Sky Sanctuary Zone | Death Egg Zone | The Doomsday Zone | Special Stages | Bonus Stages
Competition
Azure Lake Zone | Balloon Park Zone | Chrome Gadget Zone | Desert Palace Zone | Endless Mine Zone
Sub-bosses
Fire Breath | Big Shaker | Tunnelbot | Bowling Spin | Big Icedus | Twin Hammer | Hei Hou | Gapsule | Barrier Eggman | Stone Guardian | Heat Arms | Egg Mobile Hammer Ball | Flying Eggman | Red Eye | Death Ball
Bosses
Flame Mobile | Screw Mobile | Drill Mobile | Graviton Mobile | Freezer Mobile | Ball Shooter | Beam Rocket | Big Arm | Jet Mobile | Hang Mobile | Egg Golem | Hot Mobile | Knuckles | Mecha Sonic | Super Mecha Sonic | Kyodai Eggman Robo | The Doomsday Zone
Moves/techniques
Bounce Attack | Double Jump | Propeller Flying | Glide | Hyper Flash | Insta-Shield | Gliding Knuckles Attack | Spin Jump | Spin Dash | Spin Attack | Wall Climb
Items
Air Bubbles | Balloon | Banana | Bomb | Cannon | Booster | Bumper Bumper wall | | Capsule | Change | Chaos Emerald | Continue | Fan | Jump Stand | Monitor (Water Shield, Flame Shield, Invincibility, Lightning Shield, Super Ring, Power Sneakers, Extra Life, S, Eggman) | Movable Crate | Mushroom | Pulley | Ring | Signpost | Self-Propelled Bomb | Slow-Down Shoes | Snowboard | Sphere | Spikes | Spring | Spinning Top | Star Post | Super Emerald | Switch | Transport | Zip Line
Other
Angel Island | Blue Knuckles | Conveyor Belt | Corkscrew loop | Crusher | Debug Mode | Fireball Cannon | Flipper | Flywheel | Freezing Machine | Goal | Gumball | High-speed elevator | Jewel Radar | Lava Drill | Perfect Bonus | Pole Elevator | Relief | Reverse | Ring Shooter | Seesaw | Shuttle loop | Slot Machine | Sonic & Knuckles • Sonic the Hedgehog 3 | Spear | Spiked Ball | Spinning Wheel | Strange Relief | Warp Point | Winding Tunnel | Wonderman