This article is about a subject in the real world.
Information in this article is about real-life people, companies, and objects, and does not relate to the in-universe Sonic series.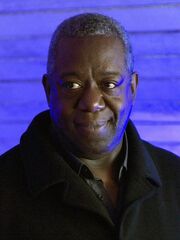 Blu Mankuma (born 5 July 1948, in Seattle, Washington) is an American actor. He has appeared in numerous Canadian and American productions filmed in Canada. He provided Additional voices in Sonic Underground.
Bio
A native of Seattle, Washington, Mankuma made Vancouver his home during the turbulent years of the Vietnam war. This unique actor with an easy grace on film despite his commanding six foot, 230 lb. girth, Mankuma quickly established a following among producers and directors, building an impressive resume of film, television and theater credits, becoming one of Canada's busiest actors.
Blu Mankuma is also an avid musician, singer, songwriter and stage actor, who has also provided voice-overs for radio and appeared in numerous television commercials. He and his family, including sons Rene and Cusee, and as of this publication resides in Vancouver.
External links
Former English Voice Actors
Ad blocker interference detected!
Wikia is a free-to-use site that makes money from advertising. We have a modified experience for viewers using ad blockers

Wikia is not accessible if you've made further modifications. Remove the custom ad blocker rule(s) and the page will load as expected.