This article contains information about a

canceled object

.
As a result, the content of the article may have been canceled or replaced by another subject.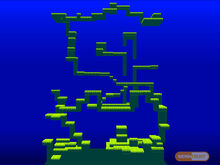 Blue Ocean Zone is a scrapped level that would have appeared in the cancelled video game, Sonic X-treme. This stage was intended to be the underwater level in Sonic X-treme. However, unlike the other zones, aside from level layout, there is little to no information about this zone. The level layout is so incomplete, it lacks badniks and Rings so it is considered more of a test level than anything else. According to Chris Senn Blue Ocean would be a part of Crystal Frost Zone meaning it was never meant to be its own separate zone.
Ad blocker interference detected!
Wikia is a free-to-use site that makes money from advertising. We have a modified experience for viewers using ad blockers

Wikia is not accessible if you've made further modifications. Remove the custom ad blocker rule(s) and the page will load as expected.