Bobsled
Talk

0
6,674pages on
this wiki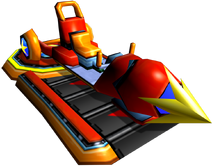 Bobsleds (ボブスレー・トロッコ, Bobusurē torokko?, lit. Bobsleigh Truck) are gimmicks that appear in Sonic Heroes.
Description
Edit
Bobsleds allow extremely quick transportation through a level, although they can only be used at certain points and cannot be used anywhere else. During the ride, each character in your group will grant an ability for the bobsled, such as switching lanes, jumping or having great speed. Once the the bobsled makes contact with an obstacle, one of these abilities will be lost, eventually leaving the Flight character, allowing the Bobsled to only jump. Taking three hits while on the bobsled will cause it to crash, and you will have to try again. The trolley which is the haunted version is found in Mystic Mansion in certain areas. They can jump when whatever button they press what performs the jump action. They are also found in Seaside Hill and Ocean Palace.
Each type allows an ability:
Speed - Makes it go faster (if it hits anything, usually Speed types fall off first; it will slow down if so).
Power - Allows it to move (if the character falls off, the sled won't be able to move).
Flight - Allows it to jump (the last character to die; if so, the player will have to start over).