You may be looking for the Sonic Rush song, Bomber Barbara.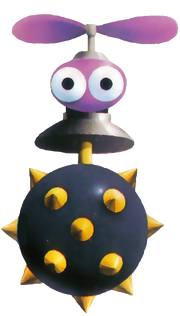 Bombaberry (ボンバベリイ, bonbaberii?) is a Badnik in Sonic the Hedgehog Triple Trouble that can be found in Great Turquoise Zone and Sunset Park Zone.
Description
They fly up and down, holding a bomb which will be released when Sonic's X coordinate approaches theirs. Because of the bomb, they can't be hit from below: the player must hit them either from the side or from above.
Trivia
Sonic the Hedgehog Triple Trouble
---
Main article | Beta elements | Gallery
| | |
| --- | --- |
| Characters | Sonic | Tails | Dr. Robotnik | Knuckles | Nack | Metal Sonic | Flicky |
| Badniks | Boing-o-Bot | Bombaberry | Sunset Park Badnik | Kameka | Rabibin | Meta Junglira Badnik | Penguin Bomber | Spidal Tap | Tidal Plant Badnik | Mecha Hiyoko | Bomblur |
| Zones | Great Turquoise Zone | Sunset Park Zone | Meta Junglira Zone | Robotnik Winter Zone | Tidal Plant Zone | Atomic Destroyer Zone | Special Stage |
| Bosses | Marvelous Queen | Tart Turtle | Marve-shupopolous-gou | Wood Buttarundorf | Giga Thomas "Pen" | Knuckles the Echidna | Metal Sonic | Atomic Destroyer Zone Boss 1 | 2 | 3 |
| Moves/techniques | Flying Spin Attack | Heli-Tails | Spin Attack | Spin Jump | Strike Dash | Super Spin Dash | V. Maximum Overdrive Attack |
| Objects | Ring | Monitor (Super Ring, Power Sneakers, Rocket Shoes, Pogo Spring, Super Heli-Tails, Jet Board, Propeller Shoes, Invincibility, 1-Up, Marker, Chaos Emerald (Star Circle), Time Bonus) | Continue | Spring | Air Bubbles | Bonus Panel |
| Other | Bomb | Booster | Breakaway Bumper | Chaos Emerald | Comic Adaptation | Conveyor Belt | Sea Fox | Shuttle loop | Spiked Ball | Spin Coaster | Switch | Teleporter | Tornado |