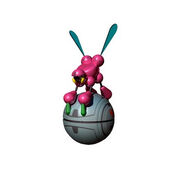 The Bombbearer[1] (キャリー[2], Kyarī?, lit. "Carry"), also known as "Bombbearer c",[3][4] is a hovering Badnik from Knuckles' Chaotix. It appears in Techno Tower.
Description
It bobs across the width of the screen. While the sphere it carries might look like a weapon, these robots never try to drop their cargo on the Chaotix Crew.
In other media
Archie Comics

In the Sonic the Hedgehog comic series and its spin-offs published by Archie Comics, the Bombbearers appear-minus their bombs-as part of Dr. Ellidy's Badnik forces on Isolated Island.
References
---
Main article | Gallery | Staff
Characters
Playable
Knuckles | Vector | Mighty | Charmy | Espio | Heavy the Robot | Bomb | **********
Non-Playable
Dr. Robotnik | Metal Sonic | Sonic | Tails | Amy
Enemies
Amazing Arena Badnik 1, 2 | Bombbearer | Botanic Base Badnik 1, 2, 3 | Bushbubble | Dribbler | Gotcha | Hoverby Mk II | Isolated Island Badnik | Motorspike | Needlenose | Piranha | Poptank | Ringleader | Spiketower | Techno Tower Badnik 3 | Ticktock
Stages
Isolated Island | Botanic Base | Speed Slider | Amazing Arena | Techno Tower | Marina Madness | World Entrance | Special Stage | Bonus Stage
Bosses
Amazing Arena boss | Amazing Arena sub-boss | Botanic Base boss | Marina Madness boss | Speed Slider boss | Techno Tower boss | World Entrance Level 1 | World Entrance Level 2
Moves/techniques
Climb | Dash | Glide | Plasma Pulse Attack | Double Jump | Spin Dash | Spin Jump | Super Spin | V. Maximum Overdrive Attack | Wall Jump
Other
Exit | Balloon | 1207 Beta version | Archie Knuckles' Chaotix | Chaos Ring | Chopper Block | Combi Catcher | Debug Mode | Dark Ring | High-speed warp tube | Monitors (Super Ring, Combine Ring, Power Sneakers, Shield, Invincible, Swap, Grow, Shrink, Change) | Newtrogic High Zone | Ring Power | Ring | Signpost | Spring | Sonic Crackers | Sphere | Switch | "X" Bumper