Ad blocker interference detected!
Wikia is a free-to-use site that makes money from advertising. We have a modified experience for viewers using ad blockers

Wikia is not accessible if you've made further modifications. Remove the custom ad blocker rule(s) and the page will load as expected.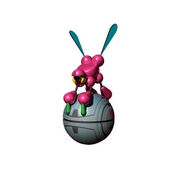 The Bombbearer[1] (キャリー[2], Kyarī?, lit. "Carry"), also known as "Bombbearer c",[3][4] is a hovering Badnik from Knuckles' Chaotix. It appears in Techno Tower.
Description
It bobs across the width of the screen. While the sphere it carries might look like a weapon, these robots never try to drop their cargo on the Chaotix Crew.
In other media
Archie Comics
A number of Bombbearers appear-minus their bombs-as part of Doctor Ellidy's Badnik forces on Isolated Island.
References
---
Main article | Gallery | Staff
Characters
Playable
Knuckles | Vector | Mighty | Charmy | Espio | Heavy the Robot | Bomb | **********
Non-Playable
Dr. Robotnik | Metal Sonic | Sonic | Tails | Amy
Enemies
Amazing Arena Badnik 1, 2 | Bombbearer | Botanic Base Badnik 1, 2, 3 | Bushbubble | Dribbler | Gotcha | Hoverby Mk II | Isolated Island Badnik | Motorspike | Needlenose | Piranha | Poptank | Ringleader | Spiketower | Techno Tower Badnik 3 | Ticktock
Stages
Isolated Island | Botanic Base | Speed Slider | Amazing Arena | Techno Tower | Marina Madness | World Entrance | Special Stage | Bonus Stage
Bosses
Amazing Arena boss | Amazing Arena sub-boss | Botanic Base boss | Marina Madness boss | Speed Slider boss | Techno Tower boss | World Entrance Level 1 | World Entrance Level 2
Moves/techniques
Climb | Dash | Glide | Plasma Pulse Attack | Double Jump | Spin Dash | Spin Jump | Super Spin | V. Maximum Overdrive Attack | Wall Jump
Other
Exit | Balloon | 1207 Beta version | Archie Knuckles' Chaotix | Chaos Ring | Chopper Block | Combi Catcher | Debug Mode | Dark Ring | High-speed warp tube | Monitors (Super Ring, Combine Ring, Power Sneakers, Shield, Invincible, Swap, Grow, Shrink, Change) | Newtrogic High Zone | Ring Power | Ring | Signpost | Spring | Sonic Crackers | Sphere | Switch | "X" Bumper