Boost Challenge is one of the types of events in the World Tour in Sonic & All-Stars Racing Transformed.
Overview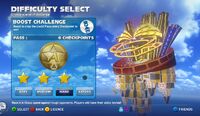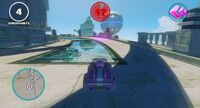 The player must pass through a number checkpoints that are scattered around the course under a strict time limit. Every time the player receives a speed boost, the clock will temporarily freeze for the duration of the speed boost before so he/she must constantly boost his/her way by any means necessary throughout the course to conserve enough time left on the clock to reach each checkpoint in order to complete the event.
The difficulty selected will affect the number of checkpoints the player needs to pass through to complete, the starting time and the amount of time rewarded when passing through a checkpoint. As difficulty increases, the player will need to pass through more checkpoints, start the event with less time and less time will be awarded when passing through a checkpoint.
The table below displays the number of checkpoints required to pass through for each difficulty:
| Medal | Difficulty | Checkpoints |
| --- | --- | --- |
| | Easy | 4 |
| | Medium | 5 |
| | Hard | 6 |
| | Expert | 7 |
Events
N/A