The Boss Gate is a recurring object in the Sonic the Hedgehog series. As their name suggest, these gates grant access to their respective game's bosses.
Description
Boss Gates are portals of varying designs that can be found in the hub worlds of their respective games. By using or entering these portals in gameplay, the player will initiate a battle with one of the game's bosses. Because defeating a boss is needed to progress with the game, the Boss Gates are always obligatory to use at one point.
Multiple Boss Gates can be found within each game. Each boss in such Sonic games will have their own Boss Gate. However, in order to use a Boss Gate, the player must first fulfill certain requirements. This can be finding the Boss Gate Key(s) that will unlock the Boss Gate, or clearing a certain amount of levels.
Game appearances
Sonic Unleashed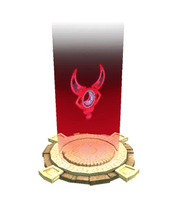 The Boss Gate first appeared in the PlayStation 3/Xbox 360 version of Sonic Unleashed. These portals are specialized Gaia Gates created thousands of years ago to give someone access to the nearby vicinity of the local Temple of Gaia.
In this game, the Boss Gates are circular pads with a red light emerging from them which displays the symbol typically associated with Dark Gaia. They are named "Boss Gates" by Professor Pickle due to the strong opponents that lurk behind them.[1]
Boss Gates can typically be found in the Entrance Stages. The only exceptions are Eggmanland's Boss Gates, which are located in the Eggmanland Town Stage. To unlock a Boss Gate in most cases, the player has to obtain the Boss Gate's associated Gaia Key. Other Boss Gates are unlocked after the player clears a specific Act.
In the PlayStation 2/Nintendo Wii version of Sonic Unleashed, Boss Gates are not featured; instead, there is a door with star patterns on it inside each Gaia Gate that leads to the Boss Stage. The player can unlock these doors by assembling the matching Planet Tablet from the fragments collected in the Stages.
Sonic Generations
In Sonic Generations, the Boss Gates are portals of unknown origin in White Space. Story-wise, the Boss Gates lead Modern Sonic and Classic Sonic through time into past battles with some of their biggest opponents.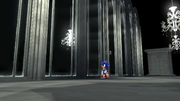 In this game, the Boss Gates are floating portal made of gears, cogs, and locks. However, the Interior of the Boss Gates are much more elaborate, each featuring a large black and white hallway with white chandeliers and a wall with transparent glass cutting through the middle of said hallway. At each end of each hallway is a stone door that respectively leads to the boss and back to White Space.
In the console/PC version of Sonic Generations, the Boss Gates are located in the White Space hub world; they can be found at the right of each of White Space's three Areas. To enter a Boss Gate, the player needs to have acquired all three Boss Gate Keys for it. After getting all three keys, the player only needs to approach the Boss Gate and enter it as it was a regular Stage. After clearing a Boss Gate, a Chaos Emerald is restored from its colorless state and passed on to the player.
In the Nintendo 3DS version, the Boss Gates have both a rival and a big opponent (Metal Sonic and Big Arm in the first one, Shadow and the Biolizard in the second one, and Silver and the Egg Emperor in the third one). In order to open the gates, the player must restore all of the stage of each era. Once they reach a Boss Gate, they must defeat the rival in a race before they can battle the major opponent.
At the far end of White Space lies the Lair of the Time Eater, which features a Boss Gate much larger than the other ones. This one can only be activated by the Chaos Emeralds.
In other media
Archie Comics
In the Sonic the Hedgehog comic series and its spin-offs published by Archie Comics, the Boss Gate from Sonic Generations first appeared in Sonic Universe #79. In this media, it is a man-made gateway through space and time controlled by the Onyx City Council who forced Gold to use her psychic powers to open it so they could dispose Silver and Prof. Von Schlemmer into it. While the heroes managed to escape from the gate, it still allowed the Second Devourer to enter their world through it.[2][3][4]
Gallery
Models
Screenshots
References
↑ Sonic Team (9 December 2008). Sonic Unleashed. PlayStation 3. Sega. Area/Level: Collection Room. "Prof. Pickle: You'll use large devices like the Gaia Gates to access each temple. They'll likely be guarded by Eggman's best and brightest, so be ready. Because of the threats lurking behind them, I call these Boss Gates. You'll need to acquire a special Boss Key in order to activate each gate."
↑ Sonic Universe #79, "The Silver Age Part One"
↑ Sonic Universe #80, "The Silver Age Part Two"
↑ Sonic Universe #81, "The Silver Age Part Three"
---
Main article | Gallery | Script | Credits (Xbox 360/PS3, Wii/PS2) | Glitches | Re-releases (Mobile)
Characters
Sonic (Super Sonic, Sonic the Werehog) | Chip (Gaia Colossus) | Tails | Amy | Dr. Eggman | Professor Pickle | Orbot | Dark Gaia (Perfect Dark Gaia)
Town Stages/Villages
Apotos | Mazuri | Spagonia | Chun-nan | Holoska | Shamar | Empire City* | Adabat | Eggmanland
Action Stages/Stages
Windmill Isle | Savannah Citadel* | Rooftop Run | Dragon Road | Cool Edge | Arid Sands | Skyscraper Scamper* | Jungle Joyride | Eggmanland
Residents
Apotos
Alexis | Anastasia | Eric | Gregorios | Hot Dog Vendor* | Ice Cream Vendor | Lambros | Lucas* | Milos* | Sandra
Spagonia
Aida* | Barbara | Ciccio | David | Denise | Dora | Elio* | Federica | Franco* | Gigi | Hot Dog Vendor* | Ippolita | Irma* | Josef | Lilli* | Lucia | Marcantonio* | Mauro | Natalia* | Otto | Professor Pickle | Professor Pickle's Assistant | Raimondo
Mazuri
Ana | Essie | Gwek | Hog Dog Vendor* | Kofi | Kwami | Kwod | Yawa | Yaya
Chun-nan
Chun | Hot Dog Vendor* | Hualin | Jinlin* | Lin | Shuifon | Wang* | Yilin | Zonshen
Holoska
Hot Dog Vendor* | Jari-Pekka | Jari-Thure | Marketa | Sarianna | Ursule
Shamar
Ara | Dimah | Ehsan | Erhan | Hizir | Hot Dog Vendor* | Iman | Labib | Latif | Layla | Mufid | Musaid | Raniya | Sa'id | Sadiq | Safi | Samia | Sammar | Shadi | Utba | Yasmine
Empire City
Boss* | Brenda* | Charles* | Def Big* | Elizabeth* | Hot Dog Vendor* | Li'l Kate* | Louie Montaine* | Robert*
Adabat
Hot Dog Vendor* | Jamal | Kaeo | Nagi | Rudi | Teanchai
Eggmanland
EF-DC1998* | EF-MD1991* | EF-XB2006* | Hot Dog Vendor*
Misc.
Baker | Lah | Su* | Wentos* | Wu*
Enemies
Eggman's Machinery
Aero-Cannon | Aero-Chaser | Egg Blizzard | Egg Burst | Egg Fighter | Egg Fighter: Knight (Electric shield, Spring shield) | Egg Fighter: Shield (Electric shield, Spring shield) | Egg Fighter: Sword* | Egg Flame | Egg Launcher (H) | Egg Launcher (H+V) | Egg Launcher (V) | Egg Shackle | Egg Shooter | Egg Typhoon | Gold Aero-Cannon | Interceptor | Little Fighter* | Mole Cannon | Spinner | Thunder Ball | Thunder Spinner
Dark Gaia's minions
Big Mother | Cure Master* | Dark Bat | Dark Bat Sniper | Dark Eel* | Dark Fright | Dark Master** | Deep Nightmare | Evil Flower* | Fire Master | Fright Master | Killer Bee | Lightning Master | Little Rex | Nightmare | Power Master* | Red Fright | Red Killer Bee | Red Nightmare** | Red Deep Nightmare** | Red Rex | Red Titan** | Spike** | Thunder Bat | Titan
Bosses
Egg Beetle | Egg Cauldron* | Egg Devil Ray | Egg Dragoon | Egg Lancer | Dark Gaia | Dark Gaia Phoenix | Dark Guardian | Dark Moray | Perfect Dark Gaia
Moves/
techniques
Sonic
Air Boost | Crouch | Foot Sweep* | Grind Step | Grinding | Homing Attack | Hop | Jump Dash | Light Speed Dash | Slide | Skydiving | Sonic Boost | Sonic Drift | Spin Jump | Stomp | Quick Step | Wall Jump
Werehog
Dash | Double Jump | Grab | Guard | Unleashed Mode | Wall Shuffle
Misc.
Boost | Drill Attack | Super Sonic Boost | Turbo Boost
Skills
Straight
attacks
Donkey Kick Combo* | Double Axle Combo* | Double Kick Combo* | Feral Were-Hammer* | Knuckle Sandwich Combo* | Sho-Hog-Ken* | Unleashed Knuckle Sandwich* | Vertical Were-Hammer* | Were-Hammer* | Werewheel Rush*
Hook
attacks
Earthshaker* | Egg Scrambler* | Feral Wild Whirl* | Rolling Kick Combo* | Sho-Claw-Ken* | Ultimate Wild Combo* | Unleashed Wild Combo* | Wereclap* | Wild Whirl* | Wild Whirl Were-Hammer*
Aerial
attacks
Aerial Claw Slash* | Aerial Claw Slash and Spin* | Aerial Piledriver* | Crescent Moon Strike* | Diving Bodypress* | Flying Double-Punch* | Flying Double-Punch Crush* | Hurricane Combo* | Shooting Star Combo* | Typhoon Combo*
Special
attacks
Comet Punch* | Missile Punch* | Spinning Needle Attack* | Tricky Tornado Uppercut* | Triple Wild Claw* | Were-Claw Charge* | Were-Cyclone* | Were-Rush* | Were-Tornado* | Wild Werewhip*
PS2/Wii
Beatdown** | Claw Charge | Crescent Moon Strike** | Earthshaker** | Wereclap** | Were-Hammer** | Were-Claw** | Were-Wallop** | Wild Claw** | Wild Whirl**
Level up items
Air Boost Shoes* | Light Speed Dash Shoes* | Stomping Shoes* | Wall Jump Shoes*
Objects
Art Book* | Audio System | Balloon | Blue Tea* | Blue spring | Bobsled | Bookshelf* | Bomb | Buggy** | Buoy | Check Point | Chaos Emerald | Chaos Orb* | Chili dog | Container (Explosive crate) | Conveyor Belt | Crane Lift | Crank | Crystal Ball* | Dark Energy Key** | Dark Gaia Force | Dash Panel | Dash Rail | Dash Ring | Door | Fountain | Gaia Key* | Giant spear** | Goal Ring | Gift* | Gramophone* | Green Tea* | Grind Rail | Hanging vine | Horizontal Bar | Hourglass* | Icicle | Iron ball | Item Capsules** | Jump Selector | Key Stone* | Laser field | Lever | Lovely Ring* | Maiden Statue* | Miles Electric | Moon Tablet** | Movable box | Moving Crate | Old Necklace* | Planet Tablet** | Pick-Me-Up* | Pretty Bouquet* | Power Shield* | Rainbow Ring | Ramp | Record* | Red Tea* | Ring | Shield Charge* | Snowblower | Souvenir* | Spike Trap | Spikes | Springboard/Spring | Springpole | Sun and Moon Medals | Sun Tablet** | Sundae Supreme | Super Claw* | Super Ring | Switch | Thorn Spring | Tornado-1 | Trap Spring | Turquoise Tea* | TV* | Videotape* | Violet Tea* | White Tea* | Wide Spring | Yellow Tea* | Zip Line | 1UP
English voice actors
Jason Griffith (Sonic, Sonic the Werehog, Prof. Pickle's Assistant) | Amy Palant (Tails) | Lisa Ortiz (Amy) | Anthony Salerno (Chip) | Mike Pollock (Eggman, Zonshen) | Christopher Collet (Orbot) | Dan Green (Ice Cream Vendor, Prof. Pickle)
Japanese voice actors
Jun'ichi Kanemaru (Sonic) | Chikao Otsuka (Eggman) | Chō (Prof. Pickle) | Ryo Hirohashi (Tails) | Taeko Kawata (Amy) | Tomokazu Seki (Sonic the Werehog) | Ryōko Shiraishi (Chip)
Planetary Pieces
Endless Possibility | Dear My Friend
Other
Auto Running | Boost Gauge | Boss Gate | Boost Gauge | Chao* | Chaos Energy Cannon | Chun-nan's Treasure | Collection Room* | Combo | Critical Attack | Dark Energy Force Field** | Don Fachio* | Doctor Eggman's chair | Earth | Eggman Fleet | Egg Dragoon | Egg Mobile | Entrance Stage* | Exorcisms | Experience Point | Freeze | Gaia Gate | Gaia Manuscripts | Gaia Temple | Gaia Temple guardian | Hallowmoon | Havok | Health Gauge | Hint Ring | Orb Result** | Real-Time Interaction | Ring Energy Gauge | Shield | Shield Gauge | Shop* (Counter of Dreams 2, Eggshop, Flying Fish Beach Shop, Golden Trading Company, Josef's, Surfside Seagull Sundries, Traveling Salesman Wentos, Treeshade, Ursule's Trading Post, Wang's Emporium) | Shuttle loop | Sonic: Night of the Werehog | Sonic World Adventure (manga) | Spagonia University | SPD | Rank | Time of awakening | Tornado Defense* | Unleashed Gauge

"*" Exclusive to PS3/Xbox 360 version
"**" Exclusive to PS2/Wii version.