This article is about a subject in the real world.
Information in this article is about real-life people, companies, and objects, and does not relate to the in-universe Sonic series.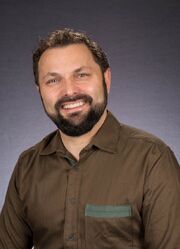 Brian Drummond (born 10 August 1969) is a Canadian actor best known as the voice of Vegeta in the Ocean Dub of Dragon Ball Z. He provided the voice of Knuckles the Echidna in Sonic Underground.
History
Drummond was born in Salmon Arm, British Columbia. A graduate of the acclaimed Studio 58, he started out as a theater actor, but eventually found himself moving into voice acting full time. Based out of Vancouver, British Columbia, he works with Ocean Productions on various animated programs.
Most well known for his role as Vegeta, Yajirobe, and Vegito in the Ocean Studios English dub of the anime series Dragon Ball Z, Drummond tends to be cast as either an impassive warrior (Andrew Waltfeld), or a kind-hearted father-figure (Reverend Malchio). Lately, he has also played the role of the cowardly Yuna Roma Seiran in Mobile Suit Gundam SEED Destiny as well as Ryuk in Death Note. He has landed prominent roles in various anime such as Renkotsu in InuYasha, and Gundam Wing as Zechs Merquise. Brian has also appeared in Da Vinci's Inquest in minor background roles. He is currently the voice actor for Clyde and Dr. Buttocks from Pacman and the Ghostly Adventures.
He was originally cast as Cyclops, the lead male protagonist of X-Men: Evolution. He recorded the very first episode of the show, but the series was eventually re-cast with Kirby Morrow in the role
Trivia
References
External links
Former English Voice Actors