Burst Hover
Talk

0
8,043pages on
this wiki
You may be looking for the Color Powers Red Burst or Green Hover.
Burst Hover

Blaze flying due to Burst Hover above Egg Eagle.
Statistics and Overview
First appearance
Other appearances
User(s)
Description

A burst of fire that allows brief flight.
The Burst Hover is a move used by Blaze the Cat. It made its first appearance in Sonic Rush and appeared again in the sequel Sonic Rush Adventure. It is Blaze's equivalent to the standard Jump Dash. When used, this move allows Blaze to briefly hover in the air.
Description
When using the Burst Hover, Blaze launches herself into the air and uses her special pyrokinetic abilities to ignite a continuous stream of fire under her feet. The updraft created from this not only allows Blaze to slow her descend through midair by hovering, but also allows her to control whatever direction she is heading from side to side fairly quickly, and as well control the exact place on the ground she wants to land. It also allows Blaze to move much greater distances through midair than the Jump Dash can.
To perform the Burst Hover in gameplay, the player has to hold

while Blaze is jumping or is send into midair. To control Blaze's direction while using the Burst hover, the player must press left/right on

.
The downside to the Burst Hover is that it trades speed for greater control over Blaze's movements, making it somewhat slower than the Jump Dash. Also, if Blaze performs the Burst Hover for too long, she will get tired and the Burst Hover will stop, so it is not advisable to overuse it while crossing over bottomless pits.
Appearances In Other Media
Archie Comics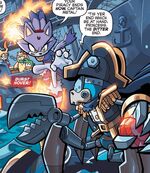 The Burst Hover technique appeared in the Sonic the Hedgehog comic series and its spin-off comics published by Archie Comics. It appeared in Sonic Universe #58, when Blaze the Cat flew from the Metal Marauder to Captain Metal while said captain was on a submarine.
Trivia
Rather than holding , if the player repeatedly taps , this allows Blaze to stay in the air for a longer duration.
Sonic Rush Adventure

Characters
Sonic (Super Sonic) | Blaze (Burning Blaze) | Tails | Marine | Coconut Crew (Setter, Tabby, Colonel, Kylok, Daikun, Muzy) | Gardon | Norman | Captain Whisker | Mini & Mum | Johnny | Doctor Eggman | Doctor Eggman Nega
Islands/Stages
Whale Point | Plant Kingdom | Machine Labyrinth | Coral Cave | Haunted Ship | Blizzard Peaks | Sky Babylon | Pirates' Island | Big Swell | Deep Core | Hidden Islands (1 | 2 | 3 | 4 | 5 | 6 | 7 | 8 | 9 | 10 | 11 | 12 | 13 | 14 | 15 | 16) | Special Stage*
Bosses
Ghost Rex | Ghost Pendulum | Ghost Kraken | Ghost Pirate | Ghost Whale | Ghost Condor | Captain Whisker and Johnny | Ghost Titan | Egg Wizard
Vessels
Wave Cyclone | Ocean Tornado | Aqua Blast | Deep Typhoon | Magma Hurricane | SS Tornado EX | SS Marine | SS Super-Marine
Enemies
Angler Fish | Cave Bat robot | Crabmeat | Labyrinth Soldier | Pirahna bot | Ptera | Steampacker | Torikeratanku | Wrench Swinger
Moves/Techniques
Axel Jump** | Axel Tornado** | Boost Mode | Burning Fire Boost** | Burst Dash** | Burst Hover** | Trick Action | Fire Boost** | Hop Jump* | Humming Top* | Jump Dash* | Jump Step** | Spin Dash* | Spin Jump* | Super Boost* | Super Sonic Boost*
English Voice Actors
Jason Griffith (Sonic) | Mike Pollock (Eggman, Eggman Nega) | Amy Palant (Tails) | Bella Hudson (Blaze) | Lonnie Hirsch (Captain Whisker) | Christopher Pellegrini (Johnny)
Japanese Voice Actors
Jun'ichi Kanemaru (Sonic) | Chikao Ōtsuka (Eggman, Eggman Nega) | Ryo Hirohashi (Tails) | Nao Takamori (Blaze) | Shinya Fukumatsu (Captain Whisker) | Kota Nemoto (Johnny)
Other
A New Venture | Bomb | Bungee Rope | Chaos Emeralds | Corkscrew Loop | Dash Panel | Dash Ring | Item Box (Super Ring, Shield, Lightning Shield, Invincibility, High Speed, Tension Bonus, Maximum Tension Bonus, Confusion, Slow, Attract) | Jeweled Scepter | Materials | Minecart | Rainbow Ring Shuttle Loop | Sol Dimension | Southern Island | Power of the Stars | Ramp | Rings | Sonic Rush Adventure Flash | Sonic Rush Adventure Original Soundtrack | Tension Gauge | Time Attack | Treasure Chest | Winding Rope

*Exclusive to Sonic the Hedgehog.
**Exclusive to Blaze the Cat