This article is incomplete and in need of attention.

Please follow the guidelines in the Manual of Style and help the Sonic News Network by expanding this article. Remove this message when finished.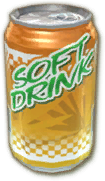 Canned Juice, or usually called Soda, is one of the drinks in Golden Trading Company that appears in Sonic Unleashed. It is a drink that can be shaken to produce volatile results, that can soak the user if without care.