This article is about a subject in the real world.
Information in this article is about real-life people, companies, and objects, and does not relate to the in-universe Sonic series.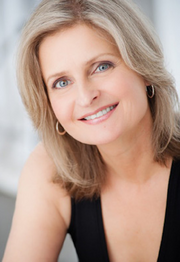 Catherine "Cathy" Weseluck (born 21 August 1970 in Canada) is a Canadian voice actress who frequently works with Ocean Productions in Vancouver, British Columbia. She provided the voices of Suzie, Robot, Rebot, Becky, Penelope, Cat and a parrot[1] in Adventures of Sonic the Hedgehog.[2]
Other Roles
She has provided voices for many anime and cartoon series. She has provided the voice of Mirai Yashima (Mobile Suit Gundam), Dorothy Catalonia and Catherine Bloom (Gundam Wing), Cybersix (Cybersix), Near (Death Note), Shampoo (Ranma ½), Kagome's mother (InuYasha), Misa Takatsuki (Project ARMS), and Kid Trunks, Chiaotzu and Puar (Dragonball Z), among many others. She also voices Spike the dragon and the Mayor of Ponyville in My Little Pony: Friendship Is Magic.
In both InuYasha and Hamtaro, Cathy provides the voice for the mother of Moneca Stori's character. In InuYasha, Cathy provides the voice for Mrs. Higurashi, the mother of Kagome Higurashi, who is voiced by Moneca Stori. In Hamtaro, Cathy provides the voice for Marian Haruna, the mother of Laura Haruna, who is also voiced by Moneca Stori. In Hikaru No Go, Cathy provided voices for both the male teenage Go player Mitani and the mother of Hikaru himself.
In addition to her voice-over work, Cathy is also a voice instructor and voice director. She served as the singing director on My Little Pony Tales and dubbing director on Billy the Cat.
References
↑ Cathy Weseluck on Twitter. Twitter (27 March 2013). Retrieved on 10 January 2016. "Nick Hoxter: Did you do any voices from Adventures of Sonic the Hedgehog? / Cathy Weseluck: Yes! Though not regulars in every episode, I played Suzie, Robot, Rebot, Becky, Penelope, Cat, and a Parrot!  :)"
External links
Former English Voice Actors