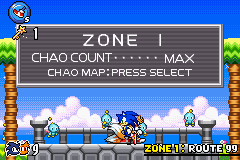 Chao Playgrounds, referred to as Chao's Playground by Omochao, are locations that appear in Sonic Advance 3. Similar to Chao Gardens in previous games, Chao Playgrounds are a place in which Chao reside.
History
Each Zone in Sonic Advance 3 contains a Chao Playground with the exception of the Final and Extra Zones. When the player finds a hidden Chao in the game, the Chao will automatically be transported to that Zone's Chao Playground, where it will reside for the rest of the game. Chao Playgrounds can be accessed from the Sonic Factory through an entrance at the middle left of the area.
There is a total of nine Chao in each Zone, which are scattered throughout all three Acts and the Zone Map. Once all Chao are collected in a Zone, a Special Key will appear in the Zone's Acts, which is needed to use the Special Spring located somewhere in the Zone Map.
Unlike Chao Gardens, the Chao in Chao Playgrounds cannot be interacted with, Chao Playgrounds instead exist as a means to keep track of all the hidden Chao the player has collected.
Once the player has obtained a Chaos Emerald in a Zone, the Chaos Emerald will reside in that Zone's respected Chao Playground.
Whilst in the Chao Playground, the player can press the Select button to open up a Chao Map, which will display all the locations where Chao can be found and if the player has collected any Chao.
Appearance
All Chao Playgrounds look exactly the same, Chao Playgrounds consist of a small, flat area, with green grass, flowers, trees, and small rock formations. In the middle of each Chao Playground is a stone bridge-like structure with a railing and a pleasant, blue sky and a sea view can be seen in the background. Each Chao Playground is secured by large brick walls and a brick ceiling.
Gallery
Trivia
Whilst in the Chao Playground, the player is unable to perform any Tag Actions.
See Also
---
Main article | Gallery | Staff
Characters
Sonic (Super Sonic) | Tails | Knuckles | Cream | Cheese | Vanilla | Amy | Eggman | Gemerl (Ultimate Gemerl) | Chao | Omochao
Zones
Route 99 | Sunset Hill | Ocean Base | Toy Kingdom | Twinkle Snow | Cyber Track | Chaos Angel | Altar Emerald | Nonaggression | Special Stage
Bosses
Egg Hammer 3 | Egg Ball No.2 | Egg Foot | Egg Cube | Egg Chaser | Egg Pinball | Egg Gravity | Hyper Eggrobo | Ultimate Gemerl
Enemies
Akatento | Ape | Bu-bu | Buzzer | Clam | Condor | Gaogao | Gekogeko | Ginpe | Guards | Guruguru | Hariisen | Jousun | Juggling | Kamaki | Kyacchaa | Marrun | Minimole | Muugaden | Spina | Takkon | Uutsubo | Yadokka | Yukigasen
Moves/
techniques
Regular moves
Amy Dash | Big Hammer Attack | Boost Mode | Bound Attack | Chao Attack | Chao Ball Attack | Chao Spinning Attack | Dash Climb | Double Mid-Air Glide | Double Punch | Drill Claw | Fire Sliding | Flying | Floating Fall | Hammer Attack | Hammer Jump | Hammer Propeller Flying | Head Slide | High Propeller Flying | Hip Drop | Homing Attack | Jump Dash | Leap | Mid-Air Dash Glide | Propeller Flying | Mid-Air Chao Attack | Mid-Air Chao Ball Attack | Mid-Air Chao Spinning Attack | Mid-Air Glide | Mid-Air Hammer Attack | Mid-Air Hammer Jump | Skid Attack | Spin | Spin Dash | Spin Jump | Super Sonic Boost | Spinning Hammer Attack | Spiral Upper | Tag Action | Tail Spin Attack | Tail Swipe | Tornado Attack | Upper Spin | Wall Climb | Wind Attack
Mid-Air Trick Actions
Big Air (Happy Spring, Hop Jump, Petit Step) | Long Wind Jump (Humming Top, Sweet Roll, Window Jump) | Stop 'n' Slam (Bound Attack, Spinning Hammer Attack, Propeller Descent, Hip Drop)
English voice actors
Ryan Drummond (Sonic) | Deem Bristow (Eggman) | William Corkery (Tails) | Scott Dreier (Knuckles) | Jon St. John (Announcer) | Jennifer Douillard (Amy) | Sarah Wulfeck (Cream)
Japanese voice actors
Jun'ichi Kanemaru (Sonic the Hedgehog) | Chikao Ōtsuka (Eggman) | Ryō Hirohashi (Tails) | Nobutoshi Kanna (Knuckles) | Taeko Kawata (Amy) | Sayaka Aoki (Cream)
Other
Act Ring | Angel Island | Aqua Shield | Balloon | Bungee Rope | Chao Playground | Chaos Emerald | Corkscrew loop | Dash Panel | Factory Ring | Fly Type | Flywheel | Freeze | Goal Medal | Grind Rail | Gymnastic Bar | High-speed warp tube | Item Box (Invincibility, Maximum Speed, Ring Magnet, Shield, 1-Up, 5/10/ Random Ring Bonus) | Minecart | Platform-raising Wheel | Pulley | Power Type | Propeller Spring | Ramp | Ring | Seesaw | Shuttle loop | Snowblower | Sonic Factory | Special Key | Special Spring | Speed Type | Switch | Time Attack | Tornado 2
Ad blocker interference detected!
Wikia is a free-to-use site that makes money from advertising. We have a modified experience for viewers using ad blockers

Wikia is not accessible if you've made further modifications. Remove the custom ad blocker rule(s) and the page will load as expected.