Chao Racing is an event that Chao can compete in by going through the door on the other side of the Station Square Garden in Sonic Adventure or through the waterfall at the Neutral Garden in Sonic Adventure 2 and races in their group such as the challenge race, it has twelve races in its group. This does not include Party races. It is held at the Chao Stadium.
Basics
Chao Racing involves a group of Chao, usually eight, attempting to reach one end of the course from a designated starting point. More difficult courses are longer and the competing Chao have stronger stats to match.
Stat effects
Swim: This allows Chao to swim faster and more effectively in water areas.
Fly: Higher flight stats allow a Chao to fly farther and faster and avoid more obstacles.
Run: Chao run along the ground faster at higher speeds.
Power: This lets Chao climb cliff faces faster and shake trees quicker.
Stamina: More stamina lets a Chao run longer. Also, a quick speed burst can be given by hitting A at the cost of some stamina.
Non-visible stats
There are two stats that cannot be seen on the Chao's list of stats. These are:
Intelligence: Chao that have attended more kindergarten classes will solve puzzles faster and are more likely to get them right the first time.
Luck: Playing with the Chao will increase the Luck stat or lower it, depending on how the Chao is raised. In races, this determines the luck of the Chao in certain situations.
Obstacles
Trap door: These show up randomly when a Chao runs over the designated section, costing time as they pull themselves out.
Jack-in-the-box: All Chao run into these in certain races and must open them to proceed. If the jack springs out, the Chao will faint and lose time. The appearance of the jack is dependent of the Luck/Intelligence of the Chao.
Trees: At tree patches, Chao must shake down a nut and eat it to continue. Eating speed is the same for all Chao.
Matching puzzle: The Chao must present an item to the screen that matches the one shown.
Chao Race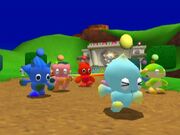 Here is a list of the races of Sonic Adventure 2 and in Sonic Adventure 2: Battle. The prizes for the specific races are listed after the race name.
Beginner Race
Crab Pool (Based on Swimming) - Shovel
Stump Valley (Based on Flying) - Watering Can
Mushroom Forest (Based on Running) - Rattle Toy
Block Canyon (Based on Power) - Car Toy
Jewel Race
Aquamarine (Based on Swimming) - Sonic Doll
Topaz (Based on Flying) - Broom
Peridot (Based on Running) - Picture Book
Garnet (Based on Power) - Pogo Stick
Onyx (Based on Intelligence and Luck) - Crayons
Diamond (Based on everything) - Bubble-Blowing Set
Challenge Race
Race 1: Challenge the strong Gold and Silver Rivals! (The player faces Gold and Silver Chao)
Race 2: He Returns (The player faces Chacron - an expertly trained Chao)
Race 3: I'm Trying (The player faces several Omochao)
Race 4: Small Animal Challenge (The player faces a variety of different Animals) - Chao Garden Ball
Race 5: Horrible Cockroach Chao group (The player faces Onyx Chao with antennae)
Race 6: Oh, My Egg (The player faces egg Chao)
Race 7: Be Afraid! Skeleton Group (The player faces Chao with skull hats)
Race 8: Be Afraid! Pumpkin Group (The player faces Chao with pumpkin hats) - Chao Jack-in-the-box
Race 9: Be Afraid! Ghost Group (The player faces Chao with no legs along with fire above their heads)
Race 10: He Strikes Back (The player faces a faster Chacron Chao)
Race 11: Kids troops Chao Ranger (The player faces Shiny Chao with animal parts)
Race 12: Here Comes the Ultimate Rival (The player faces a lone Chaos Chao) - Chao TV
Hero Race
(Note that Dark Chao cannot enter in these races.)
Race 1: New Battle Baby Devils. (Baby Dark Chao with animal parts)
Race 2: New Battle Child Devils. (Adult Dark Chao)- Hero Garden Ball
Race 3: New Battle Death Troops. (Adult Dark Chao with skulls as helmets)
Race 4: New Battle Devil vs. Angel. (Devil Chaos Chao) - Hero Garden Rocking Horse
Dark Race
(Note that Hero Chao cannot enter in these races.)
Race 1: New Battle Baby Angels. (Baby Hero Chao)
Race 2: New Battle Angels. (Adult Hero Chao) - Dark Garden Ball
Race 3: New Battle Flying Angels. (Adult Hero Chaos with several flying animal parts)
Race 4: New Battle Angel vs. Devil. (Angel Chaos Chao) - Chao Radio
Trivia
Despite the fact that Dark Chao and Hero Chao cannot enter Hero or Dark Races, neutral Chao can still compete.
On the final round of the Hero Race, it shows a Devil Chao grinning and with different eyes. This is impossible as Devil Chao don't have mouths and their eyes are always full open.
The theme for Chao Race in Sonic Adventure 2 was remixed as the main menu theme in Sonic Advance 3.
See also
External links
---
Main article | Gallery | Beta Elements | Staff | Glitches | Re-releases (DX | 2010)
Scripts (Sonic, Tails, Knuckles, Amy, Big, Gamma, Super Sonic)
Characters
Sonic (Super Sonic) | Tails | Knuckles | Amy | E-102 Gamma | Big | Eggman | Chaos (Chaos 1, Chaos 2, Chaos 4, Chaos 6, Perfect Chaos) | Froggy | Tikal | Pachacamac | Grandma | Metal Sonic* | Cream* | Mr. Know-It-All | Unnamed Sonic robot* | Chao | Flickies | Animals (Deer, Elephant, Gorilla, Kangaroo, Koala, Lion, Mole, Parrot, Peacock, Penguin, Rabbit, Seal, Sea Otter, Skunk, Swallow)
Enemies
Beat | Bladed Spinner | Boa Boa | Buyoon | Cart Kiki | Cop Speeder | Egg Keeper | Electro Spinner | Gola | Ice Ball | Kiki | Leon | mechanical fish | Pirate | Rhinotank | Spiky Spinner | Sweeper
E-100 Series
Beta (Mark II) | Gamma | Delta | Epsilon | ZERO | Zeta
Locations
Adventure Fields
Egg Carrier | Mystic Ruins | Station Square
Chao Gardens
Station Square Garden | Mystic Ruins Garden | Egg Carrier Island
Misc.
Angel Island | Black Market | Chao Stadium | Shrine of Knuckles's race | Tails' Lab
Action Stages
Emerald Coast | Windy Valley | Casinopolis | IceCap | Sky Chase | Twinkle Park | Speed Highway | Red Mountain | Sky Deck | Lost World | Hot Shelter | Sand Hill | Twinkle Circuit | Final Egg
Bosses
Chaos 0 | Chaos 2 | Chaos 4 | Chaos 6 | E-101 Beta | E-101 Mark II | E-102 Gamma | E-103 Delta | E-104 Epsilon | E-105 Zeta | Egg Carrier | Egg Hornet | Egg Viper | Egg Walker | Knuckles the Echidna | Perfect Chaos | Sonic the Hedgehog | ZERO
Moves/techniques
Arm Punch | Bolt of lightning | Bomb Attack | Bomb Gun Attack | Charge | Climb | Dig | Double Punch | Earthquake Attack | Electric Arm | Energy Ball Attack | Flame Thrower Attack | Flight Mode | Glide | Guiding Missiles | Hammer Attack | Hammer Jump | Hover | Homing Attack | Instantaneous Liquefaction | Laser Beam Attack | Homing Missile Launch | Homing Tail Slice | Inhale Attack | Jump Attack | Laser Gun | Light Speed Attack | Light Speed Dash | Lure Attack | Marble Attack | Maximum Heat Knuckles Attack | Phantom Shadow Move | Pick | Propeller Flight | Punch | Punch Attack | Quarter Attack | Rapid Tails Attack | Scorpion Attack | Shockwave Attack (Chaos 6) | Sonic Boom | Spin Attack | Spin Dash | Spin Hammer Attack | Spin Jump | Spinning Spike Attack | Spouting Attack | Squash Roll Attack | Swing Punch | Tails Attack

Level Up Items

Ancient Light | Crystal Ring | Fighting Gloves | Jet Anklet | Jet Booster | Laser Blaster | Life Belt | Light Speed Shoes | Long Hammer | Lure | Power Rod | Rhythm Badge | Shovel Claw | Warrior Feather
English voice actors
Ryan Drummond (Sonic) | Corey Bringas (Tails) | Michael McGaharn (Knuckles) | Deem Bristow (Eggman) | Jennifer Douillard (Amy) | Jon St. John (Big) | Elara Distler (Tikal, Station Square Train Voice, Default Menu Voice) | Steve Broadie (Gamma, Pachacamac, Mystic Ruins Train Voice) | Tomoko Sasaki (Chao)
Japanese voice actors
Jun'ichi Kanemaru (Sonic) | Kazuki Hayashi (Tails) | Nobutoshi Kanna (Knuckles) | Chikao Ōtsuka (Eggman) | Taeko Kawata (Amy) | Shun Yashiro (Big) | Kaori Asō (Tikal) | Jōji Nakata (Gamma) | Tōru Ōkawa (Pachacamac) | Kaho Kōda (Station Square Train Voice) | Nobutoshi Kanna (Mystic Ruins Train Voice) | Elara Distler (Default Menu Voice) | Tomoko Sasaki (Chao)

Original Soundtrack

/

Remix

/

Vocal Mini Album

/

20th Anniversary

/

Passion & Pride

Believe In Myself | It Doesn't Matter | Lazy Days | My Sweet Passion | Open Your Heart | Unknown from M.E.

Other
777 Slots Pinball | Air Bubbles | Auto Running | Bumper | Bumper Car | Cannon | Capsule | Card & Pinball | Cart pass | Chao Egg | Chaos Emerald | Chao in Space | Chao Machine | Chao Search* | Conveyor Belt | Corkscrew loop | Crank | Dash Panel | Dash Ring | Debug Mode | Doll | Drum Can | Egg Carrier | Egg Carrier 2 | Emblem | Emerald Radar | Emerald Shard | Employee ID Card | Explosion Trap | Fan | Flipper | Fountain | Freeze | Goal Balloon | Hanging Bell | Hedgehog Hammer | Helicopter | Hint Box | Icicle | Item Box (Bomb, Extra Life, Invincibility, Lightning Shield, Power Sneakers, Shield, Super Ring) | Jump Panel (plate) | Jump Panel (ramp) | Key Stone (Gold Statue, Ice Stone, Silver Statue, Wind Stone) | Laser Field Block | Life gauge | Lit Panel | Mirror | Mission Mode | Monkey Detonation Switch | Mystic Ruins | Pinball Shooter | Power cube | Ring | Rocket | Sandboard | Satellite | Shrine of Knuckles's race | Shuttle loop | Sky Chase Dragon | Slot Machine | Snowboard | Sonic Adventure (LCD) | Sonic Token | Station Square | Station Square Police Department | Switch | Teleporter | Tornado | Tornado 2 | Transporter Machine | Trick Jump Panel | Wide Spring | Wind Path | Zip Line

*Exclusive to Sonic Adventure DX: Director's Cut.
---
Main article | Gallery | Beta elements | Staff | Glitches | Re-releases (Battle | 2012)
Characters
Sonic (Super Sonic) | Tails | Knuckles | Amy* | Shadow (Super Shadow) | Rouge | Eggman | Big*^ | Tikal* | Chaos* | Chao (Dark Chao/Walker*, Hero Chao, Chao Walker*, Chaos Chao) | Metal Sonic* | Gerald | Maria | President | Secretary | Sigma-Alpha 2 | Animals (Bat, Bear, Boar, Cheetah, Condor, Dragon, Gorilla, Half Fish, Parrot, Peacock, Penguin, Phoenix, Rabbit, Raccoon, Seal, Sea Otter, Sheep, Skeleton Dog, Skunk, Tiger, Unicorn)
Enemies
G.U.N troops
Blue Eagle | Bomb Beetle | Bomb Wing | Gold Beetle | Gun Beetle | Gun Hawk | Gun Hunter | Gun Wing | Hornet-3 | Hornet-6 | Hornet-9 | Laser Hawk | Laser Hornet | Laser Hunter | Mono Beetle | Phoenix | Rhino Cannon | Rhino Jet | Rhino Metal | Rhino Spike | Shield Hunter | Sky Hawk | Spark Beetle | Spring Beetle
Misc
Artificial Chaos (Artificial Chaos P-1, Artificial Chaos P-100, Cell, Float Type, Guard Type) | Badniks (Buzz Bomber, Chopper, E-1000, Gola, Unidus, Kiki) | Boo | Boom Boo | Egg Beetle

Stages

1P Stages
City Escape** | Wild Canyon** | Prison Lane | Metal Harbor** | Green Forest** | Pumpkin Hill** | Mission Street** | Aquatic Mine | Route 101 | Hidden Base** | Pyramid Cave | Death Chamber | Eternal Engine** | Meteor Herd** | Crazy Gadget | Final Rush** | Iron Gate** | Dry Lagoon** | Sand Ocean** | Radical Highway** | Egg Quarters** | Lost Colony** | Weapons Bed | Security Hall** | White Jungle** | Route 280 | Sky Rail** | Mad Space | Cosmic Wall** | Final Chase** | Cannon's Core | Green Hill
2P Stages
Downtown Race | Grind Race | Planet Quest | Pool Quest | Deck Race | Pyramid Race
Locations
Black Market | Central City | Chao Garden (Dark, Hero, Neutral) | Chao Kindergarten | Chao Stadium | Prison Island | Station Square | Space Colony ARK | Moon
Bosses
B-3x Hot Shot | Biolizard | Dr. Eggman | Egg Golem | F-6t Big Foot | Finalhazard | King Boom Boo | Knuckles | R-1/A Flying Dog | Rouge | Shadow | Sonic | Tails
Moves/techniques
Amy Flash* | Black Shield* | Black Wave* | Booming Missile* | Bounce Attack | Captive Light* | Chaos Bind* | Chaos Control | Chaos Impact* | Chaos Screw* | Chaos Spear | Chaos Strike* | Charm Ray* | Crazy Rush* | Crouch | Dark Finish* | Dark Omochao* | Dig | Drill Claw | Drill Drive | Fire Somersault | Glide | Grind Step | Grinding | Hammer Punch* | Heaven's Justice* | Hell Bomber* | Hip Drop* | Hover | Homing Attack | Jump Dash | Kick/Kick Attack | Knuckle Spin* | Laser Missile* | Light Attack | Light Speed Dash | Lock-on | Lock-On Missile | Magic Hands | Omochao | Pick | Power Flash* | Power Laser* | Propeller Punch | Punch (Eggwalker) | Punch/Punch Attack | Rocket Launcher | Rumble Launcher* | Screw Kick | Somersault | Sonic Wind* | Speed Up* | Spin Jump | Spin Dash | Spiral Upper | Storming Heart* | Super Sonic Boost | Swim | Thunder Arrow* | Time Stop* | Volkan Cannon | Wrath of Gaia* | Zap Laser*

Level Up Items

Air Necklace | Air Shoes | Ancient Light | Bazooka | Booster | Bounce Bracelet | Flame Ring | Hammer Gloves | Iron Boots | Jet Engine | Large Cannon | Laser Blaster | Light Speed Shoes | Magic Gloves | Mystic Melody | Pick Nails | Protective Armor | Shovel Claw | Sunglasses | Treasure Scope
English voice actors
Ryan Drummond (Sonic) | Connor Bringas (Tails) | Scott Dreier (Knuckles/GUN Soldiers) | Jennifer Douillard (Amy Rose) | David Humphrey (Shadow the Hedgehog) | Lani Minella (Rouge/Omochao) | Deem Bristow (Doctor Eggman) | Moriah Angeline (Maria Robotnik) | Marc Biagi (Gerald/GUN Soldiers) | Steve Broadie (President) | Shelly Fox (Default menu voice) | Jon St. John (Big) | Elara Distler (Tikal) | Tomoko Sasaki (Chao)
Japanese voice actors
Jun'ichi Kanemaru (Sonic) | Kazuki Hayashi (Tails) | Nobutoshi Kanna (Knuckles) | Taeko Kawata (Amy) | Kōji Yusa (Shadow) | Rumi Ochiai (Rouge) | Chikao Ōtsuka (Eggman ) | Etsuko Kozakura (Omochao) | Yuri Shiratori (Maria) | Kinryū Arimoto (President) | Shun Yashiro (Big) | Shelly Fox (Default menu voice) | Tomoko Sasaki (Chao)

OST

/




Vocal Collection

/




Official

/

Sampler

/




20th Anniversary

/




Passion & Pride

A Ghost's Pumpkin Soup | Believe In Myself | Deeper | Dive into the Mellow | E.G.G.M.A.N. | Escape from the City | Fly in the Freedom | For True Story | It Doesn't Matter | Kick the Rock! | Live and Learn | My Sweet Passion | Rhythm And Balance | Space Trip Steps | Supporting Me | The Supernatural | Throw It All Away | Unknown from M.E. | Vengeance is Mine
Other
Angel Island | Ancient Ruin | Auto Running | Ball Switch (Gravity Control Switch, Hourglass, Time Stop Switch) | Bomb | Bungie Vine | Chao Adventure^ | Chao Adventure 2^ | Chao Eggs | Chao in Space | Chao Key | Chao Machine | Chao Transporter^ | Chao World | Chaos Emerald | Chaos Drive | Container (Cage) | Corkscrew loop | Cyclone | Dash Panel | Dreamcast | Dynamite | Eclipse Cannon | Eggman Bombom | Eggwalker | Emblem | Emerald Radar | Emerald Shard | Fake Emerald | Gerald Robotnik's diary | Goal Ring | Green energy fluid | Grind Rail | GUN Military Truck | High-speed warp tube | Health Gauge | Hi-Speed Shoes | Hint Box | Item Box (Bomb, Extra Life, Health, Invincibility, Magnetic Barrier, Power Sneakers, Shield, Super Ring) | Jump Plate | Kart Race | Key Stone (Gate Key) | Laser Field Block | Meteorite | Missile | Outfit | Pipe | Project Shadow | Propeller Spring | Pulley | Rank | Ring | Rocket | Safe | Shuttle loop | Snowboard | Spinning drum | Swing Bar | Teleporter | Totem Pole | Turtle | Warp Hole | Warp Wall | Weight | Wide Spring | Winding Tunnel

*Appears or is playable only in the 2P mode
**Stage is also playable in 2P mode
^ Dreamcast version of Sonic Adventure 2 only