Chaos 2 is a form attained by Chaos and serves as a boss in Sonic Adventure and its remake Sonic Adventure DX: Director's Cut. It is achieved after absorbing the negative chaos energy of two Chaos Emeralds.
Appearance
Chaos 2 looks much like the water humanoid Chaos 0 and Chaos 1, except it is much taller and muscular. It has gained a broader chest, wider shoulders, larger hands and more muscle-toned limbs. It has also gained gray bones in both its arms that travel down its shoulders into its hands where each of the Chaos Emeralds are embedded. Its head has as well moved forward and the horns on its back head have move up on the sides of its head to give it a hammerhead-style look.
Powers and abilities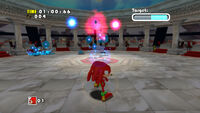 Because of the two Chaos Emeralds empowering him, Chaos' hydrokinesis is enhanced to the point that he can produce water over a huge area. His strength is also increased, giving him more powerful punches and extendable limbs (though stretching renders him vulnerable). For defense, Chaos 2 can generate an energy shield that cannot be bypassed. He can also shapeshift to assume forms like a giant ball. In some occasions, Chaos 2 can separate himself into several sphere projectiles that home into opponent, with his brain enveloped into a red aura for a short time afloat in mid-air, as another way to attack.
Battle
To start the boss battle with Chaos 2 using Knuckles the Echidna, the player has to enter the Hotel Restaurant in Station Square.
Boss guide
In battle, Chaos cannot be attacked, until he begins to first. As attacking, cause him to use his energy shield. When he attacks, aim for a punch at him, rendering him to his water form until he return back. If he takes as a sphere form, jump at it, to make him leave this form to attack. After dealing three damages, he will consume the arena with water, glide to bypass this type of harmful water, until he returns back. And when he attacks once again, finish him.
Videos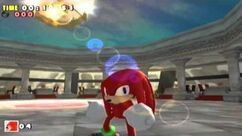 In other media
Sonic X
In the anime series Sonic X, Chaos 2 appeared during the Chaos Saga. When Chaos 1 was confronted by Sonic and Knuckles, Dr. Eggman turned it into Chaos 2. It still lost to the heroes, but Eggman was able to get away with Chaos 2 and later turn it into Chaos 4.
Trivia
Though the Hint Orb's description say that its brain must attacked to deal damage, Chaos 2 is vulnerable in any spot, unlike Chaos 0.
Chaos 2 is the only form of Chaos which Sonic does not fight.
Gallery
Artwork
Screenshots
References
External links
---
Main article | Gallery | Beta Elements | Re-releases (DX | 2010)
Characters
Sonic (Super Sonic) | Tails | Knuckles | Amy | E-102 Gamma | Big | Eggman | Chaos (Chaos 1, Chaos 2, Chaos 4, Chaos 6, Perfect Chaos) | Froggy | Tikal | Pachacamac | Chao | Metal Sonic* | Cream* | Mr. Know-It-All | Unnamed Sonic robot* | Chao | Flickies | Animals (Deer, Elephant, Gorilla, Kangaroo, Koala, Lion, Mole, Parrot, Peacock, Penguin, Rabbit, Seal, Sea Otter, Skunk, Swallow)
Enemies
Baby Kiki | Rhinotank | Sweeper | Leon | Boa-Boa | Spinner | Ice Ball | Kart Kiki | Buyoon | Cop Speeder | Spiky Spinner | Electro Spinner | Ghora | Egg Keeper | Beat | Mecha Fish | Egg Pirate
E-100 Series
Beta (Mark II) | Gamma | Delta | Epsilon | ZERO | Zeta
Locations
Adventure Fields
Egg Carrier | Mystic Ruins | Station Square
Chao Gardens
Station Square Garden | Mystic Ruins Garden | Egg Carrier Island
Misc.
Angel Island | Black Market | Chao Stadium | Shrine of Knuckles's race | Tails' Lab
Action Stages
Emerald Coast | Windy Valley | Casinopolis | IceCap | Sky Chase | Twinkle Park | Speed Highway | Red Mountain | Sky Deck | Lost World | Hot Shelter | Sand Hill | Twinkle Circuit | Final Egg
Bosses
Chaos 0 | Chaos 2 | Chaos 4 | Chaos 6 | E-101 Beta | E-101 Mark II | E-102 Gamma | E-103 Delta | E-104 Epsilon | E-105 Zeta | Egg Carrier | Egg Hornet | Egg Viper | Egg Walker | Perfect Chaos | ZERO
Moves/techniques
Bolt of lightning | Climb | Dig | Flight Mode | Propeller Flight | Glide | Hammer Attack | Hammer Jump | Hover | Homing Attack | Homing Missile Launch | Jump Attack | Laser Gun | Light Speed Attack | Light Speed Dash | Lure Attack | Maximum Heat Knuckles Attack | Pick | Punch Attack | Rapid Tails Attack | Spin Hammer Attack | Spin Dash | Spin Jump | Tails Attack

Level Up Items

Ancient Light | Crystal Ring | Fighting Gloves | Jet Anklet | Jet Booster | Laser Blaster | Life Belt | Light Speed Shoes | Long Hammer | Lure | Power Rod | Rhythm Badge | Shovel Claw | Warrior Feather
English voice actors
Ryan Drummond (Sonic) | Corey Bringas (Tails) | Michael McGaharn (Knuckles) | Deem Bristow (Eggman) | Jennifer Douillard (Amy) | Jon St. John (Big) | Elara Distler (Tikal, Station Square Train Voice, Default Menu Voice) | Steve Broadie (Gamma, Pachacamac, Mystic Ruins Train Voice) | Tomoko Sasaki (Chao)
Japanese voice actors
Jun'ichi Kanemaru (Sonic) | Kazuki Hayashi (Tails) | Nobutoshi Kanna (Knuckles) | Chikao Ōtsuka (Eggman) | Taeko Kawata (Amy) | Shun Yashiro (Big) | Kaori Asō (Tikal) | Jōji Nakata (Gamma) | Tōru Ōkawa (Pachacamac) | Kaho Kōda (Station Square Train Voice) | Nobutoshi Kanna (Mystic Ruins Train Voice) | Elara Distler (Default Menu Voice) | Tomoko Sasaki (Chao)

Original Soundtrack

/

Remix

/

Vocal Mini Album

/

20th Anniversary

/

Passion & Pride

Believe In Myself | It Doesn't Matter | Lazy Days | My Sweet Passion | Open Your Heart | Unknown from M.E.

Other
777 Slots Pinball | Air Bubbles | Auto Running | Bumper | Bumper Car | Cannon | Capsule | Card & Pinball | Chao Egg | Chaos Emerald | Chao in Space | Chao Machine | Conveyor Belt | Corkscrew loop | Crank | Dash Panel | Dash Ring | Debug Mode | Doll | Drum Can | Egg Carrier | Egg Carrier 2 | Emblem | Emerald Radar | Emerald Shard | Employee ID Card | Fan | Flipper | Goal Balloon | Hanging Bell | Hedgehog Hammer | Helicopter | Hint Box | Item Box (Bomb, Extra Life, Invincibility, Lightning Shield, Power Sneakers, Shield, Super Ring) | Jump Panel | Key Stone (Gold Statue, Ice Stone, Silver Statue, Wind Stone) | Laser Field Block | Lit Panel | Mission Mode | Monkey Detonation Switch | Mystic Ruins | Pinball Shooter | Power cube | Ramp | Ring | Rocket | Sandboard | Shrine of Knuckles's race | Shuttle loop | Sky Chase Dragon | Slot Machine | Snowboard | Sonic Token | Station Square | Station Square Police Department | Switch | Teleporter | Tornado | Tornado 2 | Transporter Machine | Trick Jump Panel | Wide Spring | Wind Path | Zip Line

*Exclusive to Sonic Adventure DX: Director's Cut.