Chaos Spear
Talk

6
7,859pages on
this wiki
Chaos Spear

Shadow firing a Chaos Spear in Sonic the Hedgehog (2006).
Statistics and Overview
First appearance
Other appearances
User(s)
Description

A lightning bolt made of raw Chaos Energy.
Chaos Spear (カオススピア, Kaosu Supia?) is a Chaos Power and one of Shadow the Hedgehog's signature moves. It is basically a variant of Chaos Control, where the user forms a lightning arrow-head-shaped bolt that is made of Chaos Energy. It first appeared in Sonic Adventure 2 and Sonic Adventure 2: Battle and has since become one of the most commonly used Chaos Powers.
Game Appearances
Sonic Adventure 2
In Sonic Adventure 2, during the final battle between Sonic and Shadow, if the opponent is Shadow, then he will launch the Chaos Spear at Sonic if Sonic is too far behind on the runway. In the multiplayer "Race Mode", after Shadow gets 40 rings, he can use the Chaos Spear to impede his opponent. Also, in the Dreamcast version, Metal Sonic can also use Chaos Spear in the multiplayer mode.
Shadow the Hedgehog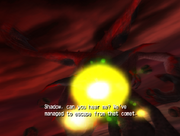 In Shadow the Hedgehog, the Chaos Spear can only be used in the final boss battle against Devil Doom. In this iteration, Super Shadow can charge up Chaos Energy into a large Chaos Spear that is shaped like a lightning bolt in order to wound Devil Doom. If it is released before being charged to its peak, Shadow unleashes a smaller blue lightning bolt called the Chaos Arrow. Despite being somewhat weaker and can only cause minor injuries on Devil Doom, they have the advantage of a faster rate of fire and are good to destroy debris and pop balloons containing Ballon Rings.

Sonic the Hedgehog (2006)
In Sonic the Hedgehog (2006), Chaos Spear is performed by the player pressing

/

in mid-air while jumping. Shadow can shoot a Chaos Spear which is capable of paralyzing opponents, and can be charged by holding the buttons down. The technique can be upgraded when Shadow activates the Chaos Boost Level 2 and above, which upgrades the Chaos Spear into the Chaos Lance which can cause explosive damage. Another version of the Chaos Spear also appears during the battle with Solaris called the Spear of Light.
Sonic Chronicles: The Dark Brotherhood
In Sonic Chronicles: The Dark Brotherhood, Chaos Spear is one of Shadow's POW moves. When performing Chaos Spear in this game, Shadow walks up in front of the opposing enemies and forms a purple Chaos Spear in each of his hands. He then grabs the Chaos Spears as if they were real spears and throws both of them at the opponents.
In gameplay, the Chaos Spear deals attack damage to a chosen target with two strikes. When it deals damage, Chaos Spear pierces armor. However, if there are more enemies present on the opposing side of the battlefield besides the chosen target, the is a chance that one of the Chaos Spears will hit one of them instead of the chosen target, resulting the chosen only receiving one strike. The higher the level of Chaos Spear is, the more attack damage it will deal.
Quick-Time Event
When performing Chaos Spear in gameplay, the player has to complete a series of quick-time events by performing certain actions on the Touch Screen, in order to execute Chaos Spear optimally:
The player has to touch the inside of three circles in succession when the outer circles overlap the inner circles.
The player has to touch and stay inside the outer circle that appears when it overlaps the inner circle and follow it in a straight line from the upper left corner of the screen to the lower right corner.
Missing or not touching these circles correctly will either result in Shadow missing a strike or the damage from the attack being reduced.
Statistics
| Level | PP Cost | Damage | Effect |
| --- | --- | --- | --- |
| I | 4 | 2 x 100% of Attack damage | Armor piercing |
| II | 4 | 2 x 125% of Attack damage | Armor piercing |
| III | 4 | 2 x 150% of Attack damage | Armor piercing |
Sonic and the Black Knight
In Sonic and the Black Knight, Sir Lancelot possesses an exclusive Skill named "Agility" that lets him fire mini arrows of energy that resemble Chaos Spears by swinging his sword.
During the mission "Lancelot Returns" in Deep Woods, Lancelot will use Chaos Spears in the fight against Sonic. When he get too far away from the player, he will fire Chaos Spears either from the palm of his hands or from clusters of Chaos Spears that he forms above him.
Sonic & SEGA All-Stars Racing
In Sonic & SEGA All-Stars Racing, Shadow will use Chaos Spear during his All-Star move. Shadow will transform into Super Shadow and fly along the track, if you press the ITEM button Super Shadow will launch Chaos Spears on the track that will explode once it hits the ground. The explosion has a blast radius that will take out other racers as long as they're in range.
Sonic Generations
In Sonic Generations, Shadow uses Chaos Spear several times in the Final Rush race/battle against Sonic. Shadow performs Chaos Spear when Sonic falls too far behind, Shadow also performs Chaos Spear during his special attack after gaining two/three Power Cores, Shadow launches several Chaos Spears onto the ground that Sonic must avoid by using Quick Step. Afterwards, Shadow performs a larger Chaos Spear, launching it directly at Sonic, one that also can be avoided using Quick Step.
Appearances in Other Media
Sonic X
The Chaos Spear has been used repeatedly in Sonic X to a great effect, often allowing Shadow to brush aside powerful, and occasionally physically stronger, opponents with ease. Using it, he fought off numerous ships, punched holes in the Blue Typhoon and been able to tear the leg off of the X-Tornado, all with minimal effort. In another episode of the series, Super Sonic uses what appeared to be yellow energy bolts, an ability which could possibly be a derivative of Chaos Spear, to strike down a group of Metarex soldiers before engaging in combat with Super Shadow; though it's not confirmed if this truly was Chaos Spear or not, as Sonic never said a word while doing this attack; however, later in the series, Shadow doesn't say a word when performing the move.
Trivia
Chaos Spear has changed over the years. First it was a yellow lightning arrow that damages in Sonic Adventure 2, then in Shadow the Hedgehog, it was a light blue oval that damages, and in Sonic the Hedgehog (2006) it was a white/blue bolt of electricity that stuns. In Sonic Universe, it was a green lightning bolt-like spear. In Sonic Chronicles: The Dark Brotherhood, when you used Chaos Spear, they looked like purple lightning spears. In Sonic and the Black Knight, it was a small red arrow, and finally in Sonic Generations, it was yellow again.
In Shadow the Hedgehog, the Chaos Spear can be only launched when Shadow is in his Super State but it can be charged for greater power.
Also in Shadow the Hedgehog, the Shadow Rifle weapon which is unlocked by beating the Last Story fires shots that resemble chaos spears in this game, they also one shot most enemies.
In Sonic Adventure 2 and Sonic Adventure 2: Battle, Shadow announces the Chaos Spear by shouting "Disappear!"
In Sonic & SEGA All-Stars Racing, the Chaos Spear has displayed the ability to explode, a trait absent in the past games in which Shadow used Chaos Spear.
In Sonic Generations, Shadow will shout out "Chaos Control!" when using the powered up Chaos Spear.
Gallery
References
↑

Official in-game description.
Sonic the Hedgehog (2006)

Playable characters
Sonic (Super Sonic) | Tails | Knuckles | Shadow (Super Shadow) | Rouge | Omega | Silver (Super Silver) | Blaze | Amy
Other characters
Accordion Player | Adrianna | Alan | Alessio | Alfano | Anna | Antonio | Aristo | Berruni | Bishop | Claudia | Dante | Dr. Eggman | Duke of Soleanna | Elkan | Frances | Francesca | G.U.N. soldier | Galienna | Gina | Hatsun | Herman | Iblis | Ken Williams | Ladies-in-waiting | Liza | Lord Regis | Mancini | Mephiles | Mikhail | Monica | Nicolo | Paganini | Parr | Pele | Pietro | Pinto | Porta | Priest | Princess Elise the Third | Prodi | Pucci | Puccini | Renzo | Alberto Robert | Roberta | Rossi | Sabrina | Sandro | Solaris | Soleanna Royal Guards | Solomon | Sonic Man | Sophia | Zof
Enemies
Egg Armor | Egg Bomber | Egg Buster | Egg Cannon | Egg Chaser | Egg Commander | Egg Flyer | Egg Guardian | Egg Gunner | Egg Lancer | Egg Launcher | Egg Liner | Egg Rounder | Egg Stinger | Egg Sweeper | Egg Walker | Iblis Biter | Iblis Golem | Iblis Taker | Iblis Worm | Mega Shadow | Mephiles Taker | Mephiles Worm | Shadows | Stalker | Titan
Action Stages
Wave Ocean | Dusty Desert | White Acropolis | Crisis City | Flame Core | Radical Train | Tropical Jungle | Kingdom Valley | Aquatic Base | End of the World
Town Stages
Castle Town | Forest | New City
Town Missions
Sonic
1 | 2 | 3 | 4 | 5 | 6 | 7 | 8 | 9 | 10 | 11 | 12 | 13 | 14 | 15 | 16 | 17 | 18 | 19 | 20
Shadow
1 | 2 | 3 | 4 | 5 | 6 | 7 | 8 | 9 | 10 | 11 | 12 | 13 | 14 | 15
Silver
1 | 2 | 3 | 4 | 5 | 6 | 7 | 8 | 9 | 10 | 11 | 12 | 13 | 14 | 15 | 16 | 17 | 18
Bosses
Egg Cerberus | Egg Genesis | Egg Wyvern | Iblis | Mephiles | Shadow | Silver | Solaris | Sonic
Moves/Techniques
Arrow of Light | Accelerator Tornado | Attack | Bomb | Bomb Snipe | Bound Jump | Chaos Attack | Chaos Boost (Chaos Blast, Chaos Lance, Chaos Snap) | Chaos Spear | Climb | Custom Action (Gun Drive, Homing Smash, Mach Speed, Scale, Slow, Thunder Guard, Tornado) | Dummy Ring Blitz | Dummy Ring Bomb | Dummy Ring Sniper | Fire Claw | Fly | Grab All | Ground Shaker | Hammer Attack | Hold Smash | Hover | Invisibility | Levitate | Light Dash | Lock-On Shot | Omega Launcher | Omega Shot | Psychokinesis | Psycho Shock | Psycho Smash | Punch Attack | Screwdriver | Shield of Light | Sliding Attack | Spear of Light | Spin Dash | Spin Jump | Spin Kick | Spinning Claw | Teleport Dash
Items
Chaos Drives | Container | Goal Ring | Item Box (Gauge Up, Super Ring, Shield, Invincibility, Extra Life) | Dash Ring | | Light Cores | Medals | Pulley | Rainbow Ring | Rings | Spring | Star Post | Snowboard | Switch
Upgrades
Air Chip | Antigravity | Blue Gem | Bounce Bracelet | Gems | Green Gem | Heart of Wind | Light Chip | Memory Shard (black) | Memory Shard (blue) | Memory Shard (red) | Power Bracelet | Purple Gem | Red Gem | Shock Bracelet | Single-Layered Extreme | Sky Gem | White Gem | Yellow Gem
OST
All Hail Shadow | Dreams of an Absolution | His World | My Destiny | Sweet Dreams AKON Mix
English Voice Actors
Jason Griffith (Sonic, Shadow the Hedgehog) | Pete Capella (Silver the Hedgehog) | Lacey Chabert (Princess Elise) | Mike Pollock (Dr. Eggman, Narrator) | Amy Palant | (Tails, Ladies-in-waiting) | Lisa Ortiz (Amy, Ladies-in-waiting) | Bella Hudson (Blaze) | Dan Green (Knuckles, Mephiles, Solaris Project scientists) | Kathleen Delaney (Rouge) | Maddie Blaustein (Omega) David Wills (Duke, G.U.N communitcator)
Japanese Voice Actors
Jun'ichi Kanemaru (Sonic) | Kōji Yusa (Shadow) | Daisuke Ono (Silver) | Maaya Sakamoto (Princess Elise) | Chikao Ōtsuka (Dr. Eggman) Kenji Utsumi (Narrator, Duke) | Ryō Hirohashi (Tails) | Hikari Yono (Ladies-in-waiting) | Nao Takamori (Blaze) | Nobutoshi Kanna (Knuckles) | Takayuki Sakazume (Mephiles) | Keiji Okuda (Solaris Project scientist, G.U.N. communicator) | Yoshikazu Kozuma (Solaris Project scientist) | Rumi Ochiai (Rouge) | Taeko Kawata (Amy) | Taiten Kusunoki (Omega)
Other
Auto Running | Chao in Space | Chaos Crush | Conveyor Belt | Custom Shoes | Dummy Rings | Elise's Prayer | Eye of Solaris | Gallery | G.U.N. Buggy | G.U.N. Hovercraft | | Havok | Heart Bombs | Hint Ring | Minecart | Mirrors of Soleanna | Orca | Rainbow Gem | Rimlight | Scepter of Darkness | Soleanna | Solaris Project | Super-Speed Stages