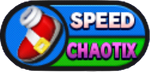 The Chaotix Type is a character type that appears in Sonic Runners.
Overview
As its name implies, Chaotix Type characters are affiliated with the Chaotix. These characters were the earliest ones to become available via the Premium Roulette, with all its members being introduced at the same time. Members of this type receive a 50% Ring bonus in gameplay.
List of Chaotix Type characters
Trivia
Ad blocker interference detected!
Wikia is a free-to-use site that makes money from advertising. We have a modified experience for viewers using ad blockers

Wikia is not accessible if you've made further modifications. Remove the custom ad blocker rule(s) and the page will load as expected.