This article is about a subject in the real world.
Information in this article is about real-life people, companies, and objects, and does not relate to the in-universe Sonic series.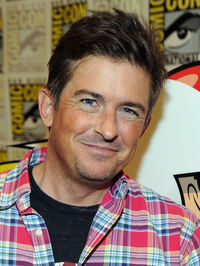 Charlie Schlatter (1 May 1966 – present) is an American voice actor. He is mostly known for voicing Kick Buttowski from the Kick Buttowski: Suburban Daredevil television series. Other notable roles he voiced for include Jimmy Two-Shoes from the pilot episode of Jimmy Two-Shoes, Ace Bunny from Loonatics Unleashed, and Kevin Levin from Ben 10.
He voiced Griff in the Sonic the Hedgehog television series.
Former English Voice Actors
Sonic the Hedgehog (TV series)
Ad blocker interference detected!
Wikia is a free-to-use site that makes money from advertising. We have a modified experience for viewers using ad blockers

Wikia is not accessible if you've made further modifications. Remove the custom ad blocker rule(s) and the page will load as expected.