This object exists primarily or exclusively within the Sonic Boom continuity.
Information in this article may not be canonical to the storyline of the games or any other Sonic continuity.
The chili dog is an object that appears in the Sonic Boom television series. It is a popular food product consumed on Seaside Island, which is made and sold by several parties. It is perhaps best known as the favorite food of Sonic the Hedgehog.
Description
As the name suggests, the chili dog is a generic name for a hot dog served in a bun and topped with some sort of meat sauce with onions and a spicy substance known as chili. The sauce itself can differ in ingredients and extra toppings can be added.[1]
History
TV series
Past
At some point, the Unnamed Village introduced a chili dog tax. Supposedly, Mayor Fink promised his administration would repeal that law, but it never came to be, much to Sonic's dismay.[2]
Season one
While working with Dr. Eggman and Tails to stop Cowbot, Sonic would waste some of his time (and Eggman's) preparing and eating chili dogs instead.[3][4] One day, Sonic would get the last chili dog from Meh Burger before Eggman, making Eggman pressure Sonic to get him a new from another village, only to attack Sonic for forgetting the relish.[4]
As the Chili Dog Cook-Off arrived, with Sonic as its judge, numerous people participated to. With the competitors looking for good peppers to use for a chili sauce (which Mrs. Vandersnout took advantage of to sell common peppers), Knuckles found a pepper which knocked him out and gave him strange dreams.[1] Sonic would take his time with chili dogs on many occasions after that, including wiping one up before saving Sticks from the Froglodytes,[5] saving one from hitting the sand,[6] and eat one during a police investigation (which Eggman used to frame him for a theft).[7] At the Robot Battle Royale, Wild Cat would also sell chili dogs, with Sonic being one of his customers.[8]
Season two
At Meh Burger, Sonic and Mark the Tapir would order chili dogs (with cheese), but after Sonic had finished his, Mark threw his away.[9] Later on, Tails employed the use of chili dogs as bait for his traps in attempts to capture Sonic, but failed multiple times (except at the last trap), allowing Sonic to eat some.[10] Due to losing a bet, Sonic was later forced to buy chili dogs for his friends.[11]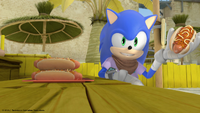 While babysitting Chumley, Sonic, Tails and Knuckles fed him a blended chili dog when he got hungry.[12] Sonic later got persuaded to become a delivery boy for Meh Burger after Mr. Slate promised him a (non-transferable) chili dog for each succesful delivery. Thanks to his speed, Sonic earned himself a lot of chili dogs to chow down on. However, he eventually began to feel ill from eating too many, and had to quit his job.[13]
Trivia
Sonic the Hedgehog's fondness for chili dogs is something that has been a staple of Sonic's characterization in western territories, having been first established in the animated series, Adventures of Sonic the Hedgehog. In the years since, the chili dog has been established as Sonic's favorite food in just about every Sonic-related media, eventually making its way into the games' canon as well.
The chili dog was originally going to appear in Sonic Boom: Rise of Lyric, but never made it into the final game. However, it was mentioned during the side-quest that involves Team Sonic stopping Destruction Troops from destroying Chef Woody's food supply. While talking to the chef, he exclaims: "Look at me...I am explaining myself to these creatures that probably live off of chili dogs." They are later referenced again when Sonic humorously adds chili dogs as one of the more important things in life.
According to Alan Denton, when writing season one of Sonic Boom, the staff was not sure they wanted to keep the chili dog theme going.[14]
Meh Burger is known for selling chili dogs that are past their expiration dates (and which may contain old socks).[11]
The password for the mother computer in Dr. Eggman's Lair is "chili dog".[15]
Gallery
Models
Screenshots
See also
References
↑ 1.0 1.1 Harrison, Reid (16 July 2015). "Chili Dog Day Afternoon". Sonic Boom. Season 1. Episode 30. Cartoon Network.
↑ Denton, Alan; Hahn, Greg (4 February 2017). "Mech Suits Me". Sonic Boom. Season 2. Episode 65. Boomerang.
↑ Pugsley, Tom; Denton, Alan; Hahn, Greg (31 January 2015). "Cowbot". Sonic Boom. Season 1. Episode 11. Cartoon Network.
↑ 4.0 4.1 Gutierrez, Freddie (2 May 2015). "Late Fees". Sonic Boom. Season 1. Episode 24. Cartoon Network.
↑ Trueheart, Eric (17 July 2015). "Closed Door Policy". Sonic Boom. Season 1. Episode 31. Cartoon Network.
↑ Moarbes, Charles-Henri (23 July 2015). "Two Good to Be True". Sonic Boom. Season 1. Episode 35. Cartoon Network.
↑ Harrison, Reid (19 September 2015). "It Wasn't Me, It Was the One-Armed Hedgehog". Sonic Boom. Season 1. Episode 44. Cartoon Network.
↑ Van Liemt, Romain; Grenier, Benoit (26 September 2015). "Robot Battle Royale". Sonic Boom. Season 1. Episode 45. Cartoon Network.
↑ Lieblich, Doug (10 November 2016). "The Biggest Fan". Sonic Boom. Season 2. Episode 57. Boomerang.
↑ Flynn, Ian (17 November 2016). "Anything You Can Do, I Can Do Worse-er". Sonic Boom. Season 2. Episode 58. Boomerang.
↑ 11.0 11.1 Denton, Alan; Hahn, Greg (11 February 2017). "FiendBot". Sonic Boom. Season 2. Episode 66. Boomerang.
↑ Stanley, Evan (12 August 2017). "Three Men And My Baby!". Sonic Boom. Season 2. Episode 92. Boomerang.
↑ Gutierrez, Freddie (30 September 2017). "Three Minutes or Less". Sonic Boom. Season 2. Episode 97. Boomerang.
↑ Alan Denton on Twitter. Twitter (11 August 2016). Retrieved on 13 August 2016. "Alan Denton: True story: When we started on S1 of Boom, we weren't sure if we'd keep the chili dog thing going. Glad we did."
↑ Gralewski, Françoise (7 October 2017). "Lair On Lockdown". Sonic Boom. Season 2. Episode 98. Boomerang.