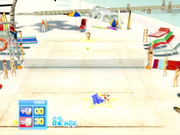 Coconut Beach is a tennis court in Sega Superstars Tennis. It is based off the OutRun series.
Overview
Coconut Beach is set on a beach by the road with lots of beach-goers observing the match, including the driver and his girlfriends from OutRun 2. There are also the flagman who is occasionally standing next to the net or sitting on the lifeguard platform.
Trivia
Coconut Beach was the first stage in the first OutRun game. It was replaced with Palm Beach in OutRun 2 and Sunny Beach in OutRun 2006: Coast 2 Coast, all of which are depicted as coastal cities with beaches.
The flagman will occasionally do stretches, jitters or headspins.
Gallery
Ad blocker interference detected!
Wikia is a free-to-use site that makes money from advertising. We have a modified experience for viewers using ad blockers

Wikia is not accessible if you've made further modifications. Remove the custom ad blocker rule(s) and the page will load as expected.