Coconuts
Talk

0
7,442pages on
this wiki
Coconuts

Coconuts in Sonic the Hedgehog 2.
Appearances
First appearance
Game
appearances
Appearances
in other media
Voice actor(s)
English
voice actor(s)
Japanese
voice actor(s)
Biographical overview
Creator
Also known as

Aiai, Coco-nerd

Physical description
Species
Gender

Male

Height

81 cm (2ft 8in)

Weight

30 kg (68.8 lbs)

Fur

Red (Brown in the comics)

Skin

Peach/White
(Light Orange in the comics)

Eyes

White eyes with black pupils
(Black in the cartoon and comics)

Alignment and character traits
Alignment

Evil

Likes

Getting his way, getting to fight against Sonic, getting to be in charge, proving himself competent, looking better than Scratch and Grounder.

Dislikes

Having nothing to do, putting out effort just to see it wasted, not getting something done right, being left out of loop, looking stupid, housekeeping duties, Sonic the Hedgehog and Miles "Tails" Prower.

Skills, abilities and powers
Skills

Natural acrobatic skills, Jumping, Swinging, Prehensile tail, Hanging, Climbing Surface, Seemingly endless amount coconut-like bombs.
Coconuts (Aiai (アイアイ, Aiai?) in Japan) is monkey-type badnik created by Doctor Robotnik, that makes its first appearance in Sonic the Hedgehog 2. He is usually seen hanging and moving on palm trees, from which it may start throwing coconuts at its target.
Game Appearances
Sonic the Hedgehog 2
Coconuts were first seen in Sonic the Hedgehog 2 as badniks were featured at Emerald Hill Zone. Coconuts are seen climbing palm trees back and forth, as the player comes more close, it stops moving and throws a coconut, which look similar ones that are in palm trees.
The player has to look out and avoid coconuts that are thrown to the direction where he / she's moving. Some Coconuts climb more higher at palm trees, which might make impossible to attack from the ground. If the player is close enough to reach the badnik from the ground, it can be destroyed with Spin Jump, but at the same time it's recommended to watch if it throws the coconut as same time.
Dr. Robotnik's Mean Bean Machine
Adventures of Sonic the Hedgehog variation of Coconuts appears as fourth stage's opponent in both 16-bit and 8-bit version of Dr. Robotnik's Mean Bean Machine. Like in the cartoon, he claims to be doctor's favorite and is ready to finish off the player in flash. As the 16-bit version of the game is basically western edition of Puyo Puyo, Coconuts plays like Harpy as they both happen to stack their blobs to the sides.
Sonic the Hedgehog's Gameworld
Coconuts make short appearance in Sonic the Hedgehog's Gameworld, being part of "Tree Climb" mini-game. In the mini-game, three competitors (including the player himself) have own Coconuts that they have to control. The player has to keep pressing button as much as he / she can, as Coconuts has to climb to top of the palm tree as many times than others. The winner is the one who's Coconuts has climbed to the top of the most number of times.
Sonic Blast
Coconuts made a reappearance in Sonic Blast as these badniks can be found at Green Hill Zone. Instruction manual only states his Japanese name, Aiai. Coconuts are little bit smaller but despite the size, these badniks act really similarly like in their first appearance.
These badniks hang on palm trees and coconuts what badniks throw are really small which might be difficult to recognize. Like all badniks in Game Gear and Master System, Coconuts don't have animal friend inside of them.
Sonic Pocket Adventure
Sonic the Hedgehog Pocket Adventure
, where they serve as enemies in
Neo South Island Zone
. Coconuts appear and have same attack pattern from
Sonic the Hedgehog 2
. Unlike in
Sonic Blast
, Coconuts have again animal friends inside of them.
Sonic Rivals
Coconuts appears briefly in Sonic Rivals, as it is only being featured as collectible card.
Sonic Lost World
Coconuts make an appearance in Sonic Lost World. They are being featured as enemies in Tropical Coast Zone 4, where they throw exploding coconuts at the player, while climbing on palmtrees. In gameplay, Sonic is able to kick the exploding coconuts back to avoid damage. To destroy a Coconut easily, the player can perform the Homing Attack.
Description
Physical Appearance
Coconuts is monkey-type badnik that has a somewhat rounded red body. His head is red colored and his ears are round tinplates. It has white eyes with black pupils and small nose. His face and half of its belly are colored peach. Coconuts have grey and red colored arms, feet and metallic monkey tail that is part of its grey lower body.
Coconuts in Adventures of Sonic the Hedgehog cartoon has slightly different appearance, as he wears a gray jumpsuit with chest screen and buttons with red boots. He got lanky limbs, big monkey ears and cartoonish black eyes instead of white eyes with pupils. He also got siren on his head, that flashes when things start to happen.
Abilities
Coconuts are able to nimbly climb palm trees. As these badniks saw the target, they use their coconuts to bomb its target down. Coconuts in animated series and comics have same attack patterns, however he could also acrobatic skills that he utilizes as well. He also got prehensile tail, which he uses in occasional times.
Personality
Coconuts has more depth personality in Adventures of Sonic the Hedgehog series and Archie Comics, as he is grumpy, cynical and obsessive over proving himself better than Scratch and Grounder. He has a lot of tenacity and doesn't back down easily, and has oftentimes proven himself the smartest of the three bots, even managing to actually capture Sonic on more than one occasion. He despises his role as Robotnik's janitor.
Appearances in other media
Sonic the Comic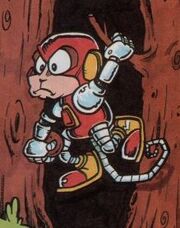 Coconuts make several appearances in early issues of Fleetway's Sonic the Comic as these they belong to Doctor Robotnik's badnik army. In Sonic the Comic, Coconuts have their appearance closely from games and coconuts that badniks throw are actually grenades. Coconuts also appears in pin-up of issue 65.
These badniks were first seen (having vastly different appearance) attacking to monkeys of Forest Hills with Kid Cruel as leader who is employer of Robotnik. All childs of town are as power source of Coconuts and also having bomb inside of badniks while Kid Cruel is forcing the town to hand over every scrap of gold from their mines. As Sonic comes to save town, he manages to remove bombs and get all children from badniks and defeats Kid Cruel.
Three Coconuts were actually stationed on the Floating Island, where a trio of them waited on trees to ambush Knuckles the Echidna. However they got noticed and destroyed by Shortfuse the Cybernik. During the infiltrating to Badnik Processing Plant, both Amy Rose and Porker Lewis dressed as Coconuts. Years later Robotnik mentions in his speech about using them to cut off the Jungle Zone.
Adventures of Sonic the Hedgehog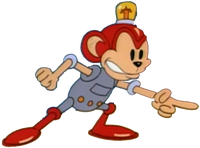 Coconuts is featured more prominently on the animated series Adventures of Sonic the Hedgehog while also having slightly different appearance. Coconuts' voice was provided by Ian James Corlett who gave a New Jersey accent for the character.
He had been demoted to Dr. Robotnik's janitor, a position he was not very happy with, so he wants to capture Sonic, hoping that doing so will earn him a promotion. Even though he was seen in the show's introduction sequence, Coconuts did not appear as regularly as fellow Badniks Scratch and Grounder. Whenever he did appear, he would usually attempt to go after Sonic himself and make sure that Scratch and Grounder did not beat him to the punch; however, they did team up to go after Sonic on occasion. In the episode "Super Robotnik", he got his wish for a promotion (to First Lieutenant) when an accident of his led to Robotnik acquiring superpowers, with the added bonus of Scratch and Grounder getting demoted, though he lost it when Sonic defeated Robotnik and used a serum designed by Professor Von Schlemmer to depower Robotnik.
Despite his low status and general disrespect by his peers, Coconuts has proven he is much smarter than Scratch and Grounder, often being the only one to see through Sonic's disguises. His plans also seem to almost succeed until Scratch and Grounder come along and screw things up. Coconuts also has some tools like in episode 44 where he had scissors to cut the rope (because he was trapped.)
While Dr. Robotnik, Scratch, and Grounder were drawn differently on the show than in the games (except in Dr. Robotnik's Mean Bean Machine). the AoStH version of Coconuts looks similar enough to his video game counterpart. The most noticeable difference between the two is that the animated Coconuts has a light bulb on his head,his silver-grey body and his black dot eyes
Sonic the Hedgehog (Comic Series)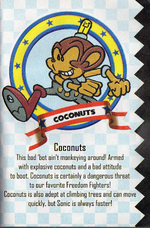 The cartoon variation of Coconuts also appeared occasionally in the early issues of Archie's Sonic the Hedgehog comics, making his first appearance in issue 2's "Triple Trouble", which marked the closest resemblance the comic had to the aforementioned cartoon. Here, Coconuts' head was colored light brown rather than red, and his face a light orange rather than the flesh tone used in the games and cartoon. However, this same color scheme was also used for the character's in-game sprites of Dr. Robotnik's Mean Bean Machine, although the box art used the cartoon's color scheme.
Unlike Scratch and Grounder, Coconuts appeared prominently a few more times in the comics. In issue #11, he captured the Freedom Fighters to lure Sonic into a trap in an attempt to get a higher spot on Robotnik's top ten favorite Badniks list (a list on which even Scratch and Grounder outranked him). He later starred in a short story in issue 30, in which he tried to prevent "an anteater" (Bunnie Rabbot, actually) from stealing Robotnik's Chaos Emeralds, using Wile E. Coyote-type traps that, needless to say, failed. Like his old costars, Coconuts' last appearance in the comic was part of a flashback in issue 57.
However this wasn't his end, as Coconuts ended up living on the Island of Misfit Badniks with a number of the other badniks. As Sonic visits on the island at issue 185, fights against all badniks and struggled with Pseudo Sonic after that, the island starts sinking to the ocean along with badniks. Coconuts however is the only one who was able to get away.
Coconuts later is seen as a minion of Mammoth Mogul where also Scratch and Grounder also working in. Unlike his fellow lackeys, who were envious of Coconuts' role as Mogul's right hand man, the robotic simian stated his disgust at being Mogul's "Butler Monkey".
Quotes
Related badniks and upgrades
Like many badniks in the series, Robotnik has later made several monkey-type badniks that have similar appearance and attack pattern. The most well known are E-series robots E-01 Baby Kiki and its later models.
Trivia
Ironically, since Harpy is the fourth opponent from Puyo Puyo, Coconuts' MBM AI is relatively weak, whereas he is clearly smarter than both Scratch and Grounder (who are higher-level opponents in Dr. Robotnik's Mean Bean Machine) in Adventures of Sonic the Hedgehog.
According to an article on Sonic HQ, writer Karl Bollers had planned for Coconuts to return to the comic by teaming him up with an amnesiac Nate Morgan. This idea never came to pass, however.
The SEGA character AiAi from the Super Monkey Ball games has the same name as Coconuts' Japanese name.
Gallery