Complete Trinity: Sonic Heroes Original Soundtrax
Talk

0
7,439pages on
this wiki
Complete Trinity: Sonic Heroes Original Soundtrax
Price

3200 ¥

Media format

CD's

Composer(s)
Performer(s)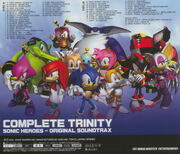 Complete Trinity: Sonic Heroes Original Soundtrax is the sound track for Sonic Heroes. It was sold at a retail price of 3200 ¥ and contained 2 CD's and 50 tracks. The album was Composed by Naofumi Hataya, Hideaki Kobayashi, Fumie Kumatani, Yutaka Minobe, Teruhiko Nakagawa, Mariko Nanba, Tomoya Ohtani, Jun Senoue, Keiichi Sugiyama and was performed by Crush 40 and Yutaka Minobe.
Track List
Disc A
Sonic Heroes (song)/Opening ver.
Stage 01: Seaside Hill
Stage 02: Ocean Palace
Boss: Egg Hawk
System Screen: Select
Stage 03: Grand Metropolis
Stage 04: Power Plant
Special Stage: Bonus Challenge
Event: Strange Guys
Boss: Vs. Team Battle
Stage 05: Casino Park
Stage 06: Bingo Highway
Battle: Casino Area
Event: Monkey Business
Event: My World
Boss: Robot Carnival/Robot Storm
Stage 07: Rail Canyon
Stage 08: Bullet Station
Jingle: Speed Up
Jingle: Invincible
Boss: Egg Albatross
Event: Disquieting Shadow
System Screen: Menu
Battle: City Area
Battle: Sea Area
System Screen: 2P Vs. Menu
Battle: Quick Race
Battle: Ring Race
Disc B
Sonic Heroes/Title ver.
Stage 00 Sea Gate
Stage 09: Frog Forest
Stage 10: Lost Jungle
Event: Excuse me?
Event: Unexpected Encounter
Special Stage: Emerald Challenge
Event: No Past to Remember
Stage 11: Hang Castle
Stage 12: Mystic Mansion
Event: My Ambition
Stage 13: Egg Fleet
Stage 14: Final Fortress (Stage)
Boss: Egg Emperor
Event: Metal Sonic... The Ultimate Overlord
Event: All Heroes Gather
Last Boss ver. 1: Metal Madness
What I'm Made of…/Last Boss ver. 2: Metal Overlord
Event: Finale... Adventure Must go on
BONUS TRACKS
Special Stage - Bonus Challenge/Extended ver.
Casino Park/Original ver.
Bingo Highway/Remix ver.
External Links