Coral Cave

Coral Cave (right) as displayed on the Sea Chart.
Appearances and overview
First appearance

Sonic Rush Adventure
(Only appearance)

Location
Stage theme(s)
Previous stage
Next stage
Playable characters
(story mode)
Level number

3

Number of acts

2

Boss fight
Coral Cave (コーラルケイブ, Kōrarukeibu?) is the third stage in Sonic Rush Adventure. It was originally a completely-submerged sea cavern located in Blaze's world, until Marine accidentally brought it up to the surface. It is the resting place of the Jeweled Scepter. Red Material can be earned from this stage.
Overview
Coral Cave is part of a partially-submerged cave system with several underwater segments. It is similar to the past timeline Quartz Quadrant from Sonic the Hedgehog CD, with coral replacing the quartz and no signs of machinery besides the enemy robots.
The main "gimmick" of this zone is the minecart. In Act 2, there are several mine cart sections where the player is only allowed to jump. Towards the end of Act 2, the mine cart falls into a dark, three-dimensional cavern. In this section, the player can turn left and right at forks in the track and jump over spikes and lava pits.
The boss of this zone is Ghost Kraken, with the battle taking place on a circular plane. The boss attacks using its tentacles and by spitting ink at the player. It can be damaged by attacking its tentacles. At times, Ghost Kraken pulls the playing field underwater, although the player isn't affected by this. However, the tentacles used to pull the field underwater flick the player away when they try to jump over or smash through them, effectively cornering the player in one part of the ring. Before receiving the final blow, it will fire ink at the screen in attempt to obstruct the player.
Gallery
Music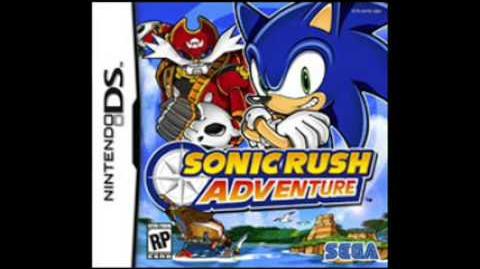 ---
Main article | Gallery
Characters
Sonic (Super Sonic) | Blaze (Burning Blaze) | Tails | Marine | Coconut Crew (Setter, Tabby, Colonel, Kylok, Daikun, Muzy) | Gardon | Norman | Captain Whisker | Mini & Mum | Johnny | Doctor Eggman | Doctor Eggman Nega
Stages
Whale Point | Plant Kingdom | Machine Labyrinth | Coral Cave | Haunted Ship | Blizzard Peaks | Sky Babylon | Pirates' Island | Big Swell | Deep Core | Hidden Islands (1, 2, 3, 4, 5, 6, 7, 8, 9, 10, 11, 12, 13, 14, 15, 16) | Special Stage*
Bosses
Ghost Rex | Ghost Pendulum | Ghost Kraken | Ghost Pirate | Ghost Whale | Ghost Condor | Captain Whisker and Johnny | Ghost Titan | Egg Wizard
Enemies
Angler Fish | Cave Bat robot | Crabmeat | Labyrinth Soldier | Pirahna bot | Ptera | Steampacker | Triceratank | Wrench Swinger
Vessels
Wave Cyclone | Ocean Tornado | Aqua Blast | Deep Typhoon | Magma Hurricane | SS Tornado EX | SS Marine | SS Super-Marine
Moves/techniques
Axel Jump** | Axel Tornado** | Boost Mode | Burning Fire Boost** | Burst Dash** | Burst Hover** | Trick Action | Fire Boost** | Hop Jump* | Humming Top* | Jump Dash* | Jump Step** | Spin Dash* | Spin Jump* | Super Boost* | Super Sonic Boost*
English voice actors
Jason Griffith (Sonic) | Mike Pollock (Eggman, Eggman Nega) | Amy Palant (Tails) | Bella Hudson (Blaze) | Lonnie Hirsch (Captain Whisker) | Christopher Pellegrini (Johnny)
Japanese voice actors
Jun'ichi Kanemaru (Sonic) | Chikao Ōtsuka (Eggman, Eggman Nega) | Ryo Hirohashi (Tails) | Nao Takamori (Blaze) | Shinya Fukumatsu (Captain Whisker) | Kota Nemoto (Johnny)
Other
A New Venture | Blaze's world | Bomb | Bungee Rope | Chaos Emerald | Corkscrew loop | Dash Panel | Dash Ring | Item Box (Super Ring, Shield, Lightning Shield, Invincibility, High Speed, Tension Bonus, Maximum Tension Bonus, Confusion, Slow, Attract) | Jeweled Scepter | Material (Blue, Iron, Green, Bronze, Red, Silver, Aqua, Gold, Black) | Minecart | Rainbow Ring Shuttle loop | Sol Emerald | Southern Island | Power of the Stars | Ramp | Ring | Sonic Rush Adventure Flash | Sonic Rush Adventure Original Soundtrack | Tension Gauge | Time Attack | Treasure Chest | Winding Rope

*Exclusive to Sonic the Hedgehog
**Exclusive to Blaze the Cat.